Running and Chafing: 5 Tips To Ward Off Unwelcome Irritation
Prevent this painful occurrence from happening to you with these easy steps.
Heading out the door? Read this article on the new Outside+ app available now on iOS devices for members! Download the app.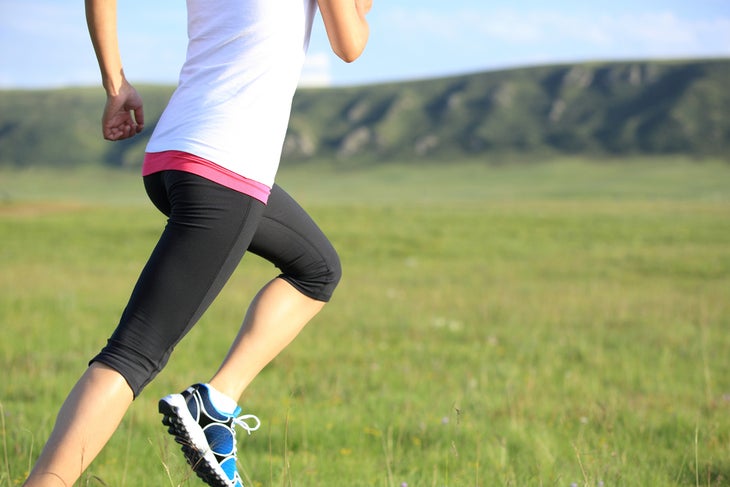 *Courtesy of Competitor.com
There are many things that can negatively affect your race, but anyone who has ever crossed the finish line hunched over in a delicate crab walk can understand that chafing is one of the most painful and annoying afflictions that can strike you while out on the course.
Dr. Sebastian Gonzales, a member of the sports medical team at the Surf City Marathon and Half Marathon in Huntington Beach, says that the causes of chafing are simple. "Chafing with running typically is just an irritation to the skin from excessive friction," he says. "This can happen in a variety of places from nipples to thighs—anything is really fair game. It can happen in a place where the skin comes into contact with other skin, where moisture remains or exposed to clothing." Gonzales says factors like excessive temperatures, sensitive skin and bad clothing choices can exacerbate race-day chafing. "On the topic of overall body composition, if an athlete has excessive skin from recent weight loss, excessive fat or even excessive muscle skin from muscular development, they can also be more susceptible to chafing," he adds.
Coach Danny Fisher of Runners Connect says that another chafing culprit behind is your body's own salt. "When you sweat, you also push out salt," he says. "Salt grains have a sharp, square structure. As you dehydrate, you continue to push out more salt but not enough water to wash the salts away. That salt then can begin to work like sand paper against your skin."
Here are five tried-and-true tips to keep yourself safe from the chafe:
1. Get to know your hot spots in advance.
Showing up on on race day hoping that you won't chafe under your armpits or between your thighs like you have been throughout your training is a big mistake. Fisher suggests a "prehab" routine in order to avoid having to do rehab after the race.  Note your problem areas in your running journal and create a plan to treat them with anti-friction lubricant as part of your pre-race preparation routine.
2. Test out solutions in training.
A long training run can also be used as a laboratory for experimenting with anti-chafing remedies. On these runs, select a few different types of lubricants or powders to find out which work best for you. Those who tend to chafe around their nipples should use small Band-Aids to prevent that scary finish-line photo. Also, try out different types of clothes—moisture-wicking fabrics tend to reduce friction better than your most comfortable cotton t-shirt.
3. Wear compression shorts and other snug clothing.
Compression apparel such as shorts or tights can drastically reduce leg-to-leg friction, or problematic instances where too loose clothes bunch up and rub you the wrong way. Fisher also recommends snug undergarments like sportsbras for women. In addition to wearing tighter clothes, be sure to use anti-chafing lubricant to reduce the risk of skin-to-clothing friction.
4. Take early preventative action.
The minute you suspect you're starting to chafe is the time to do something about it. Gonzales says you shouldn't feel shy about finding a medical official along the course and asking for Vaseline or other protective supplies. Fisher recommends splashing water on yourself at water stations to rinse away the salt and then applying lubricant on the susceptible area. "Also take your time taking in some electrolytes and fluids," Fisher suggests.
5. Plan for your chafing recovery.
Gonzales suggests runners rinse any painful parts or irritated areas as soon as possible after the race. "Clean the area with soap and water to remove dirt and debris," he advises. "Stop the bleeding if there is any via firm pressure and see a doctor if the area does not seem to be improving as normal rashes do within a few days." He also suggests letting the chafed areas air out. Lastly, learn from the experience. Remember what worked, what didn't, and log these lessons so that your next race is as friction-free as possible.