Runners Share Their Go-To Race-Day Breakfasts
Runners and nutritionists share which type of race-day breakfasts work best for them.
Heading out the door? Read this article on the new Outside+ app available now on iOS devices for members! Download the app.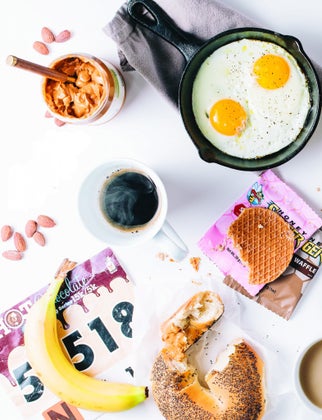 Right up there with double-knotting your shoes, eating a solid breakfast is a must on race-day morning. It's crucial to be fueled before the main event.
"When you wake up in the morning, your body has been in the fasted state, so eating some quality carbs can actually improve running performance," says Georgia-based dietitian Christine Rosenbloom. "When I ran the Peachtree Road Race, my go-to meal was a cup of instant oatmeal with a tablespoon of peanut butter mixed in. I had to leave the house at 5 a.m. to get to the start line, so a quick meal was all I was willing to manage!"
Whether it's something simple or a full meal you prep in advance, here are some ideas based on what other runners and nutrition-minded athletes are eating.
Snap, crackle, nut
Sports dietitian and triathlon coach Jennifer Hutchison switches up her breakfast based on whether she's home, but she says, "Both are preceded by 2 cups of coffee with about 8 ounces low-fat milk. I am not really hungry in the a.m., so I tend to do the coffee shortly after waking, then try to plan the consumption of my breakfast just prior to leaving for the venue."
If she's home, she'll reach for an English muffin with almond butter and fruit preserves. On the road, she'll stash a small serving of nut butter in her carry-on (with her toiletries to make TSA happy) and then have it on a Kellogg's Rice Krispie Treats Original bar. She says the easy-to-digest simple sugars with the fat and protein in the almond butter keep her pre-race energy balanced. "It's a tasty, quick and easy pre-race snack that I can whip up without the need for a toaster. That's what has worked for me in the 17-plus years I have done running and triathlon events."
Related: The Best Nut Butters For Runners
Running Rings
Erin Douglas, WR art director, has an affinity for bagels with a bit of protein. Her go-to meal is a ring spread with peanut butter, but she says, "Sometimes I add scrambled eggs."
Sports nutritionist and dietitian Lauren Antonucci is another who opts for the easy-to-carry carb. "Since I live in NYC, I think it is only natural that I generally eat a bagel with peanut butter and sliced banana, plus water and black tea with milk." She also adds extra salt depending on the temp, humidity and race distance to mitigate electrolyte loss through sweat.
Standard Fare
Runner, coach and Miss Zippy blogger Amanda Loudin tends to race distances between 10 miles and 26.2. If she's home in Maryland, she makes a bowl of Trader Joe's steel-cut oats with "a dash of milk and about a tablespoon of Trader Joe's almond butter with salt. I slice up a banana and mix it all together." If she's traveling, she'll reach for an envelope of instant oats.
Dietitian and runner Prudence Levy also loves oatmeal and banana. "I cook my oatmeal (organic rolled oats) in half 1 percent milk and half water, with some raisins thrown in while cooking for the sweetness," she says. "Also, I always have a cup of green or black tea before a race…and I try to drink plenty of water early and slow down within the hour before."
Gut Training
Levy hasn't always been able to eat her oatmeal before a race. "When I first started running 20 years ago, I couldn't even stomach any food. I started with a third of a banana and worked my way up and it has helped enormously," she says, adding that how much she eats varies based on timing and race distance.
"If it's a 5K and I'm eating two full hours before, I'll have a cup of cooked oatmeal and a small banana. If it's closer to race time, I cut it to 1/2 cup oatmeal and 1/2 small banana about 60 to 90 minutes before. I won't eat the oatmeal closer than that. If it is a longer race (or even a long run on the weekend), I'll eat earlier (2 to 3 hours), I'll do the full cup of oatmeal, full banana and swirl in some peanut butter. Then I might have a 1/2 banana just before the start of a longer run."