Mile Posts: How To Pick Out A Running Stroller
A few tips you need to know before picking out your first running stroller.
Heading out the door? Read this article on the new Outside+ app available now on iOS devices for members! Download the app.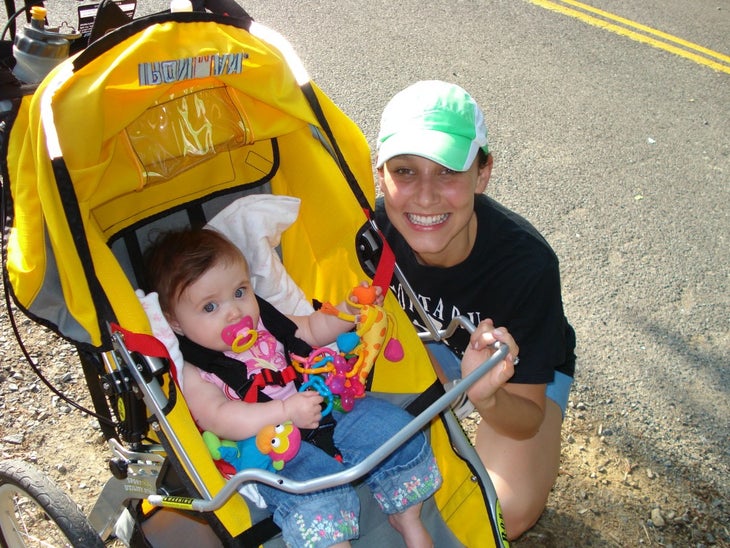 As a mother of three children, my single, double and triple running strollers have been an invaluable tool in helping me continue to train for marathons for the past 8 years.
Here are some tips to hopefully help you navigate the process of picking out your first running stroller!
Decide whether you are going to use the stroller for only running. It may be because space is limited in your house or car, or because two strollers are not in your budget. Either way it's a good idea to decide ahead of time whether you want your stroller to work double duty as your every day stroller or if you will use it solely for running.
Decide what your budget is or if you are going to register for it. Next up is deciding how much you can afford when it comes to a stroller. Over the past eight years, I have used many different brands of strollers and not all of them have been great. I do believe that when it comes to running strollers you get what you pay for. If you are only spending $100 on a stroller, don't expect it to last as long as one that costs $400. I am still using my single stroller that I first used with my daughter eight years ago. I've never had to get a new tire and though it is dirty as can be, it still runs great. If the stroller of your dreams is out of your budget, consider registering for it. When friends and relatives ask what you would like, tell them that you would love it if they pitched in for the stroller.
Decide what type of running you plan on using the stroller for. I knew that I wanted to keep training for marathons after I had children. This meant that I planned on using my stroller for long runs on the weekends as well as many of my shorter weekly runs. I also wanted to be able to run a pace as close to my normal running pace as possible, so I wanted a lighter stroller option.
Decide whether you want a fixed front wheel or swivel wheel. If you plan on using your stroller for long runs, I would recommend considering getting a fixed front wheel. The fixed front wheel is harder to turn because you have to push down on the handle bar a bit. However if you want to run fast on long runs, the fixed front wheel is the easiest in my opinion. If you stroller is doing double duty as your every day stroller, then you will want to get a swivel front wheel that you can unlock while not running.
Decide whether you will be using it on a paved trail or going off-road. Think of your stroller as you would a bike. If you are going to be mostly running on a paved trail, then you want larger but thinner tires. If you are going to be taking yours off-road on runs or walks, then you will want to purchase a stroller that has sport utility or trail tires.
Decide what accessories you need. Will you start walking with your baby when she/he is still in a car seat? Most running stroller will need an extra car seat adaptor based on the car seat you purchase. You don't want to get ready to go for your first run or walk outside and find out that you are missing a key piece. Does your stroller have a spot to carry your water? If not you might want to consider buying a handlebar console.
Out of all the strollers I have used I personally like the Bob Ironman Single and the Bob Ironman Duallie. I also really loved the JJ Cole Bundleme when I used the infant car seat with the car seat adaptor, as well as the larger Bundleme once my children were out of the car seat.