Mile Posts: How To Fit In Running As A Parent
As a parent, making time to run can be tough. Here are 10 tips for getting your training done.
Heading out the door? Read this article on the new Outside+ app available now on iOS devices for members! Download the app.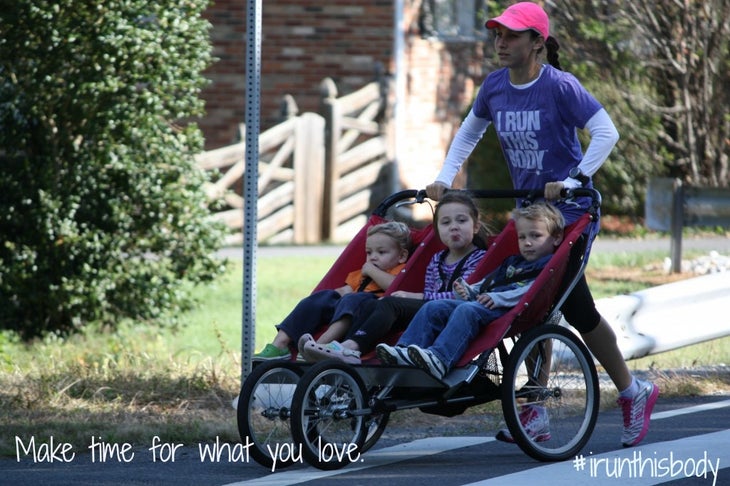 Becoming a parent doesn't mean that you have to give up on your running. In fact, it's quite the opposite. With a little flexibility, I would argue that becoming a parent can often help you improve as a runner and make running more meaningful.
Here are some of my tips for fitting it in as a parent who runs.
1. Go with the flow. Before I had kids, I would lay out my plans for the week and would stick with them. I planned how long a run would take, where I would run, how long I had to shower and get ready before work, etc. That went out the window once I had kids. "It is what it is" has become a common phrase I repeat to myself when things aren't as I imagined or planned.
2. The treadmill is your friend. Still to this day I believe that a treadmill was one of the best investments in my health I have ever made. I didn't have a treadmill in my house until I had my third baby. It has made a world of difference in being able to keep up training for marathons. I didn't run a marathon post-baby until six months after my second. I was able to run three marathons in five weeks less than six months after baby number three. I credit that 100% to the flexibility the treadmill gave me. I could fit in running whenever I had a free moment. Lately I have been getting up at 5am to run on my treadmill before my kids wake up and I get them off to school.
3. Join a gym with daycare. I have had an up and down relationship with the daycare at various gyms, but the truth is that I'm incredibly grateful for the gym daycare. It has allowed me to fit in some much-needed alone time.
4. Accept that there are going to be times that your run is cut short. Anyone who has ever tried to run on a treadmill while their baby napped nearby knows that sometimes your run just isn't going to happen the way you want. You can cry about it like your baby, or you can be thankful for whatever mileage you got in. Flexibility is key. If you have time, you can try your run again later in the day. It may seem like your baby is going to be this little and needy for forever, but they won't. My eldest is 8 and I have no clue how 8 years have already passed.
5. Find a friend to trade with. I don't know about you but I don't have a money tree growing in my back yard. I don't have the luxury of having a nanny watch my kids while I go run outside and my husband leaves for work at o-dark-thirty. When my kids were very little and we were just trying to make ends meet with new mouths to feed, I would trade babysitting with a friend. She would run while I watched her kids. When she got back, she would watch my kids. I live on a running trail now and have joked to friends about opening up a free service for my friends called Trail Side Sitting. I am 100 percent serious when I tell my friends to drop off their kids so they can run. Find a friend who gets it and let them help you if they offer.
6. Make the most out of your time. I am not the most social runner post-run. That's because I only have a limited amount of time to run most days and I want to fit in as many miles as I can. I would rather socialize on the run than run shorter and sit in a coffee shop chatting after. These days it's easier because my children are getting older, but I still try to combine girlfriend time with a workout. I'm starting to love my night-time texts with friends laughing about how hard a certain workout was. Multi-tasking is key as a busy parent.
7. The running stroller is your friend. Running with a stroller is not easy. It's certainly not the same as running alone and can make a run feel 10 times harder, but it can be done. It comes down to how bad do you want it. After I had my 3rd baby, I was worried how I would train all summer long. A neighbor sold me her triple stroller and I seriously shed a tear the day "big red" became a part of our family. It allowed me to run when I wanted too and to spend time doing something I love with my children. I have almost completely forgotten how hard it is to run pushing almost all your body weight. I only remember the happy memories we made along the way.
8. Believe that a run is a run. I ran my first marathon in 2003. While it seems like just yesterday, it also feels like a lifetime ago. In that time I've had a lot of crappy runs. What gets me through is knowing that a run is a run. Good, bad, ugly, hard, slow— they are all runs and I appreciate every single one of them.
9. Be your own biggest cheerleader. Parenthood is hard. I'm not sure anyone ever told me how hard. There is enough stuff in life that can beat you down, enough excuses that can derail your plans. There is no need to pile on the negativity too. Cheer yourself on— don't compare yourself to other parents who are running. Be happy for what you are accomplishing in this moment. The struggles make you stronger in the long run.
10. Embrace change. As soon as you come up with a plan for your running or training, it will change. The challenges I face as a parent of an 8, 6, and 4-year-old are drastically different from when I only had one child or two toddlers and a newborn. Things are, dare I say, easier now. I embrace the different changes and look at running with a different perspective than when I was a single girl in her 20s. This summer training for a marathon will mean getting up at 4am if I want to run outside or getting up at 5am if I want to run on the treadmill. Long runs will need to be finished by 8am on Saturdays most days because of sports and other activities but it's all part of the process.
Remember running is about making time, not about having time. Embrace all the changes that come with being a parent who runs and you will enjoy it more than you thought possible.