Mile Posts: 10 Ways To Fend Off Holiday Weight Gain
Keep your health and fitness goals this season with these 10 tips from Dorothy.
Heading out the door? Read this article on the new Outside+ app available now on iOS devices for members! Download the app.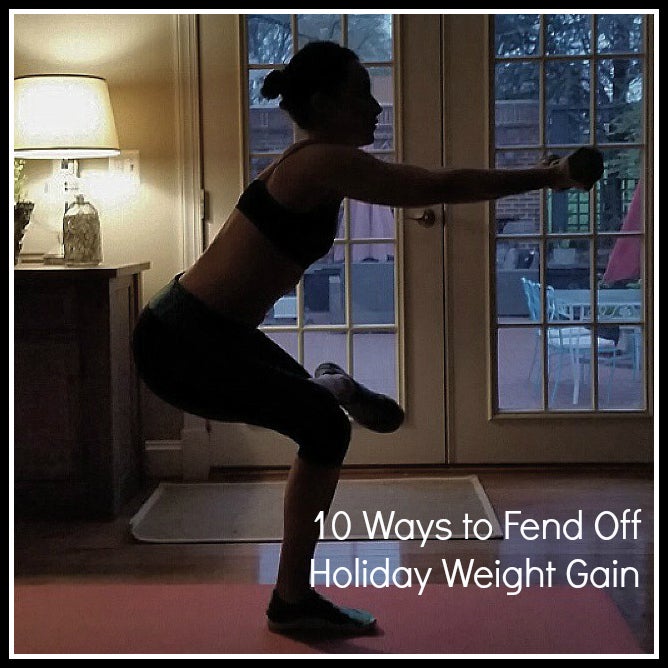 The winter holidays are almost here! For many of us, it truly is the most wonderful time of the year, with one very real downside: weight gain.
Here are 10 tips to help you enter 2015 feeling happy, healthy, and fit.
Don't believe the lies you tell yourself: How many times have you said that it's okay to stuff your face today because tomorrow you will start a new diet? You know the lies. "Tomorrow I will eat completely clean. It will be easier tomorrow. It's okay because I will get back on track in 2015." Your mind can convince you of almost anything, but don't believe these lies. It's not going to be any easier tomorrow. If you believe these lies today, what makes you think that you won't believe them again tomorrow, and tell yourself it's okay to overindulge every day from here until Christmas. Be honest with yourself.
You are not treating yourself by overeating: This goes right along with tip #1. When indulging, there is no reason that eating three pieces of pecan pie should be considered giving yourself a gift. One piece is slack, three is not. One of the ways I have successfully lost 7 pounds in the past 3 months is by stopping the "food is a gift" way of thinking. A gift to myself is keeping myself in check, and not letting myself get out of control.
Give yourself the gift of a workout:  I recently traveled to Las Vegas for a marathon and really wanted to fit in a workout before I left. Earlier in the year, I would have dreaded my alarm going off at 3am and hit snooze. I would have told myself it was much too early to be awake. When my alarm when off last week, I jumped out of bed and did a Jillian Michaels DVD without an ounce of regret. I gave myself the gift of a workout on a day when I knew it would make me feel better before sitting on a plane for hours. Overeating is not a gift. Doing a quick workout on a busy day is.
Offer to bring something healthy to your holiday gathering: Holiday parties and gatherings among friends and family are a constant this time of year. It's always nice to ask the host if she/he needs to you to bring anything. If the host gives you something specific to bring, like a chocolate cake, by all means bring that chocolate cake! But you can also bring an extra item that is healthier. That item could be a healthy side dish you would like to eat, so you feel a little bit better about the slice of chocolate cake you want to have. It could also be a healthier version of your favorite dessert.
Don't starve yourself before a giant meal: Have you ever tried skipping breakfast or even lunch in advance of a giant meal to come, only to find yourself so ravenous that you eat everything in sight as fast as you can? Eat a smaller than normal healthy meal at your regular time if you are trying to cut down on calories in advance of a big meal. This will help prevent that ravenous feeling. Go ahead and sample all the food, but keep the portions to a normal size. Then stop when you are full. The food will still be there later on that day or the next day if you really want to eat more of it.
One overindulgence doesn't have to equal a whole day: I was one of those people who gave up on a day when I had eaten badly at one meal. I had already ruined one meal, so I would eat just about anything I wanted for the rest of the day, thinking I would start over tomorrow. Only I didn't eat any better the next day, because it was still just as hard to resist all the treats and drinks around me. If you indulge, that's okay. Just don't let it become a waterfall because the day is ruined. Nothing is ruined! You ate some food you wanted to that might not have been something you would normally eat. Now you will return to being back on track.
Hydrate, hydrate, hydrate, with water and tea: It's the simplest tip. It's always suggested for a good reason- it works! When you are in the early stages of dehydration, your body is often going to trick you into thinking you are hungry when you aren't. Drink plenty of water and liquids, like tea, to help fill you up in between meals.
Indulge earlier in the day: If you are planning a big meal on Thanksgiving, eat that meal at lunch or late afternoon, rather than at dinner time or right before you go to bed. This gives your body a chance to burn off some of the calories before sleeping. It also allows plenty of time to take a walk as a family.
Plan out your parties: Make a decision to indulge at a couple of your obligations and keep yourself on track for the rest. Planning out the days you want to let loose helps you stick to your healthy plan. You won't see the pounds creep up by the week.
It's okay to say no: You don't have to go to every party you get invited to. You don't have to eat everything put in front of you. It's okay to turn down something, even when a friend or family member is pressuring you. Remember this is your life, not theirs. You have a goal of "mostly" staying healthy this holiday season. You are giving yourself the gift of health. Don't let their issues, or well intentioned guilt trips, make you feel like you have to say yes to something.