Kick Off The Year With Our Simple 31-Day Challenge
This challenge is full of simple steps to kick-start your healthiest, happiest year. Focus on self-improvement with these little goals.
Heading out the door? Read this article on the new Outside+ app available now on iOS devices for members! Download the app.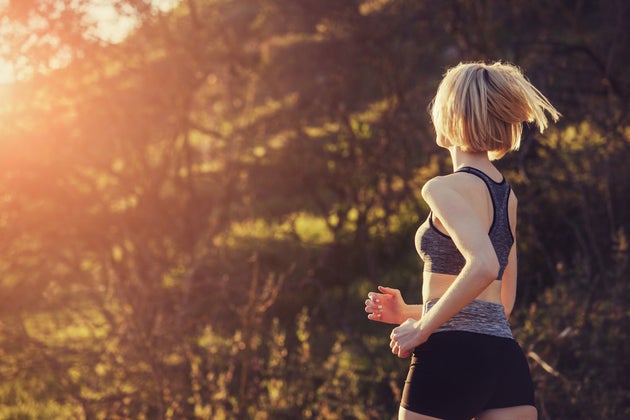 After the ball drops and 2016 comes to a close, we're bombarded with the tired messaging: "New year, new you!" But really…what does this even mean? Why does it feel like everyone assumes you want to turn into a completely different person during the next 12 months?
Listen: We think you are pretty great just how you are. That's why we have developed a program that lets you focus on self-improvement, while retaining your sense of self. These simple ideas take only a few minutes out of your day, but will make a dramatic difference in how you feel—both as a runner and a human. Incorporate these tiny changes to refresh your mind, body and soul.
JAN. 1
Trade in your champagne flute for a water bottle and refill on the regular. Drink 48 ounces of H2O daily—it is linked to better physical and cognitive health.
WE LOVE: The 25-ounce model from S'well ($45, swellbottle.com) makes it easy to get your fill. Simply down two a day and you will be well on your way to proper hydration.
JAN. 2
Start an exercise journal. It will keep you motivated and allow you to see your progress as you run through the year.
JAN. 3
Make sunscreen a part of your daily beauty routine. According to the American Melanoma Foundation, exposure to the sun during every season leads to skin damage. Put your 'screen somewhere you can see it. Think: on your bathroom counter or next to the front door.
JAN. 4
According to Delta Dental, most of us don't brush our teeth for long enough. Shoot for a solid two-minute scrubbing (one minute on the upper teeth, one on the lower) twice per day. Don't forget to floss!
WE LOVE: Philips Sonicare Essence Toothbrush ($25, amazon.com) offers a timer to ensure you reach your goal.
JAN. 5
Skip the elevator and take the stairs! At least for today, you'll crank up your heart rate, burn fat and engage your glutes. A strong booty will lower your risk of running injuries.
JAN. 6
One hour before bedtime, close your laptop and put the phone away. Lights emitted from electronics trick your body into thinking it's daytime, making it harder to doze off. Instead, read a book, snuggle with your SO (or yourself) and let your mind relax.
WE LOVE: We recommend coach and triathlete Siri Lindley's new book, Surfacing: From the Depths of Self-Doubt to Winning Big & Living Fearlessly ($25, velopress.com).
JAN. 7
On your run today, carry a small trash bag and pick up litter as you go. One person taking care of the earth can inspire others to do the same.
JAN. 8
Avoid booze for the week and focus on smoothies instead. Prep by cutting fresh fruits and veggies and sorting into freezer bags. Mix-and-run deliciousness will be at the ready!
WE LOVE: Try this no-fail freezer smoothie: Slice 1 banana and 1 cup of other fruit and place in a bag with 1 cup fresh spinach. Freeze together. When you're ready to make your smoothie, place ingredients in blender with 1 cup milk (cow, rice or nut) and enjoy!
JAN. 9
Arrive at work 10 minutes early to declutter your desk. A clean space is an efficient one. Start the week off right!
JAN. 10
Bad posture can lead to aches and pains. Keep your back straight and your mind open! Leave a sticky note on your laptop screen to remind yourself to sit up.
JAN. 11
Voicemails can wait! Rock out to a rad playlist on your way to work. Experts say playing your favorite music during your commute can increase productivity when you arrive.
JAN. 12
Simplify your finances by automating bill payments from your bank account each month.
WE LOVE: Life hack—Intuit's Mint Bills (free, mint.com) will keep all this info in one place.
JAN. 13
Replace your snooze button with a Zen moment by using the app Yoga Wake Up (free, yogawakeup.com). Each morning, the app delivers a 10-minute breathing, meditation and stretching routine to help get your day started right.
JAN. 14
Eat a raw fruit or vegetable with every meal. A side salad, handful of strawberries or some sliced cucumbers will up your nutrient and fiber count with little effort.
JAN. 15
What is stressing you out? Call—don't text—someone to vent. Research shows those who break down their day via telephone have lower levels of stress hormones.
JAN. 16
In honor of MLK Day, cultivate romance or nurture a friendship by dropping a letter in the mail. Studies show writing by hand can improve cognitive abilities as well as foster a more positive outlook on life.
WE LOVE: Printed by hand with real gold foil, the Sugar Paper Bright Love Note Set ($22, sugarpaper.com) is at once elegant and fun.
JAN. 17
At the end of the day, grab a notebook and jot down anything that's on your mind. This "brain dump" has been shown to reduce anxiety and increase sleep quality.
JAN. 18
Sitting all day is tough on your body. Set an hourly alarm to signal a stretching or walk break.
WE LOVE: Many fitness trackers, like the Fitbit Charge 2 ($150, fitbit.com), offer movement reminders on your wrist, providing a gentle buzz when you've been sitting for an hour or more.
JAN. 19
The average American spends 1.72 hours per day(!) on social network apps. If Twitter is a time suck for you, uninstall the app from your phone and limit yourself to checking in from your laptop twice today. Maybe the switch will stick!
JAN. 20
Turn your Netflix binge into recovery time: Stretch and foam roll during your favorite shows. No foam roller? Use a tennis ball instead!
JAN. 21
Swap out fruit juice for fruit. Store-bought juices are often packed with hidden sugars, and the whole stuff tastes so good!
WE LOVE: Clementines, grapes, pomegranates, pears and kiwis are all in season during winter months.
JAN. 22
Give your main squeeze a squeeze before leaving the house. Hugging releases oxytocin, a neurochemical that promotes happiness and lowers blood pressure. Follow up with a text or snap about something you're looking forward to doing together.
JAN. 23
Practice giving compliments to others—be it a training buddy's ability to scamper up hills or a co-worker's great idea in a meeting. Going out of your way to make someone feel good adds to your happiness too.
JAN. 24
Take a three-second pause before you answer or respond in conversation. This shows that you value what the other person is saying while giving you time to weigh your attitude and words.
JAN. 25
Share a healthy snack with someone today. It'll be good for you, and you may inspire someone else to eat better—plus sharing is fun!
WE LOVE: Our new favorite pick-me-up between meals is a handful of Living Intentions Spicy Mango Activated Sprouted Trail Mix ($9, livingintentions.com).
JAN. 26
A square of dark chocolate a day keeps the doctor away. To reap the cardiovascular benefits of chocolate, aim for a 70 percent cocoa content or higher and keep the portion to the size of your thumb.
WE LOVE: Get your fix with organic, fair-trade Trinitario cocoa beans in Green & Black's Dark 85% Bar ($3.50, major grocers).
JAN. 27
Standing in line at the coffee shop? Balance on your right leg for 10 seconds, then repeat with the left. This do-anywhere exercise can improve leg strength, balance and neuromotor coordination.
JAN. 28
Grow indoor herbs with Windowsill Herb Garden Kit ($30, plowhearth.com). Fresh herbs can provide a bright punch of flavor to any food, even when the weather outside is less than fresh.
JAN. 29
Schedule Sunday brunch with friends. Social relationships have strong correlations to physical health and longevity—and we can't think of a better way to celebrate a weekend run.
WE LOVE: If you want to bring something special for your buddies, consider the positive mantras of Gone for a Run T-shirts and tanks ($20–$40, goneforarun.com).
JAN. 30
Before adding yet another item to your overflowing to-do list, ask yourself, Is this the best use of my energy? When you say no to the things that don't help you, it frees you to say yes to the things that will.
JAN. 31
Treat yo'self! Small rewards, like a bubble bath or a sumptuous dessert, motivate us to keep up the good work.