Jenna Wolfe's Simple Changes Can Help You Lose Weight
Breaking your goals down into small actions is the best way to succeed.
Heading out the door? Read this article on the new Outside+ app available now on iOS devices for members! Download the app.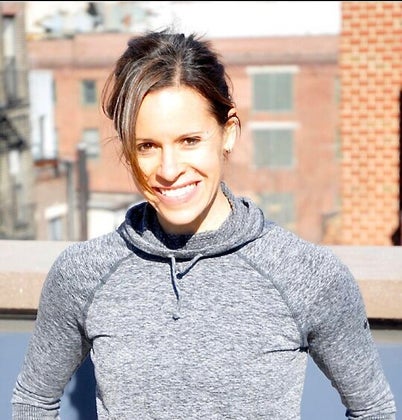 You may know Jenna Wolfe as the Today Show's lifestyle and fitness correspondent for the past nine years. But this mom of two, who juggles work and life, somehow finds the right balance to make fitness a priority.
"I have a 10-month old, a 2-year old, I'm working and I'm training, trying to eat well and I some how get it done. I don't have any more time in the day than Bill Gates or Mark Zuckerberg or other successful people. We all have 24 hours. We all have time to get it done." shares Wolfe. "I am just trying to show people that I am as human as everyone else and while my kid is napping, I work out in my living room."
With a passion for fitness and understanding that change can be intimidating, Wolfe shares simple tips that can help any one reach their fitness and lifestyle goals in her new book Thinner in 30: Small Changes That Add Up to Big Weight Loss in Just 30 Days.
"It's so overwhelming to go from nothing to everything because we live in a society where there's no in between. Everything is before and after," says Wolfe. "The whole journey to reach your goal is not very sexy and no one wants to talk about it. You can't do everything at once."
No matter your fitness level, there is always a new goal to reach, whether you're trying to lose weight, increase your miles, change your diet, or boost energy. "We're all a work in progress and we all need a little change in some area," expresses Wolfe.
To start a goal, it is often suggested that you should write it down and come up with an action plan. While this works, Wolfe suggests breaking the action plan down even more to make reaching your goals less intimidating and more achievable.
"Instead of telling someone to change everything at once, why not change just one thing? One small thing all the time. So in the book, on day one, I'll ask you to do one tiny change. That's all you have to do. Just one small thing."
How does one small change work to help you reach your goals?
"On day one, you can do anything you want for the rest of the day. You can sit in the bath tub and eat donuts all day—I don't care," chuckled Wolfe. "As long as you change one small thing. Day two, you'll do another small change. Day three you'll do another small change. These are all lifestyle changes. They aren't diets or restrictions. At the end of 30 days, or however long it takes you to complete each change, then you've kind of fallen into this healthy lifestyle," says Wolfe.
So if you're trying to increase mileage, add one small change to your running routine to help you boost your distance. Run a minute longer each day until you meet your goal. If you're trying to change your eating habits, swap in one healthy food per day until you've met that goal.
"We don't have the energy to kill every single vice all at once. We've got to break it down," Wolfe says.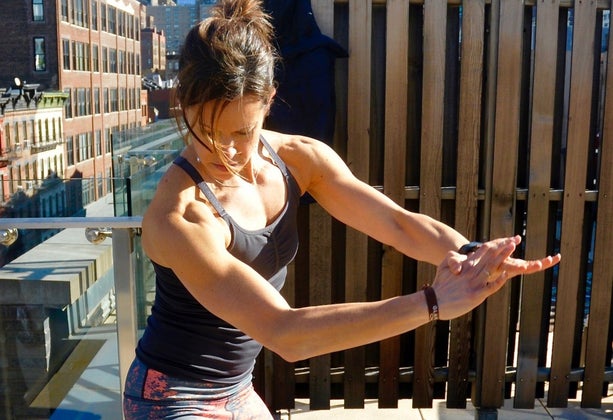 We all have excuses to skip a workout. Not enough time is often number one on the list. Wolfe suggests picking two exercises and doing 50 reps each every day. If you don't have time to work out or go for a run, at least you did something. She suggests 50 push-ups and 50 squats to get your blood moving.
"When we have all the time in the world, then sure, it'd be great to do a 40- to 60-minute workout that combines cardio and strength training. A lot of people don't have that. It might be a pain in the butt, but do 10 minutes in the morning, 10 minutes at lunch and 20 minutes at night. You've worked out for 40 minutes and burned calories," suggests Wolfe.
In addition to simple changes and not being afraid to break up your workouts, Wolfe shares a couple other important tips to stay healthy and watch calories without counting them.
"It takes our brain 20 minutes to register if we're full. But we eat much faster than that. So how do we take our time to make up for the 20 minutes? Chew your food 20 to 30 times before you swallow it, which is not as many as you may think. You'll make up those 20 minutes and save about 30 percent of your calorie intake."
Another tip is to put your fork down in between bites. It may seem annoying but it will become second nature if you continuously do this. Before you realize it, you're full and won't want seconds or thirds.
None of these workouts, eating habits or small changes will matter if you don't get adequate sleep while disengaging from your busy life.
"The two hardest things for me and many are sleep and disconnecting for 5 minutes everyday. Your mind gets filled with so much clutter; that's all it is, it's clutter. Everything gets mumble jumbled and becomes equally stressful. If you don't disengage every day for 5 minutes, which doesn't seem like a lot, but it took me a month to get up to 5 minutes, you'll be surprised how these two things will stop you in your tracks."
Stress and lack of sleep can take a toll on your body. All of the hard work to build mileage, lose weight and eat right will be for naught if you don't care for your mental health.
Wolfe suggests making sleep and disconnecting from technology a priority. "Sleep, drink plenty of water and disengage. They are the most important small changes you can do to help you reach your goals."