A Runner Shares Her Story To Raise Awareness For Iliac Artery Endofibrosis
Nicola Curtis first started feeling a numbness in her leg in 2009. In 2015, she was diagnosed with iliac artery endofibrosis.
Heading out the door? Read this article on the new Outside+ app available now on iOS devices for members! Download the app.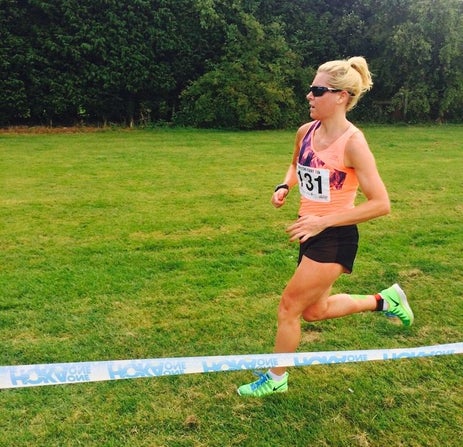 Running Through Childhood
I have been running competitively since my twin sister Lindsay and I joined the cross country team at our school when we were 11 years old. We did well and were advised to join the local athletics club. We trained with the club at the local track twice each week and entered competitions over the years until we were 18, when we took a few years off to be "normal teenagers." It wasn't long before we realized how much we missed running. By age 21, we had both returned to the sport. This is when we started taking our training seriously and managed to knock time off our PBs.
In November of 2008,  my sister and I entered the Age UK Leeds Abbey Dash, running side by the side the whole way to finish in 34.50 and 34.52. This knocked two minutes off our previous best times and confirmed that the training we were doing under our coach was working. In January of 2009, I ran the Northern Indoor Track Championships, where I came in second with a 3K qualifying standard of 9.49.9. This enabled me to run at the 2009 European Trials at the EIS Sheffield, a great experience that placed me on the same stage as several elite athletes. I was then selected to run for the North of England at the Cardiff 10K in March, which I was delighted about–my very first North vest!
Related: I Tackled 10 Ultras After Surviving A Life-Threatening Surgical Mistake
The Unexplained Numbness In My Leg
I felt confident going into the race, but when I started running, I noticed that I seemed to be dragging my right leg. This got worse throughout the race, and I ended up coming in two minutes slower than my normal time. I was disappointed with my time and worried about what could be wrong. I chalked it up to a lack of pre-race stretching or a simple muscle pull. But as I continued to train, I noticed that whenever I tried a fast tempo run, I had to stop and shake my leg as I tried–unsuccessfully–to get rid of a recurring numbness.
I did a few more races and this happened at every one. During some races, I had to drop out because the numbness was so strong that I didn't feel like I could carry on. For other races, I could slow down and make it to the finish line; even so, it was an awful feeling to be unable to run at my best after all the hard training I'd put in.
I saw several professionals as I tried to determine what was wrong: I saw physiotherapists and chiropractors, I tried acupuncture, doctors ran nerve conduction studies and tested my blood for diabetes. Nothing was easily identified as to why my leg was going numb. Everyone seemed as baffled as I was.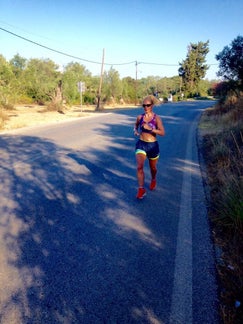 After Six Years, A Diagnosis
This carried on for a few years: I raced and trained on and off and still I had the same symptoms. Eventually, I saw another physiotherapist who, after some research, thought the problem might be vascular in nature. He recommended I get an MRI scan, but the results came back normal. I felt like I was at square one again. I saw a consultant at Leeds and, after I still didn't have an answer at the end of 2015, I posted a status on Facebook about my frustration.
It was then that Physiotherapist Ian McBride emailed me a case study of a marathoner who'd been found to have something called iliac artery endofibrosis, an underrecognized condition characterized by intimal thickening of the iliac artery that's mainly found in elite amateur or professional male endurance cyclists younger than 40. The marathoner in the case study was successfully operated upon for this condition.
Related: How Running Contributed To My Addiction Recovery
When I read the symptoms, I realized that they were nearly identical to the ones I was having, including the loss of power in one leg while racing hard or running uphill. I got an MRA to see if there was any damage to my arteries. The results showed that there was a slight blockage in my right iliac artery, finally delivering an explanation for why the blood in my leg was not flowing properly. At last I had found a diagnosis–and I was so happy.
To fix the problem, I had to be referred to Dr. Rob Hinchliffe, a consultant vascular surgeon at St. George's Hospital in London who happened to be the only person in the country performing these kinds of operations. After initial tests confirmed my earlier diagnosis, I was booked for surgery in June of 2015. The operation involved staying in the hospital for four to five days, after which I had a very good six-week recovery period. Two weeks later, I was able to return to gentle training.
Relieved To Be Recovered
I now have yearly follow-up appointments at St. George's to confirm that the artery is still working properly and to make sure I don't have any recurring symptoms. I am now two years post-surgery and have had many successful races. I was fourth at the Gainsborough 10K in March of 2016, and I won both the Brigg 10K Poppy Race in October of 2016 and the Tinsel Turbary Trail Run in Epworth, Lincolnshire in December of 2016. In September of this year, I ran my half marathon debut and won at the ABP Coastal Half Marathon. Looking ahead to 2018, my sister and I plan to tackle the London Marathon, as we both have sub-90-minute championship entry times.
I feel like this injury should have more awareness, as it took me such a long time to figure out what was wrong with my leg. I wouldn't want that to happen to other athletes in my position. It's difficult to express how relieved I am that my injury was finally sorted out. Now, I can run pain- and injury-free, and I can finally enjoy racing again!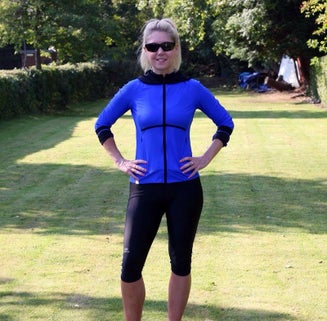 Related:
Real Runners: The Lies I Stopped Telling Myself
I Became An Ultrarunner Less Than A Year After Having My Daughter