This Is How You Should Be Using Kinesiology Tape
Is taping every injury beneficial?
Heading out the door? Read this article on the new Outside+ app available now on iOS devices for members! Download the app.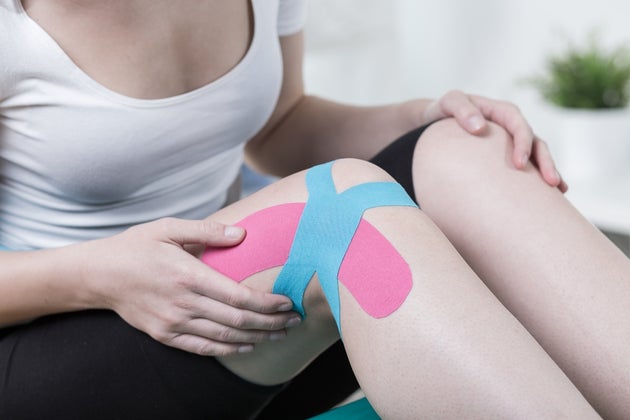 Had kinesiology tape been around in Humpty Dumpty's day, perhaps our favorite nursery rhyme would have a happier ending. This tape, also known as "kinesio tape," "K-Tape" and "the weird neon stuff at races," has become a popular mode of injury management for runners.
For many, the idea of taping an injury conjures memories of the white surgical tape their high school gym teachers bought by the case: awkward, archaic and not always effective. Kinesiology tape, then, seems like a brightly colored rebrand of that practice—but it's not.
"The white tape you are used to seeing is referred to as 'McConnell Taping' in the rehab world," says Moira Devereaux, a physical therapist and researcher in Nova Scotia, Canada. "It is a rigid, highly adhesive tape that is mostly used to support a structure or restrict its movement." She adds that this sort of sticky stuff is designed to be worn for less than a day— 18 hours at most.
Alternatively, kinesiology tape is a thin, highly elastic tape that can stretch up to 140 percent of its resting length. This elasticity allows a limb or muscle to go through its full range of motion, rather than be restricted. The benefit, according to manufacturers, is improved alignment and decreased swelling, achieved by lifting the skin from the underlying muscles and fascia. The tape is also designed to enhance sensory feedback to muscles, affecting the user's proprioception, or awareness of how the body moves. Kinesiology tape can be worn for up to five days, if necessary, allowing the wearer to protect an injury without having to take complete rest.
But does it work? That depends. Scientific evidence to support the use of kinesiology taping in the lower extremity has been mostly inconclusive. There seems to be some merit in its ability to reduce pain and improve muscle activation in conditions such as patellofemoral pain syndrome (aka runner's knee). There is also some evidence that its use can reduce muscle fatigue in the quadriceps when running.
But for other ailments, such as plantar fasciitis or lower back pain, taping may be a waste. Research published in the March 2014 issue of Journal of Physiotherapy declared that the use of kinesiology tape for these conditions was no more effective than "sham taping" with a sticky fabric placebo. It's also important to note that kinesiology taping is not a substitution for rest, which is critical to heal many overuse injuries like stress fractures.
To determine if a running injury would benefit from the support of kinesiology tape, it's best to check in with an expert. If your sports medicine specialist or physical therapist determines taping is a good fit for you, she or he can walk you through proper application. Though Devereaux says that there's no evidence incorrect application will do harm, it may limit any positive effects you would otherwise see.
A physical therapist can also help correct the underlying movement or muscle weakness causing the injury. This tape isn't a cure, so be careful to use it as an aid—not a crutch. Devereaux says, "I would not suggest the use of tape longterm. Ideally, kinesiology tape is a training tool. It is designed to assist the body with correct muscle activation. As your body becomes accustomed to moving with the correct muscle patterning, you want to wean yourself from use of the tape in order to facilitate normal movement under your own volition."
Read More:
How Does K-Tape Help Runners Recover?
How To Tape 3 Common Running Injuries