How a Western States 100-Mile Champ Fuels on the Run
Learn how to properly fuel on the trails from a world-class Olympic marathoner and ultrarunner.
Heading out the door? Read this article on the new Outside+ app available now on iOS devices for members! Download the app.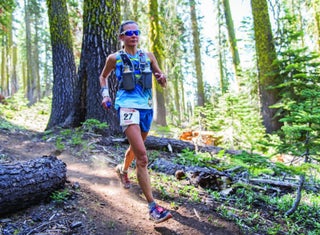 An Olympic marathoner turned ultrarunner, Magdalena Boulet is the vice president of innovation, research and development at Gu Energy Labs, a sports nutrition company. In June, the Hoka athlete won the world-class Western States 100-Mile Endurance Run in her first attempt at the distance.
What fuel do you use for a 100-mile trail race?
Boulet eschewed solid food and fueled exclusively with a high-calorie sports drink and water at Western States. She drank 250 calories per hour of caffeinated Gu Roctane. "Sometimes I drank extra. At aid stations I picked up a little ice water," she says. "I was testing a new flavor, because I have the privilege of working in the lab." The general public can choose among lemon lime, tropical fruit and grape.
Why all liquids?
When you're running 100 miles, Boulet says, "There's a lot of demand on your body. Adding nutrition for your gut to process is a challenge." By using only an easily digestible sports drink, "I had more blood flow going to my muscles."
Are sports drinks always enough?
"I think that every runner is unique," she says. "What worked for me in this race may not even work for me in other races." Depending on the weather and intensity of her effort, Boulet often uses both drinks and gels. "The hotter it is, the less demand I tend to put on my system."
Related: What Runners Really Love to Drink & Eat!
When do you fuel?
As opposed to drinking on a strict schedule, Boulet takes frequent small sips based on thirst—often on ascents when the footing is easier—and had no problem polishing off a 250-calorie bottle per hour at Western States. "That was ideal for me. I felt like my energy was very consistent through the race."
Do you rely on aid stations?
Boulet carried two bottles during the 100-miler, which was particularly hot this year. One had her secret sports drink and one was filled with ice—as it melted, she'd sip the ice water. At aid stations, she grabbed extra ice to put on her wrists, in her hat and sports bra, as well as in the back of her hydration vest. By keeping her body cool, she says, "I would be able to digest more."
Related: Belt, Bottle, or Vest—Which Hydration System Is For You?
What else do you eat on runs?
When Boulet does reach for a little something extra at aid stations, she likes pretzels, baked potatoes and watermelon. She often eats bars in training, when she's not running as fast and takes a break to enjoy a mountaintop view with friends.