Recipes For 10 Healthy(ish) Holiday Cookies
Each of these 10 holiday cookie recipes provide healthier alternatives to their traditional counterparts.
Heading out the door? Read this article on the new Outside+ app available now on iOS devices for members! Download the app.
You probably have a favorite holiday cookie that conjures up festive memories with the first bite you take. Since the holidays are a time of merriment and joy, we think you should eat those cookies without any feelings of guilt. Whether it's warm gingerbread, soft sugar cookies or peppermint patties, you deserve to have a holiday treat. But why not try to make your own healthy-ish holiday cookies at home this year? All of these recipes have unique ingredients that make them taste amazing–all while providing a nutritious boost for your runner's body.
Whole-Food Cut-Out Cookies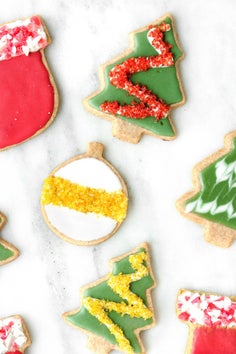 What's better than spending family time around the table baking and decorating holiday cookies? These whole grain holiday cookies require just one bowl and five ingredients. Made with whole grain spelt flour, they'll provide you with fiber and protein boosts. They are almost too gorgeous to eat…almost.
Peppermint Patties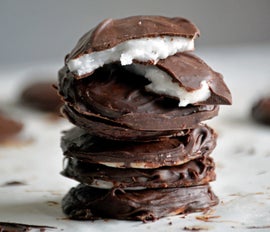 Okay, so technically these aren't cookies, but the peppermint flavor just screams "holidays." For many, the combination of chocolate and peppermint is almost as good as chocolate and peanut butter. These homemade peppermint patties bring that flavor blend to life with just a few simple ingredients. No oven required!
Matcha Almond Cookies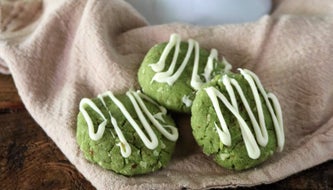 The natural green color in matcha makes it the perfect ingredient to use in holiday baking. For those of you who want to avoid artificial food dyes, matcha is the answer. It's a green tea powder that gives off an earthy taste and gorgeous green holiday color. Try it in these cookies, and you may soon find yourself starting to add it to all of your baked goods.
Almond Joy Macaroons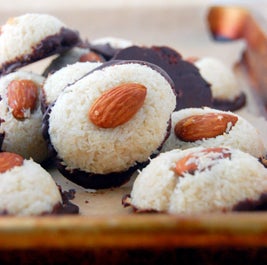 There's something special about making your favorite holiday candy at home. These homemade Almond Joys are made with unsweetened coconut and just a pinch of sugar for a healthier version of your favorite candy. While these aren't exactly cookies, they will definitely provide tons of holiday joy (pun intended) around your home.
Chocolate Gingerbread Cookies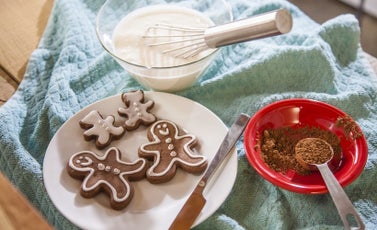 You can't let the holidays go by without a soft and chewy gingerbread cookie. This version has a special twist—it's made with cocoa powder for a chocolatey and rich flavor and allergen-friendly SunButter, for those who can't eat nuts. If you're feeling extra generous this season, check out the SunButter Trending Chocolate Recipe Collection, which features 18 chocolate recipes that are peanut- and tree nut-free. All proceeds from the sale of this recipe eBook will be donated to the Food Equality Initiative.
Whole Grain Thumbprint Cookie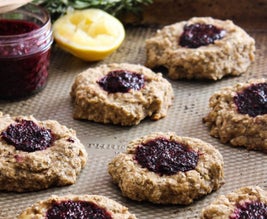 There's really nothing more traditional than a good old-fashioned thumbprint cookie. What's unique about these is that they're made with whole grains, sweetened with banana and can be filled with any type of jam you like. This recipe uses a homemade blackberry chia jam, which sounds like a comforting holiday treat.
Chocolate Chip Banana Cookies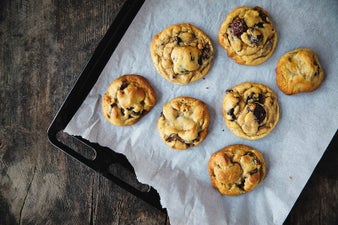 "Mashed bananas and Truvía Cane Sugar Blend provide sweetness to these moist, delicious chocolate chip cookies," says Toby Amidor, MS, RD nutrition partner with Truvía. Amidor uses this sweetener because it offers big flavor with 75 percent fewer calories than regular sugar. "For cookies, brownies, cakes and muffins, swap granulated sugar with half as much Truvía Cane Sugar Blend," she adds.
No Bake Chocolate Vegan Haystack Cookies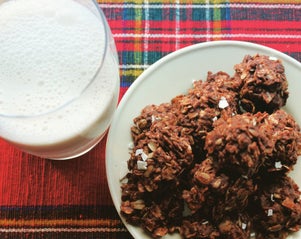 You know what's awesome about these cookies? There's no baking required! They're also vegan, so even your plant-based friends can enjoy some holiday cheer. The delicious ingredients, which include coconut flakes, chocolate and peanut butter, make these cookies hard to beat.
Snowball Cookies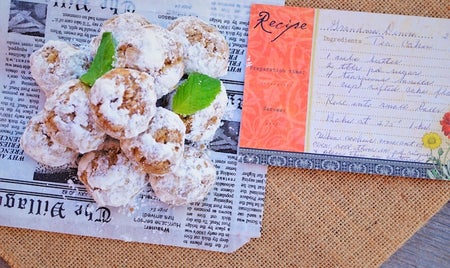 These simple cookies are "little balls of joy", according to the blogger who created them. Made with just a few simple ingredients, rolled into a ball and dipped in powdered sugar, I can see why. Not only do these look fun and festive, but they taste sweet and delicious.
Dark Chocolate Dipped Chai Almond Cookies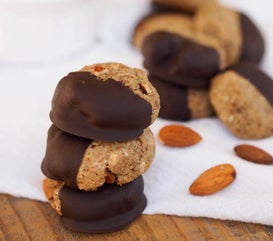 There's something about the taste of chai around the holidays: the warm and cozy spiced tea adds holiday cheer to the dark and dreary winter. This chai-filled almond cookie is dipped in a dark chocolate, making it a cookie that has everything you need in one delicious bite.
Related:
Give Yourself A Bit Of Grace This Time Of Year
Satisfy Your Sweet Tooth With These Cookie Dough Bites
Running The Numbers: Exercise And Fueling During The Holidays