8 Recipes Full Of Healthy Greens To Embrace This Spring
Each of these eight recipes celebrates the arrival of spring produce and is full of the nutrients athletes need to get through each workout.
Heading out the door? Read this article on the new Outside+ app available now on iOS devices for members! Download the app.
If you look closely enough, you may see some green peeking out from underneath the frost. The long winter chill is almost over (we hope), and spring has officially sprung. Whether you are still thawing out or fully immersed in springtime weather, one thing is sure—spring produce is on the horizon. Let's celebrate moving away from the cold and dark and onto the bright and vibrant with some delicious and healthy green recipes!
Healthy Shamrock Shake
Skip the drive-thru and make this green smoothie instead. This Healthy Shamrock Shake has some serious dreamy, creamy, minty goodness, without all the added sugar of the original.
Chimichurri Sorghum Breakfast Bowl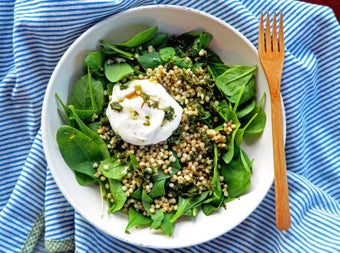 Sorghum is an up-and-coming grain that's packed full of protein to keep you full and satisfied all morning. This breakfast bowl combines this versatile grain with greens and eggs for a hearty and healthy way to start your day.
Green Pancakes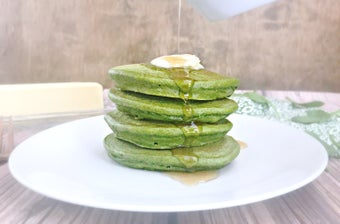 If you're looking for ways to introduce more greens into your daily fueling plan, these pancakes beat eating a salad for breakfast! Made with whole wheat flour and spinach, they are full of fiber that makes you full and keeps your digestive system running smoothly.
Beet Green Pesto Pasta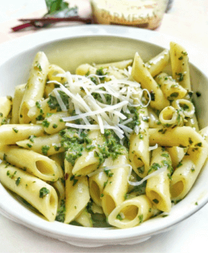 Did you know that reducing food waste is on trend in 2018? The next time you buy beets, make sure to save the greens for this recipe. Like other dark leafy greens, beet greens are full of vitamins, minerals and antioxidants.
Green Smoothie Bowl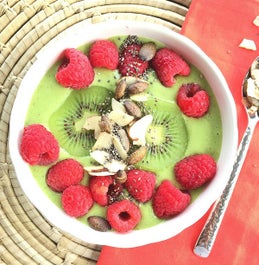 This smoothie bowl is a great way to get kids (or yourself!) to eat more fruits and vegetables. Featuring the addition of mango, banana and kiwi, each bite is sweet, tropical and full of nutrients.
Crispy Brussel Sprouts With Avocado Green Goddess Dressing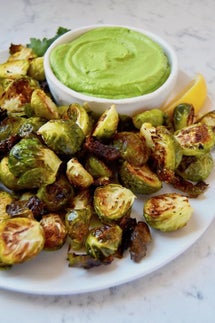 If you think you don't like Brussels sprouts, you've never tried them this way. This recipe makes sprouts that are perfectly crisp and caramelized. Pair them with a creamy avocado-based dressing and the dish can't be beaten.
Zucchini And Avocado Mac And Cheese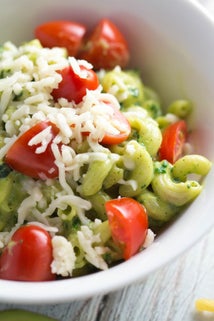 Mac and cheese may be the ultimate comfort food, but adding veggies makes this pasta dish a healthy dinner choice. Plus, the nutritional yeast adds extra protein and fiber.
Quick And Easy Green Udon Noodles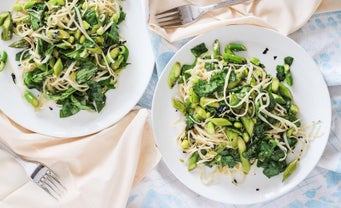 This recipe means that you're only 15 minutes away from having a delicious and nutritious meal on the table. Made with edamame, spinach and asparagus, this pasta is loaded with vitamins and minerals.
Related:
Drink This Simple Green Smoothie Before Your Next Workout
Nutrients You Should Always Combine To Maximize Health Benefits