Is Soy Really That Bad For You?
We've all heard the hype about soy milk, and now we're answering the question everyone's asking: Is soy good for you?
Heading out the door? Read this article on the new Outside+ app available now on iOS devices for members! Download the app.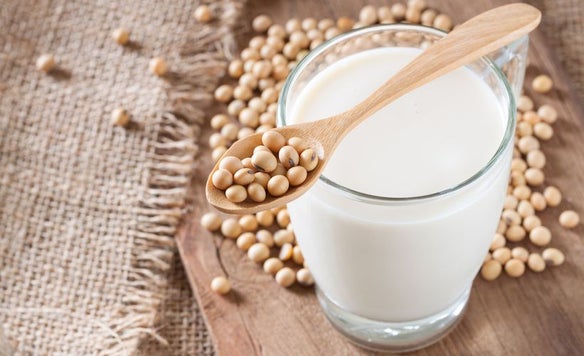 The protein with the most fear surrounding it isn't beef or pork—it's soy. Many women avoid this plant protein because they believe it can cause breast cancer, and men stay away from it because they don't want to eat too much estrogen. This debate is a confusing one, so let's take a look at some of the facts.
What Is Soy?
Soy is a legume that is used in everything from tofu to milks and cheeses. Soy beans contain about 16 grams of protein and 180 calories per ¼ cup, and they are rich in calcium and iron. This tiny legume is most commonly associated with tofu, which is made by curdling hot soymilk with a coagulant. It's actually a complete protein, which means it contains all nine of the essential amino acids that the body cannot make on its own. There are very few plant-based proteins that have this characteristic, which is why tofu is a favorite among vegans and vegetarians.
Is It Bad For You?
Since soy is full of protein, calcium and iron, why does it have such a bad reputation? To start, it contains an estrogen-like compound called isoflavone. In a few select studies, consuming isoflavones has been associated with an increased risk of cancer and infertility. But just because a few studies show this link doesn't necessarily mean that soy should be off the table. Other studies have proven that eating a diet rich in soy can help lower cholesterol and reduce menopause symptoms. Here's a breakdown of how it affects women's health:
Cancer
After reviewing the research on soy and cancer, the American Institute for Cancer Research released a position statement in 2012, which stated that eating soy is safe because it "contain[s] several key nutrients and phytochemicals studied for their cancer prevention properties." Another large analysis of 35 studies found that isoflavone intake may actually lower the risk of developing breast cancer in women in Asian countries. The researchers also concluded that in western countries, there is no link between a person's isoflavone intake and breast cancer. In other words, most of the recent research on this topic indicates that eating soy does not cause cancer.
Fertility
"Though there's always room for more research in this area, research continues to point to the fact that moderate soy intake may be included as part of a diet conducive to conception," says Elizabeth Shaw, MS, RDN, CLT, Nutrition Communications Consultant and co-author of Fertility Foods Cookbook. She adds that some research even suggests that it may protect against infertility. In one important study, researchers collected data on the diets and lifestyles of more than 116,000 female nurses between the ages of 25 and 42 and found that eating just one daily serving of beans, peas, nuts, tofu and soybeans may protect against ovulatory infertility. "Other research has found that a diet rich in soy foods may be beneficial for women undergoing assisted reproductive therapy," adds Shaw. "As a women who's been trying to conceive for more than years, I do know that there's no magic superfood that'll make you pregnant. But if you like tofu, there's no need to cut it out of your diet right now!"
Menopause
While soy isn't the miracle cure to all menopausal woes, it has been shown to help with symptoms. During menopause, the body is very low in estrogen. The isoflavones in soy are phytoestrogens that mimic the effect of estrogen. Boosting your body's intake of these nutrients during this time can help ease night sweats, and the abundance of calcium in soy can help increase bone density.
The Bottom Line
There is no need to fear soy. It's a nutritious food with many health benefits, most of which are supported by scientific research. Don't be scared of soy; you can even feel free to add it to your Meatless Monday routine!
Related:
10 Foods That Aren't As Healthy As You Thought
Which Of These 5 Common Types Of Milk Are Best?
6 Foods That Make Up A Heart-Healthy Diet