Getting the Right Nutrition on Trail Runs Can Make All the Difference
Here's how to go far by eating often—and well. Plus, three recipes for real-food blends.
Heading out the door? Read this article on the new Outside+ app available now on iOS devices for members! Download the app.
You have to eat to run, no matter what kind of running you do. However, when it comes to trail running, fueling becomes even more important given more remote locations and longer times spent covering similar distances on roads.
Sports nutritionist and coach Kylee Van Horn, RDN, founder of FlyNutrition, herself a former collegiate runner who now loves hitting the trail, created her nutrition practice around the concept that smart fueling is essential to performance. She encourages her athletes to focus on three things when fueling longer efforts: fluid intake, electrolyte intake, and food/calorie intake. All three rely on the other to fuel the body properly, and oftentimes, when runners have stomach issues, it's due to being low in one or more of those areas. That said, it takes practice to know your specific needs, as well as what works for your body and what's feasible for you to carry on the trail. Even elite runners don't carry the same snacks on the trail.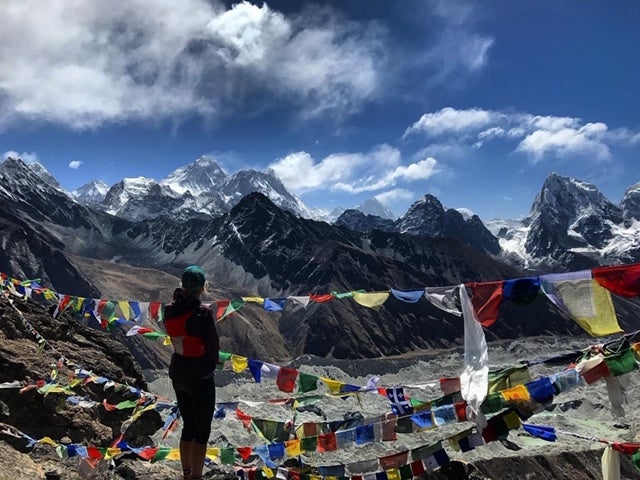 To get in the habit of eating and drinking on the go, Van Horn recommends having a pattern for yourself and using a beeper on your watch or phone as a reminder. At specific time or mileage intervals, plan to take on fluids and calories, whether you feel like it or not, so that you don't get in a deficit situation. Even if you're wearing a pack, you can carry some food or water in your hand as a visual reminder.
Nutrition Tips for Long Runs
Drink Up
While the standard hydration recommendation is to consume 16 to 20 ounces an hour, that can be a lot. Drink a minimum of 10 to 12 ounces an hour and work your way toward the higher amount. If your hydration mix has calories, include them as part of your 200-300 calories per hour.
Balanced Electrolytes
Electrolytes are essential minerals our bodies need to function. While they are all critical (think sodium, potassium, chloride, and magnesium), sodium gets the most attention because it helps you to get the glucose (energy) you need from the food you are consuming. Aim for 250mg an hour as a minimum, based upon how much you're sweating, and consider whether you'll be taking it on via your hydration or food.
Snacking for Success
The standard recommendation is to take on 200-300 calories per hour, when exercising. This may vary slightly depending on individual needs, challenges of the terrain, body size, weather, et cetera (this same caveat also applies to electrolyte and fluid recommendations). Keep in mind that if you have calories in your hydration and electrolyte source, you may not need to consume as many calories of food.
Van Horn suggests carrying a gel or real food blend you're comfortable with because it's convenient and allows for you to easily get calories or carbs, especially in a pinch. She then recommends running on real food by having two or three "real food" options, meaning not processed, based upon what works best for your system and what is realistic to carry (consider a pack for longer efforts). Variety becomes important on long efforts.
If you're going at race pace, consider foods that provide quick energy and are easy to digest. Some examples are gels, dates, Fig Newtons, real food blends, or boiled potatoes with salt.
If your pace is more scenic and a mix of hiking and running, you should be able to tolerate more fat and protein. Pack yummy options like a peanut butter and jelly sandwich, tortilla roll-up with Nutella or peanut butter, pretzels, chips, cookies, real food bars, or a stroopwafel with peanut butter.
Van Horn's biggest advice to her clients is, "Don't be afraid of running on real food!" Gels and chews serve a valuable purpose, but there are so many tasty options, once you start thinking about fueling with food. She also recommends reaching out to sports dietician to dial things in more specifically for you.
Make Your Own Real Food Blend for Running
Try these recipes from Kylee Van Horn when you want to fuel your long run with something other than gels.
Banana Sweet Potato
Servings: 2
Puree ½ cup roasted or steamed sweet potato (peeled) with 1 medium banana, ¼ teaspoon salt, and ½ cup water until smooth. Add more water, 1 tablespoon at a time, to achieve desired texture. Store up to three days in the fridge. Carry it with you in a reusable flask or plastic bag.
Nutrition Facts (per serving):
Calories: 109
Carbs: 27g
Sodium: 311mg
Potassium: 514mg
Piña Colada
Servings: 2
Puree 1 banana with ½ cup frozen or fresh pineapple, 2 tablespoons shredded coconut, ½ cup coconut water, and ¼ teaspoon salt until smooth. Add water, 1 tablespoon at a time, to achieve desired texture. Store up to 3 days in the fridge.
Nutrition Facts (per serving):
Calories: 102
Carbs: 27g
Sodium: 314mg
Potassium: 66mg
Maple Apple Cinnamon
Servings: 2
Puree 1 cup unsweetened applesauce with 2 tablespoons maple syrup, ½ cup water, ¼ teaspoon cinnamon, and pinch of salt. Add more water, 1 tablespoon at a time, until desired consistency is achieved. Store up to 3 days in the fridge.
Nutrition Facts (per serving):
Calories: 102
Carbs: 27g
Sodium: 82mg
Potassium: 132mg
The author's favorite snack for long days on the trail is her very own trail mix made from freeze dried pineapple, salted cashews, spicy beef jerky, and Haribo Goldbears (they don't melt even when it's 95+ degrees in the bottom of the Grand Canyon), for a satisfying mix of sweet, salty, healthy fats, and protein.