Learn How to Prep Mussels with This Guide
Master fresh mussels and bring healthy, sustainable protein to the table.
Heading out the door? Read this article on the new Outside+ app available now on iOS devices for members! Download the app.
Proof that great things come in small packages, mussels are a type of bivalve mollusk with a delicate, sweet-briny flavor and pleasantly chewy texture. If you're eco-conscious, you can rest easy knowing that farmed mussels are sustainable superstars. Unlike salmon and shrimp, they clean the water they are raised in. Learning how to prep fresh mussels is a great way to bring variety to your weekly meal plan.
Mussels deliver a boatload of nutrition benefits, including heart-hero omega-3 fats, the potent antioxidant selenium, and vitamin B12—a nutrient vital for a properly operating nervous system.
Shop
Mussels are a frugal shopper's dream, setting you back about $3 a pound. Most fish counters sell bags of mussels that are stored on ice. Their shells should look shiny and wet, and a sniff test should reveal a clean, slightly salty ocean smell. Pass on any bunches that smell funky or contain several opened or cracked shells.
Prep
If needed, pull off any hairy bits with tweezers, and then submerge mussels in large bowl of cold water for a few minutes, which helps remove any lingering grit. Discard any that don't close shut with a slight tap of the finger. Unlike most seafood, mussels are nearly foolproof to cook: Simply place a pound or two in a large pot containing aromatics like shallots and garlic along with about a cup of simmering liquid, which can range from broth or beer to saucy crushed tomatoes or coconut milk. Cover and steam until they pop open, about three minutes. Be sure to discard any that have not popped open during cooking. Eat straight from the pot, or use the meat in soups and pasta dishes.
Make It Last
Mussels will keep for up to two days in your refrigerator if placed in a bowl and covered with a damp paper towel. They're sold alive, so never keep them in a plastic bag—they'll suffocate.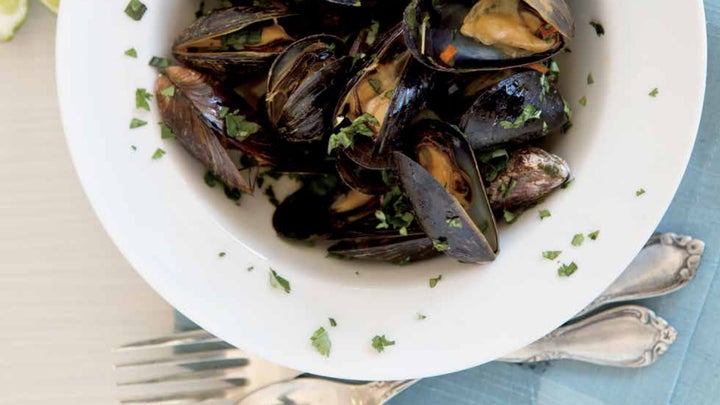 Try our recipe for Fresh Mussels in Spicy Herb Broth as an easy entry point into home-cooking this versatile protein.