Lohikeitto Is Your New Favorite Protein Soup Recipe
This lohikeitto recipe from Finland is full of hearty proteins and healthy carbs that'll fuel the endurance athlete's next big workout.
Heading out the door? Read this article on the new Outside+ app available now on iOS devices for members! Download the app.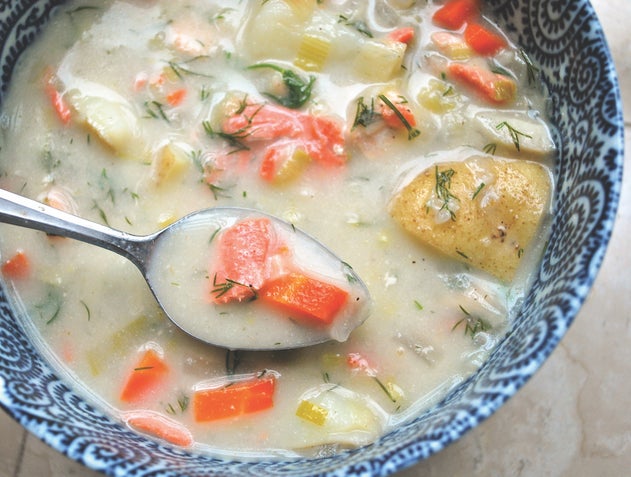 For his new book The Endurance Diet: Discover the World's Greatest Athletes' 5 Core Habits to Look, Feel and Perform Better, author Matt Fitzgerald spent 18 months comparing diets of elite endurance athletes from 33 countries. This salmon soup from Finland is full of protein and carbs that'll help fuel any endurance athlete's next big workout.
Related: Eat Like An Elite With Help From This New Book
Finnish food is simple, hearty and warming, and this soup stays true to those themes. Instead of using only fresh salmon, which would have been the conventional choice, we've included a small amount of smoked salmon to give another layer of flavor to the dish.
Lohikeitto (Salmon Soup)
Serves 4
Ingredients
1 onion, chopped (yellow or white)
1 leek, sliced
1/2 Tbsp. extra-virgin olive oil
1 pound white nugget potatoes (8 small) cut into 1-inch pieces (peel, if desired)
1 carrot, diced
2 cups vegetable or fish broth
2 cups water
12 oz. wild salmon, skinned and cut into 1- to 2-inch cubes
4 oz. smoked salmon, cut into 1-inch pieces
1 cup whole milk or half and half
1 cup chopped fresh dill (about 1 oz.)
1/2 tsp. salt
1/2 tsp. black pepper
4 slices rye bread, optional, for serving
Directions: 
In a medium pot, cook onion and leek in olive oil over medium heat until softened, about 8 minutes. Add potatoes, carrot, broth and water and cover. Turn heat to high to bring to a boil, then reduce to medium for 5 minutes or until potatoes are tender. Turn heat to low. Add both types of salmon and simmer for 5 minutes. From this point, only stir very gently to avoid breaking up salmon. Add milk, dill, salt and pepper to taste. Remove from heat and serve with toasted rye bread.
Nutrition Facts:
291 calories, 7g total fat, 32g total carb, 4g fiber, 29g protein (served without bread, made with whole milk); 334 calories, 12g fat, 31g carb, 29g protein (made with half and half)
Related:
Spice Up Your Favorite Fish Tacos With This Recipe
Try Something New With This Ugali Recipe From Kenya