Breaking Down The Hype Around Coffee And Running
What's the hype around coffee and running? Is it effective? Good? Bad? One nutritionist breaks it down (and it turns out it's not bad).
Heading out the door? Read this article on the new Outside+ app available now on iOS devices for members! Download the app.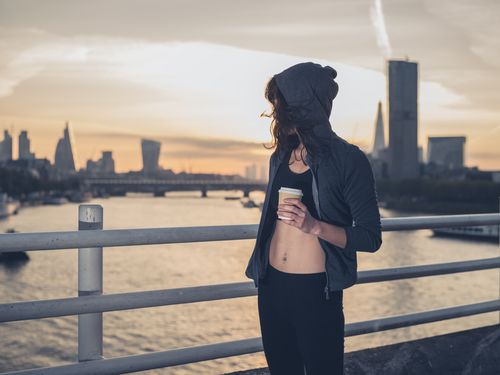 I honestly don't remember the last time I started my day without a cup of coffee. For a while, I thought this was a bad thing—my secret little addiction. This feeling seems to be common among the runners I counsel, since everyone's favorite caffeine fix tends to get a bad rap. But after diving into the research on caffeine, it turns out that this feeling of guilt may not be warranted. What harm can a little caffeine actually do, if any? You may be surprised to learn that coffee can actually be helpful, rather than harmful.
Related: How Much Caffeine Is Too Much Caffeine?
The Nutrient In Coffee
It seems somewhat obvious, but you may not realize that coffee contains water. An 8-ounce cup of coffee contains (you guessed it) 8 ounces of water. While coffee isn't necessarily recommended as a hydration beverage, it's a nice added perk. A cup of coffee also has B vitamins, including 10 percent of your daily value of niacin and riboflavin. Both of these nutrients are present in enriched wheat products, but it's always nice to get an extra boost for your morning cup of joe.
Coffee is most known for its abundance of antioxidants. Its inflammation-fighting properties may help ward off serious diseases, like cancer and heart disease, and can help protect aging joints.
Caffeine
More than anything else, coffee is known for its caffeine. An 8-ounce cup of coffee has 95 milligrams of caffeine, more than almost any other drink. To put that into perspective, this is how coffee stacks up against soda, tea and chocolate:
Coffee (8 ounces): 95 mg
Espresso (1 ounce): 64 mg
Soda (8 ounce): 22 mg
Black or Green Tea (8 ounce): 25 mg
Chocolate (1 ounce): 12 mg
Clearly, coffee has the most caffeine of any item on the list. But is that a bad thing?
Coffee And Athletic Performance
Pick up a packet of your favorite gel and you may notice that it contains caffeine. That's because a ton of research has found that caffeine during competition results in positive athletic performance. One study found that supplementing with just 5 mg of caffeine improves power output and respiratory flow in cyclists. That's less caffeine than a bar of chocolate! Another study looked specifically at the effects of caffeine on a 5-kilometer run. The researchers found that supplementing with 5 mg of caffeine per kilogram of body weight increased speed during the race. The only thing is that for a 140-pound woman, that's about 320 mg of caffeine, or three 8-ounce cups of coffee. Lastly, another study in endurance-trained and active men looked at the effects of caffeine on perceived exertion, leg pain and pleasure and displeasure during a timed cycling test. The results showed that cycling performance and the amount of pleasure the cyclists felt during the test increased with consumption of 5 mg of caffeine per kilogram of body weight.
Coffee And The Digestive Tract
If you're an avid coffee drinker, you may notice that it has the same effect every morning—it helps you go to the bathroom. Many runners make sure they have a cup of joe before every race not only for the caffeine benefits, but also to have a bowel movement before (rather than during) the race. Although scientists aren't sure why coffee has this effect, it turns out that coffee can stimulate the colon and help food move out quicker. So, for a runner that drinks coffee on a regular basis, it may be beneficial to have a cup or two before a race to stay regular and get a caffeine boost. If you don't normally drink coffee, don't try it on race day.
A Word Of Caution
Many sugary and fat filled coffee drinks are popular nowadays. The benefits of coffee are from the caffeine in the bean itself, not from the high-fat cream or extra sugar added to fancy coffee shop drinks. If your coffee drink of choice is a caramel or vanilla latte, drink it sparingly as a special treat.
Related:
Which Type Of Coffee Best Describes Your Running Personality?
The Cold Brew Recovery Smoothie You Have To Try