How To Eat On The Run For Beginners
If you're circling too much advice regarding how to fuel, here are some basic steps to get started.
Heading out the door? Read this article on the new Outside+ app available now on iOS devices for members! Download the app.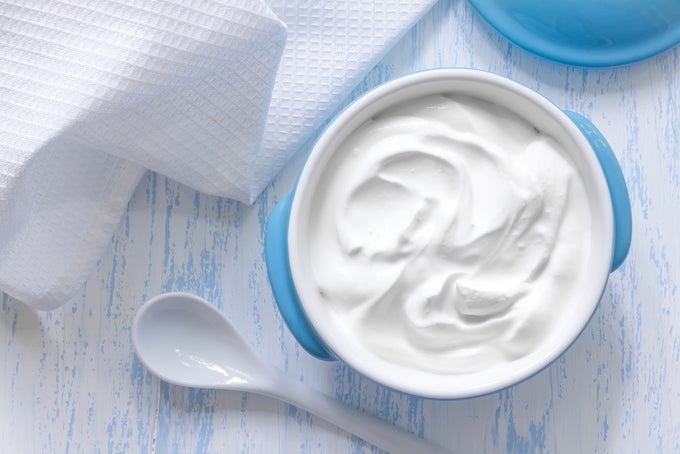 Most of us are well-versed in eating on the run, but in terms of actually eating while running, many of us come up short. For runners new to distance, this can be one of the most difficult concepts to grasp in the course of training. The thought of putting food in your mouth while pushing your body to its limits can seem pretty unpleasant. However, longer distances demand you harness the concept of eating on the run or risk turning in less than stellar times or, worse yet, bonking before you reach the finish line.
Who needs to fuel?
If you're a 5Ker for life, there's no need to worry about eating while running. However, once your training runs or races exceed 60 minutes, you should consider fueling. Generally speaking, if you're running longer than a 10K, there's a good chance you'll benefit from a few extra calories.
What should I eat?
When it comes to choosing a fuel source, it's as individual as your fingerprint. What works for your running partner may send you retching into the bushes. Some runners opt for whole foods, such as dried fruit or pretzels, while others swear by sports beans or gels. If you're unsure of which path to take, registered dietician and distance runner, Katie Delaney, suggests considering the following questions:
1. Do you prefer foods that will cause you to drink more water during running?
2. Which types of food do you enjoy: dry, chewy, liquid, crunchy, etc.?
3. Do you have a sensitive stomach?
In order to successfully feed yourself while running, you have to know your body and what works best for you. Use your answers to the above questions to experiment with different foods and products to determine your ideal training and race foods. "Keep in mind when you're training, you're not only conditioning your heart, lungs and muscles, you're also training your gut to accept and utilize the food you're ingesting," advises Delaney.
It's also important to take into consideration your training environment; during the hot summer months, we tend to have a natural decline in appetite, whereas you may be more game to eat something in cooler weather. Chances are, you'll find it extremely difficult to force food down during a long run on a hot day, but it's imperative you keep your fueling up to par – this may be an ideal time to focus primarily on gels and/or sports drinks.
How much should I eat and when?
While eating during long runs is necessary, eating too much will do more harm than good. So what is the ideal balance of food and fluid intake for a successful training run or race? By focusing on your nutritional needs before, during and after your workouts, you'll have a solid plan in place to successfully fuel you through the rigors of your running endeavors.
Pre-Workout
One to four hours before your run, Delaney suggests ingesting about 300 calories, which should include 60 to 75 grams of carbohydrates. By focusing on carbs and keeping your protein, fat and fiber intake relatively low, you're giving your body the energy it needs while minimizing any potential gastrointestinal upset. Hot or cold cereal with low-fat milk, fruit with low-fat yogurt, rice and pasta based dishes with minimum added fats, and energy bars are popular choices.
During Training/Race
Proper nutrition during training runs and race day is where the real art of eating on the run comes into play. Consuming adequate calories and fluids can make or break your performance. Summer races are especially important due to the fact that running in the heat can accelerate glycogen (what your muscles use for energy) depletion in your working muscles, making mid-run fueling that much more crucial.
Once you find that perfect food you want to eat and your stomach agrees with, appropriate timing is the next step. Delaney proposes, when refueling with food, aim for 30 to 60 grams of carbohydrates every 60 minutes. However, if you're relying on the carbs from a sports drink for fuel, the window narrows to every 20 minutes (the window drops to 15 minutes if you're also using the sports drink for your primary hydration source). Stick with what worked during your training runs, changing your game plan on race day can lead to a host of problems.
Post-Workout
What you do after run is just as important for success as what you do during. Longer runs lasting over an hour deplete the glycogen stores in your muscles. After a workout, your body has a 15 to 45 minute window of opportunity to take in and utilize carbohydrates to restore glycogen reserves. "Take full advantage of this window," urges Delaney. "Aim for 200 to 400 calories with a 4:1 ratio of carbs to protein to give your body the best chance for full recovery."
Greek yogurt with granola or raisins, bean and cheese burrito, peanut butter and jelly sandwich, pretzels and string cheese, bagel with peanut butter, or energy bars all have the macronutrient ratio recommended for recovery. If food is the last thing on your mind after your run, try the old stand-by – chocolate milk. It could, quite possibly, be the most effective post-recovery food out there with just the right combination of electrolytes, protein and carbohydrates.
Forming a Sound Nutrition Plan
When it comes to learning to eat on the run, there is no one-size-fits-all approach. It may take some time, but every runner needs to experiment to determine what works best for her. Delaney's final words of wisdom are: "Limit surprises! Don't eat anything on race day you didn't eat during training. If you're traveling for the race, make sure you have access to your go-to foods for breakfast and the race itself." Once you've got your nutrition dialed in, prepare to revel in the new PRs you're going to set.