Dietitians Share Their Best Fueling Advice For National Nutrition Month
Dietitians offer their best nutrition advice for runners in recognition of National Nutrition Month.
Heading out the door? Read this article on the new Outside+ app available now on iOS devices for members! Download the app.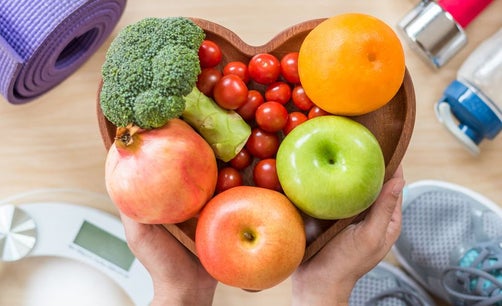 March is National Nutrition Month—yes, there is a whole month dedicated to nutrition—so I decided to ask some of my peers for their best fueling advice. If they could only tell you one thing about fueling for running, what would it be? Let's be honest: there's so much information out there about eating for your sport that it can make your head spin. But if you take this simple advice into account, you'll be golden.
Hydration Is #1
I'm not really sure why people don't take hydration more seriously. It's one of the easiest things you can do to enhance your performance, and it's not optional. Julie Stefanski, RDN, CSSD, agrees. "Learning to hydrate and practicing your fueling plan during short runs is essential to consuming adequate fluid when mileage gets longer," Stefanski says. "Don't hurt your performance by ignoring the importance of hitting minimum fluid goals." Drink enough water before and during your run until your urine is a light yellow color. It's that simple!
Consume Fuel Slowly
"I think people assume that they should eat an entire gel in a couple gulps. You can certainly try that, but if you are struggling with any stomach issues while fueling, try eating your fuel more slowly over a mile–or even two," suggests Anne Mauney, a registered dietitian, marathoner and blogger at fANNEtasticfood.com.
Time Your Fiber Correctly
"Your pre-workout meal is not the time when you want to consume your daily amount of fiber," says Sarah Pflugradt, MS, RDN, LDN. "Forget the whole grains in the hours before a race or a long run. Save your fiber-rich meals for after your run."
Pay Attention To Nutrition Every Day
"Make daily nutrition as important as race-day fueling," says Hayden James, MA, RDN/LD. "Learning to cook and committing to prepare more meals at home with nourishing foods can improve performance and even foster more appreciation for food."
Practice Your Fueling Routine
"Make sure you have a fueling plan that you have practiced at least five to six times before a race," says Suzanne Iovanni, RDN, CSSD. "You need to train your gut and figure out the right combination of foods for you! Once you've got the food down pat, then practice fueling at your race pace as well."
Don't Neglect Potassium
"It's one of the most common mistakes I see runners make: they make it a point to consume adequate carbohydrates and sodium, but the most popular sports drinks don't provide near as much potassium as athletes assume," cautions Angie Asche, MS, RD of Eleat Sports Nutrition. "Potassium and sodium work together to regulate fluid levels and electrolyte balance, and failing to replace potassium during and after workouts could potentially lead to muscle aches, cramps and fatigue. Incorporate potassium-rich foods in your diet throughout the day such as potatoes, bananas, avocado, coconut water, spinach and sweet potatoes to make sure you are consuming enough."
Sometimes, The Rules Don't Apply
"Don't feel like you need to follow every rule in the book! It's important to listen to your body and its preferences so you feel as energized as possible and recover well, too," advises Kelly Jones, MS, RD, CSSD, LDN of Kelly Jones Nutrition. "Use sports nutrition science as a guide and make adjustments so that it works for your unique needs, and seek out the help of a sports dietitian if you're confused."
Related:
5 Nutrition Rules That Only Apply To Runners
5 Out-Of-The-Box Ways To Add Whole Grains To Your Plate
The 4 Nutrition Tips You Haven't Heard That Maximize Your Training