Recipe: Arugula Salad With Mouthwatering Grilled Toppings
Susie Middleton shares this delicious arugula salad recipe from her new cookbook Simple Green Suppers.
Heading out the door? Read this article on the new Outside+ app available now on iOS devices for members! Download the app.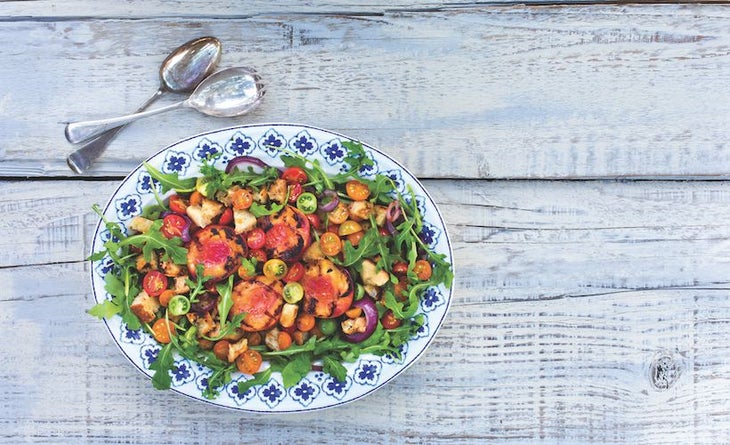 In her new cookbook Simple Green Suppers, Susie Middleton offers several healthy, one-dish vegetarian meals–most of which can be prepared in an hour or less.
This casual summertime supper salad features two of my favorite pairings. First, there's the kicky flavor contrast of sweet summer peaches with brightly acidic vine-ripened tomatoes. Second, there's the fun textural juxtaposition of juicy tomatoes and crunchy grilled bread. The tomato-bread mix is a twist on an Italian panzanella salad, only here it is used a bit more like a garnish for an arugula, peach and grilled onion salad. (Arugula never had it so good!) If you've never grilled peaches before, no worries—it's much easier than it sounds, and quite delicious.
Related: 4 Tips For Quick, Great Veggie Dinners
Grilled Peach, Red Onion And Arugula Salad With Grilled Croutons And Sun Gold Tomatoes
Serves 4
Ingredients
2 Tbsp. balsamic vinegar
2 Tbsp. fresh lime juice
2 Tbsp. maple syrup
Kosher salt
Four 1-inch-thick slices of ciabatta bread
1 medium red onion, cut crosswise into ½-inch-thick slices (keep slices together)
2 ripe-but-firm peaches or nectarines, cut in half and pitted
Extra-virgin olive oil
1½ cups halved Sun Gold tomatoes or other yellow or colorful cherry tomatoes
4–5 cups arugula
3–4 Tbsp. crème fraîche or sour cream (optional)
Directions
Preheat a gas grill to medium heat. In a small bowl, whisk together vinegar, lime juice, maple syrup and a big pinch of salt and set aside. Arrange bread slices, onion slices and peach halves on a rimmed baking sheet for transporting them to the grill. Brush both sides of everything generously with olive oil and season with a little salt. (If you like, you can thread the onion rings on metal skewers or metal turkey lacers for easier cooking.) Arrange the bread and onion slices on the grill. Cover and cook until the bread is golden and marked on the bottom, about 2 minutes. Use tongs to turn the bread over, and cook until the other side is golden and marked, about 2 minutes. Remove the bread from the grill. Check the onions to see whether they are beginning to soften up. Once they have grill marks, turn them over and continue cooking until the other side is marked, 3 to 4 minutes more. Remove the onions from the grill and wrap them in aluminum foil to help them finish cooking through. Arrange peaches (cut-side down) on the grill and cook until grill marks form, 3 to 4 minutes. (Try not to move the fruit for the first 3 minutes.) Rotate the peaches 90 degrees (to make cross-hatch grill marks) and continue cooking for another 2 to 3 minutes. Remove peaches from the grill. (They do not need to be grilled on the skin side; they will be soft and very warm already.) Cut each slice of grilled bread into 8 to 12 pieces and put the pieces in a large bowl. Add the tomatoes, drizzle with 2 Tbsp. of the balsamic mixture and toss well. Arrange the arugula loosely on a large serving platter (or use 4 dinner plates). Arrange the peach halves over the arugula. Drop the tomato-bread mixture all around the peaches. Separate the grilled onion rings and arrange them over the salad. Season with salt and pepper, and drizzle with as much of the remaining balsamic mixture as you like. If using a platter, bring it to the table with serving spoons to portion out the salad, and with forks and knives for cutting up the peaches. When serving the salad onto plates, garnish each portion with a dollop of crème fraîche or sour cream (if desired), to be tossed in individually for a creamy finish.
Related:
A Grilled Vegetarian Flatbread That Takes Just 1 Hour To Make
Peach And Mozzarella Skewers Are Summer's Favorite Snack