9 Packaged Foods That Are Healthy On-The-Go Fueling Options
Each of these nine snacks are healthy fueling options for when you're busy and always on the go.
Heading out the door? Read this article on the new Outside+ app available now on iOS devices for members! Download the app.
Picture this: there's no traffic on the way to work, you eat all of your super healthy meals at the times you intended, you leave work on time and go for an energized run. Sounds a little too idealistic, right? As we all know, life gets in the way of our good intentions, and sometimes fueling for your run happens in the car, at the office, while running errands or not at all. Luckily, you can still eat properly while on the go with these packaged, portable foods.*
Drink Chobani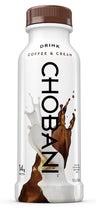 I'm the kind of dietitian who is all about natural foods—no supplements or protein shakes for this girl! That's why I love this Drink Chobani product, which is made with yogurt and contains 14 grams of protein for just 240 calories. While this is great pre-run fuel, the protein and electrolytes make it an even better post-run refueling beverage. And because I'm a self-designated "coffee snob", the Coffee and Cream flavor is my absolute favorite.
KIND Fruit Bites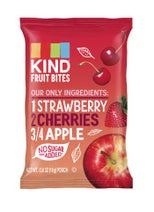 You know when you throw a banana in your bag only to find it brown and mushy three hours later? These KIND Fruit Bites are the solution to overripe gym bag fruit. They are bite-size snacks that are made with only real fruit–no juices, purees, concentrates or preservatives here! With no sugar added and a full serving of fruit in each pouch, it's the perfect on-the-go fruit that won't get soft or brown in your bag.
Dave's Killer Bread 21 Whole Grains And Seeds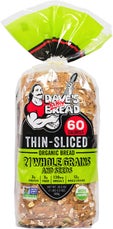 One of the best parts about being a runner is the abundance of bread in the diet. But as any marathoner will tell you, it's absolutely possible to overdo it in the carb department. Luckily, Dave's Killer Bread has thin-sliced varieties that are smaller and lower in calories, but still packed with whole grains, healthy carbs and protein. This version is true to its name—with 21 whole grains and seeds—and tastes fantastic by itself or toasted with a little jelly.
Wonderful Pistachios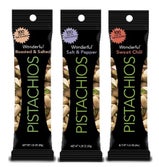 "Wonderful Pistachios' 100-calorie packs provide the perfect portion of satisfying fiber, plant-protein and better-for-you unsaturated fat," says Elizabeth Shaw, MS, RDN, CLT, of ShawSimpleSwaps.com. Throw a few bags in your purse to peel open at any time. "Plus, those purple and green hues come from free-radical fighting antioxidants!"
Gold Emblem Abound Cranberry Quinoa Nut Grain And Rice Bites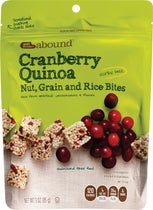 Move over stale rice cakes—there's a new treat in town! These snacks are completely gluten-free and are made with good-for-you quinoa, nuts, cranberries and rice. They make a great pre-run snack, or you can keep them in your desk drawer for whenever you need a healthy nosh. These healthy treats are available at your local CVS Pharmacy. And, little known fact: CVS Pharmacy now has health and wellness vending machines, featuring products like these, at convenient on-the-go locations, like airports, bus stations, train stations and on college campuses.
Natural Delights Medjool Dates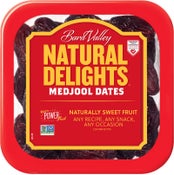 This plump and sweet fruit (yes, they are a fruit) provides the natural sugar that your body needs to power you through an intense workout. Not to mention that dates have a ton of potassium to prevent muscle cramps and replace electrolytes lost in sweat. They also contain antioxidants, which may prevent post-run inflammation.
Quaker Breakfast Squares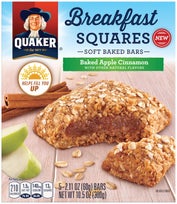 Stash these scrumptious snack squares in your desk, locker, purse or backpack for a satisfying pre-run snack. Each Breakfast Square contains 23 grams of whole grains per serving, is a good source of fiber (contains 10 grams of total fat per serving) and has no artificial flavors or high fructose corn syrup. Plus, the apple cinnamon version is basically like eating a healthier apple pie…for breakfast.
Beanitos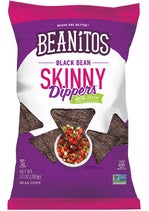 Yay, chips made the list! Let me preface this by saying that, although these chips are made from beans, they are still salty and a little higher in calories than most other items on the list. But that salt and those calories are what makes them great fuel for a longer run. Let's call these your "10K+" running fuel, because they may be a little bit more than you need for a 5K. Unlike traditional chips, these have protein, fiber, healthy carbs and antioxidants, all from the beans that are used to make them.
Angie's BOOMCHICKAPOP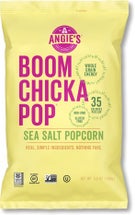 "Did you know Angie's BOOMCHICKAPOP popcorn is not only gluten free but also a delicious source of whole grains?" asks Shaw. Those whole grains provide long lasting energy during a run, "and they've got a variety of flavors from sweet to salty, made with real, simple ingredients." Put down those potato chips and throw a bag of popcorn in your to-go bag.
*Editor's Note: the author of this article is a nutrition partner with KIND and Dave's Killer Bread.
Related:
5 On-The-Go Snacks When You Need Immediate Fuel
5 Dietitians Answer Your Most Common Fueling Questions