This Watermelon Gazpacho Recipe Is Summer's Favorite Soup
This watermelon gazpacho recipe makes a fitting soup for any summer or fall occasion.
Heading out the door? Read this article on the new Outside+ app available now on iOS devices for members! Download the app.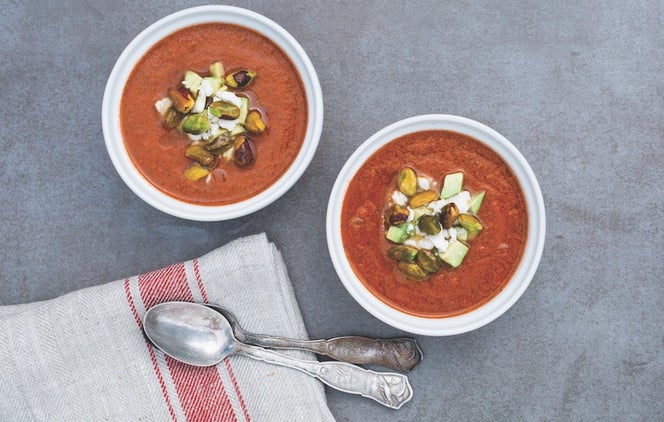 As part of his summer "Grill Thrills" series, Matthew Kadey offers a tangy recipe that'll make you question why soup is typically reserved for the cooler seasons.
There are few better foods to beat the heat and stay hydrated all summer long than gazpacho. This version of the Spanish cold soup is jazzed up with grilled watermelon and veggies to infuse extra flavory goodness.
Related: Create Some BBQ Envy With This Kabob Recipe
Grilled Watermelon Gazpacho
Serves 4
Ingredients
1/2 seedless watermelon (about a 5 lb. melon, cut)
2 medium-sized tomatoes, halved
1 red bell pepper, cut into 4 pieces
1 small red onion, peeled and sliced in half
Oil for grilling
1/4 cup fresh mint
1 garlic clove, minced
1 Tbsp. red-wine vinegar or sherry vinegar
Grated zest of 1 lime
1/4 tsp. chili powder (optional)
1/4 tsp. salt
1/4 tsp. freshly ground black pepper
2 Tbsp. extra-virgin olive oil
1 oz. crumbled feta cheese
1 small avocado, cubed
1/4 cup shelled pistachios
Directions
Slice away the rind of the watermelon. Cut into 8 thick half-moon slabs and then slice them all in half, so they don't break on the grill. Build a medium-hot fire in a charcoal grill, or heat a gas grill to medium. Brush watermelon, tomatoes, red pepper and onion with oil. Place watermelon on greased grate and heat until grill marks appear, about 3 minutes per side. Remove watermelon from grill and set aside. Place tomato, red pepper and onion on grill and heat, turning once, until darkened in spots, removing vegetables from the grill as they finish. Place grilled watermelon and vegetables in a blender or food processor container along with mint, garlic, vinegar, lime zest, chili powder if using, salt and black pepper. Blend until smooth. With the machine running on low speed, pour in olive oil through the feed tube. Chill soup for at least 2 hours. Serve garnished with feta, avocado and pistachios.
Nutrition Info Per Serving
285 calories, 18g fat, 6g protein, 30g carbs, 287mg sodium
Related:
Recipe: Grilled Corn And Black Bean Pizza
Peach And Mozzarella Skewers Are This Summer's Appetizer Of Choice