Finding The Balance Between What You Eat And Activity
Knowing how much to eat doesn't always come naturally for runners. Here is what you need to know to make sure you're fueling right.
Heading out the door? Read this article on the new Outside+ app available now on iOS devices for members! Download the app.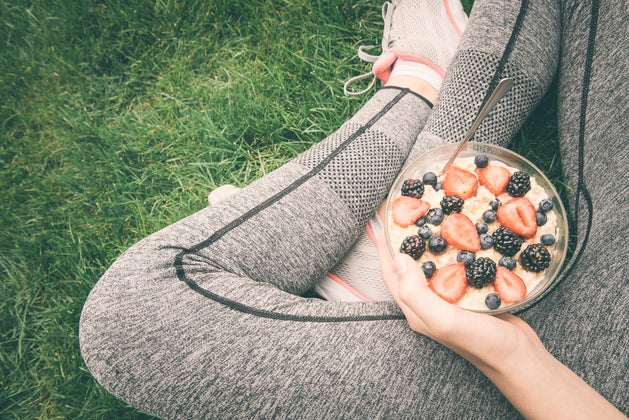 Imagine this: You're training for a marathon, and despite increasing mileage, the needle on the scale is ticking up. How can I be gaining weight when I'm exercising more than ever? Or perhaps you're preparing for a half and feeling completely gassed 24-7. You're dragging, even on your shorter runs. This should start to feel easier, right?
In both cases, nutrition is the likely culprit. As a runner, it may be harder than you think to match the amount you eat with your activity level. "This can be tricky, as your caloric expenditure can vary drastically day by day, leaving you unsure whether to eat more or hold back," says Lindsay Langford, a sports dietitian at St. Vincent Sports Performance in Carmel, Ind.
The fact is that even the most active runners have to pay close attention. Consume too much, and you may gain weight in an unhealthy way—no matter how many miles you're putting in per week. Undereat, and you'll notice your performance will suffer and your body could even start to break down.
Full Plate
"The biggest mistake I see when a runner starts ramping up miles is gaining weight, because they're eating too much," says Nashville, Tenn.–based sports dietitian Mari-Etta Parrish. "There's this mindset that you've earned it, to eat what you want just because you went for a run," she says. Think: I deserve those pancakes! or I earned margaritas and all the chips tonight.
Parrish says she also sees her clients look at the number of calories their Garmins tell them they  burned and use that to gauge how much extra they should eat that night. Doing the math like that is actually skewed, she says. "When you calculate it out, between your pre-, during and post-run snacks, you wind up with only a couple hundred extra calories to spare," she says—not the "1,300" that might appear on your screen.
The most precise way to know if you're eating too much is to weigh yourself weekly, says Parrish. If the scale is up, take it as an opportunity to reevaluate your portions or food choices. When you readjust, your weight should naturally settle back down. If you eschew scales, pay attention to how your clothes fit.
Paltry Portions
More serious is the issue of undereating, which can show up in your runs as low energy, the feeling of "giving it your all" but not going as fast as you should be, explains Langford.
First, you might not be fueling properly before, during and after a run. You'll know that's you if after a long run, you're wiped out until bedtime. "You should still be able to be up and active for the day. If you have to lay on the couch the entire afternoon, you didn't fuel right," says Parrish. You may also notice that you're ravenous later that night or the next day as your body tries to play catch up for what it missed.
If you're trying to limit calories in an effort to lose more weight while running, know that going too far can negatively affect your hormones to the point where you stop menstruating. "Some women's monthly cycle is so sensitive, it can  take as little as a week of high stress or inadequate fueling to throw it off," explains Parrish. It's not the extra running that's the problem; it's eating too little. That means you don't have to cut back on miles. Instead, try increasing your calories by 200–300 per day and see if your period returns next month. If you've missed three periods in a row, see a sports nutritionist (one who is a certified specialist in sports dietetics—look for the letters CSSD).
Finding Your Way
To ensure that you're fueling properly, says Parrish, eat 200–300 calories one hour before a run. For runs that are 90 minutes or longer, take in about 150 to 200 calories per hour in the form of mid-run fuel (e.g., gels, chews or sports drinks). And afterward, recover with a snack containing carbs and protein to replace glycogen stores and jumpstart recovery. This might be around 300 calories (or more depending on the length of the run).
"Listen to your body" is a popular phrase, because it is, above all, what works best. That means heeding your hunger and fullness cues, something that will work for most runners on both active and rest days. "Being in tune with our hunger signals is really helpful for energy balance, weight management and optimal fueling for performance," says Langford. Aim for leaving a meal feeling satisfied, not starving or stuffed. Letting those inner cues dictate what and how much you should eat will lead you to a happy weight that keeps you feeling strong for every run.