Female Runners Can Benefit From Supplements
Untangle all the suggestions your friends give you about vitamins and supplements and try some of these.
Heading out the door? Read this article on the new Outside+ app available now on iOS devices for members! Download the app.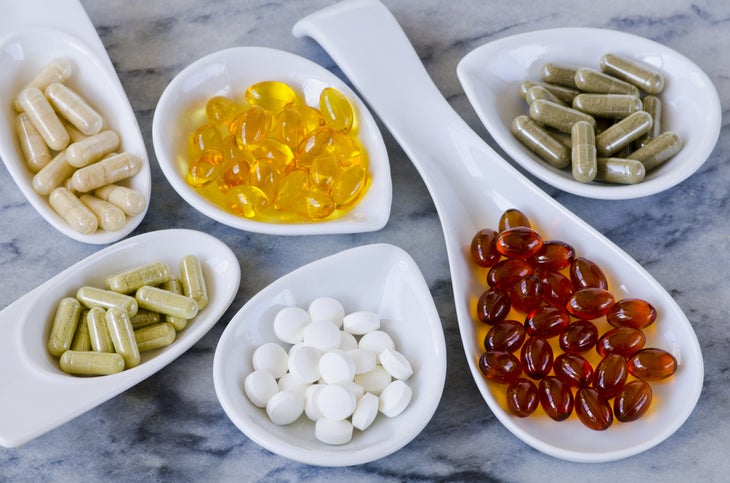 Always work with your physician when trying new medications or supplements.
Let's get one thing straight: Running takes a toll on your body. And what you feed your body can make or break your performance. So making sure you get the right amount of nutrients is just as important as logging miles each week.
But this poses an interesting question: What kind of nutrients do you need and how do you consume everything? The ticket is to take the right supplements to ensure you're feeding your body the right nutrition.
"Taking extra care of yourself with proper supplementation is always important, particularly for runners who can really push their bodies to perform at a high level," says Dr. James Rouse, Chief Wellness Officer at Well & Company.
First and foremost, assess what you're eating to make sure you're getting calcium—very important for female athletes—antioxidants, magnesium and vitamin D.
Tosca Reno, Wellness Ambassador and Guide for Well & Company and best-selling author of the Eat-Clean Diet series, says taking the right nutrients and supplements helps repair muscle damage, boost the immune system, and prevents injuries—which will keep you running longer, harder and healthier.
Women in general tend to eat less protein than they actually need. Reno says, "Make sure to consume at least four to six ounces of protein with each of your meals so that in your macro-nutrient ratio, protein makes up about 30 percent of your nutritional intake. I use Wake Well in my water during my workout and feel the difference via a faster recovery."
Reno continues to suggest that creatine is a supplement that is credible and scientifically proven to be an athletic support supplement. "Research shows creatine increases stores of creatine phosphate in the muscle—a powerful energy source. It also helps runners by boosting performance, particularly during HIITs."
In addition, make sure to take:
Fish oil/Omega-3 fatty acid (600 mg)
Iron
Ormus Greens
Vitamin D (1000 IU)
Calcium (600 mg)
Magnesium (400 mg)
Multivitamin: Make sure there are 12 essential vitamins and minerals like vitamins B, C, E and zinc. Look for 100 percent daily value.
"I like using Sun Warrior's Warrior Blend protein powder because it is raw, plant based and not full of sugar and fillers," says Reno.
As with any nutritional program or supplemental intake, speak with a professional to make sure you're feeding your body the right balance of nutrients. Everybody is different.
"I recommend working with a naturopathic doctor, who explores your nutritional situation thoroughly before recommending any kind of supplementation. The reason I suggest this is because all nutrients in our body exist in a finely tuned balance, which easily gets knocked out when we randomly take handfuls of supplements, without fully knowing what is happening at a cellular level inside us," explains Reno.