How To Beat Allergies Before They Flare Up In Your Face
It's allergy season, whether you think you have allergies or not.
Heading out the door? Read this article on the new Outside+ app available now on iOS devices for members! Download the app.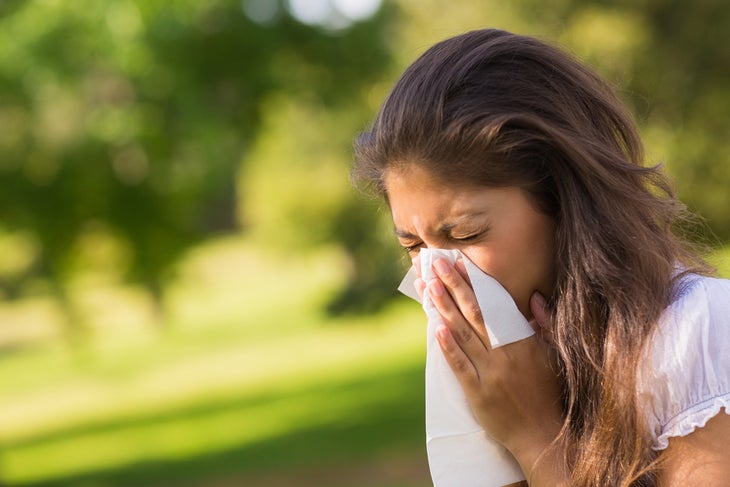 Sun's out, sky is blue and roads look empty, but itchy eyes and a nose that runs more than you keep you indoors. There's nothing worse than having to log miles on the treadmill when it's gorgeous outside because of allergies. However, an overdose of pollen doesn't have to stop your outdoor rituals. Try these simple adjustments to be outside bearable again—and still thrive through the miles:
Adjust your run time
"Usually those who suffer from pollen allergies are at highest risk early in the morning when counts are highest," says Dr. Purvi Parikh of Allergy & Asthma Network. Fall and spring seasons have the highest pollen count, but some folks are even susceptible to weed pollens in the summer.
A "pollen forecast" (yes, it's a thing) is available at Pollen.com to help map out which time and day you'll head out for a run. This way you can minimize allergy exposure and save yourself from awful symptoms.
Track your runs and symptoms
Pay attention to where you run and which types of trees, weeds, flowers and grasses increase symptoms. Notice a pattern and avoid that route.
Consider these foods to eat
Certain foods can help control your allergies. One study found those who followed a Mediterranean Diet were less likely to show allergic nasal symptoms than those who didn't follow that diet. Snack on foods like nuts, grapes, oranges, apples and fresh tomatoes for allergy relief.
Probiotics also help with monitoring the inflammatory symptoms, while spicy foods can also break up congestion. High levels of vitamin C can reduce histamine, thus minimizing that "itchy" feeling. Fish high in omega-3 fatty acids have anti-inflammatory effects that ease allergy symptoms.
Try preventative care before a big race

The one thing you can't control is the pollen count on race day. Parikh suggests you take preventative medication 30 minutes before you head out to the race. You should consult with your doctor which medications and inhalers work for you. Just like fuel, you should be testing this during your training. "Self-medicating can be dangerous if medications are incorrect and it is a high-endurance activity," she says.
Choose your treatment options
If you have allergies, you already know that there are a variety of options. "Treatments range from antihistamines, to nasal and inhaled steroids, to quick-relief albuterol, and some benefit from allergen immunotherapy or allergy shots, which in some, can be curative."