6 Ways To Not Overeat When Training For Your First Marathon
A nutritionist shares how to avoid weight gain while marathon training and get the proper fuel and nutrients for your runner body.
Heading out the door? Read this article on the new Outside+ app available now on iOS devices for members! Download the app.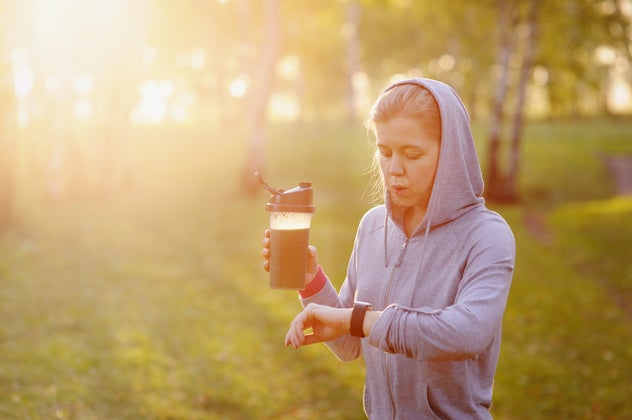 I recently ran my very first marathon. As you might expect, the training was intense, and my legs were often sore and tired. What I didn't expect was the constant feeling of hunger and the few pounds that got tacked onto my waistline. Isn't exercising more supposed to prevent weight gain? Unfortunately, overeating and weight gain while marathon training is more common than you might think. If you're training for your first marathon, follow these tips to avoid this issue and feed your body properly.
Choose nutrient dense foods.
"Nutrient dense" refers to foods that have the most nutrients per calorie. For example, one calorie of a berry provides carbohydrates, natural sugar, fiber, vitamins, minerals and antioxidants, while one calorie of a candy bar contains only carbohydrates and added sugar. In other words, you get more bang for your calorie buck with nutrient dense foods.
As a rule of thumb, nutrient dense foods generally have more fiber and protein. Those two nutrients work in tangent to keep you feeling full long after eating, which prevents overeating later in the day. When hunger strikes, opt for nutrient dense foods, like:
Pulses. These are a group of superfoods made up of chickpeas, lentils, dry peas and beans. With around 9 grams of protein per serving, pulses are a significant source of plant-based protein that will keep you satiated long after eating. As a matter of fact, a study published in 2010 found that pulse consumption reduced hunger and increased satiety compared to other carbohydrates. To add more pulses to your diet, substitute meat for lentils in tacos or use pureed white beans to make sauces more creamy and satisfying.
Fiber-rich fruits, vegetables and grains. All fruits and vegetables have fiber, but some contain more than others. Cruciferous vegetables, like broccoli, cabbage and cauliflower, and fruits and veggies with skin, like sweet potatoes, pears and apples, have more fiber than other produce. Just be careful to not eat these immediately before a run, as they might cause some tummy troubles. Also, select whole grains that are rich in fiber and protein, like oats, quinoa, barley, farro, spelt, buckwheat, sorghum and freekeh.
Lean proteins. Because protein makes you feel full, it's no surprise that diets rich in lean protein help people with weight maintenance. Eat plenty of "nutrient dense" lean proteins, like fish, chicken, Greek yogurt, eggs, tofu and beans.
Eat every few hours.
Eating is just as important as training. Not only is food fuel, but eating every few hours will prevent binging on high calorie foods later in the day. In addition to eating nutrient dense meals, it's wise to always have a healthy snack on hand. When I trained for my first marathon, I almost never left the house without a KIND Nut & Spice Bar. The Dark Chocolate Nuts & Sea Salt bar is a great on-the-go option because it contains 6 grams of protein and 7 grams of fiber to satisfy hunger when you don't have time for a meal. Plus, every marathoner can use a little bit of antioxidant-rich dark chocolate in their daily life.
Fuel during your run.
If you eat a diet rich in healthy carbs, your body naturally stores and uses them during the first hour of running. After an hour, these carbs need to be replaced, and failing to replace them can lead to hunger imbalances later in the day. For any run lasting longer than 60 minutes, ingest additional carbohydrates from Gus or gummies. Take in at least 30 grams (120 calories) of carbohydrates for every hour. For a three-hour run, that might be 300-400 calories while running.
Monitor hydration.
Dehydration often disguises itself as hunger. When your daily life consists of logging many miles, you are more susceptible to dehydration. Follow these tips to stay hydrated and avoid overeating:
Keep a water bottle with you at all times and drink regularly.
Eat fruits and vegetables that are high in water content, like watermelon, celery, cucumbers and berries.
Wear a fluid belt during your long runs, and include sports drinks on runs that are longer than an hour.
Don't shy away from the salt shaker—hydration means keeping electrolytes, like sodium, in check.
Refuel properly.
Eating after a run is just as important as eating before. Getting nutrients into your body as quickly as possible starts the recovery process and prevents extreme hunger. Your stomach may feel a bit out of whack after a long run, so try a smoothie or chocolate milk to replace lost carbohydrates and fluids. If you're able, try to eat an entire meal with a carbs, protein and fats, like an egg sandwich on whole grain toast with avocado or cheese.
Don't overdo it.
Is there a better feeling than looking down at your watch after a run and seeing that you burned 1,000+ calories? But those 1,000 calories don't equal a burger with fries and brownie sundae for dessert. The mindset that marathon training gives you a license to eat whatever sets you up for overeating and weight gain. Look at the calories and serving sizes of some of your favorite indulgent foods, like ice cream and chips. Treat yourself to a smaller portion of these foods, but keep the serving size in check. And keep the high-calorie foods to a minimum by filling your plate with mostly nutrient dense ingredients.
Natalie Rizzo, MS, RD is a nutritionist and writer based in New York City. She is an ambassador for KIND and can be found at nutritionalanatalie.com.