My 100-Pound Weight Loss Journey That Led Me To Running
This runner shares the story of how her 100-pound weight loss program led to her new love of running.
Heading out the door? Read this article on the new Outside+ app available now on iOS devices for members! Download the app.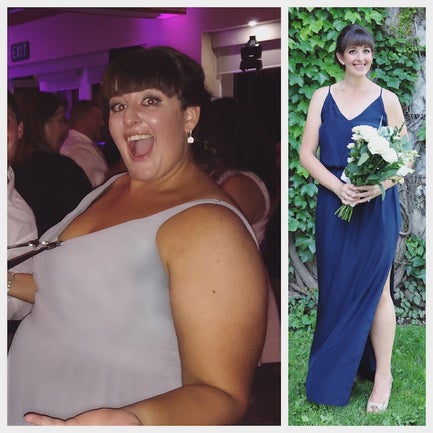 Deciding To Make A Change
What is there to say about weight loss that hasn't already been said? We all know that if you eat healthy, exercise and drink water, it'll increase your chances of losing weight–right? This story isn't about HOW to lose weight: it's about getting motivated, staying motivated and gaining confidence to truly become your best self.
I have been overweight almost my whole life. There were times when I was less overweight and times when I was more overweight, but I have not always had the best relationship with food. Growing up, my mom cooked healthy dinners every night, but we always had treats around the house. We joke (now) about the Costco-size bags of chips, M&Ms and other not-so-healthy snacks on our road trip adventures. After college, the weight really started to pile on. I stopped playing sports and rarely worked out. I also started living on my own, which meant doing my own grocery shopping. It's a weird feeling, because you're not living at home anymore–YOU are the one buying all the food in the house. If you want Nutella for dinner, you can buy Nutella and have it for dinner. You become that kid throwing cookie dough and Oreos and chocolate milk in the cart when Mom's not looking. Except now, Mom isn't there to take them out of the cart–so you go home and eat it all!
Related: What You Should Know About Running For Weight Loss
Little by little, the weight was creeping higher and higher. In 2010, I got engaged and started a Biggest Loser competition with my husband and in-laws. I lost about 55 pounds before my wedding and felt good. But then, married life sunk in. Dinners out. Cocktails on the weekends. Late night pizza. Dinner in front of the TV. Fast food. Oh boy, here we go again! Up, up, up the scale went. Plus, now you could go on Groupon and buy that extravagant cupcake for 50 percent off! I realize (now) that you can also enroll in a Pilates class for 50 percent off…but that was not the mindset I had at the time. Additionally, Instagram was getting more and more popular. Every day, I would scroll through my feed and see decadent desserts, outrageous breakfasts, chocolate-stuffed churros, fancy shakes, you name it! Well, I had to have that for my own Instagram feed too, right?
But I was also getting more and more depressed. Each time we had a family party or special occasion, I hated everything in my closet. I hated the way everything looked on me. I hated shopping. I hated the way I felt. But it's a vicious cycle. I felt horrible about myself, so what did I do? I'd have a huge bowl of ice cream, a spoonful of frosting, peanut butter, Nutella. Whatever it was, I thought it was comforting me. The sugar tasted so good; for a brief moment, I'd feel better. Until I felt worse. A vicious, vicious cycle, I tell you…
Joining Weight Watchers
One day, my mom said to me, "I think I'm going to do Weight Watchers." I almost started crying. Well, let's be honest: I probably did cry (I don't remember exactly). But it was like a weight had been lifted off my shoulders. I was in a low place, weighing almost 300 pounds, disgusted with the way I felt and looked. And then my mom said those magical eight words. I'd wanted to do Weight Watchers, or something like it, but I needed that little nudge. So, a couple of days later, my mom, my dad and I went to our first Weight Watchers meeting. My husband also got looped into the program since I do all of our shopping and cooking, though he did not formally sign up. That day was April 4, 2016, and it's a day I'll never forget. I weighed in at 287.8 pounds. Never again, I told myself. Never. Again. That little nudge to get me signed up was the push I needed.
I jumped right in and committed to the Weight Watchers program 110 percent. I cleared out the house. No more cookies, no more junk. That first week, I spent hours in the grocery store scanning product labels. It's crazy how confusing products can be. Low Fat! Reduced! Healthy! All of these trigger words plastered all over various products. I stopped for a minute and started reading nutrition labels. Some of the "healthier" products actually had more fat, calories or sugar than their competitors. I was finally opening my eyes to what was actually going into my body.
On the Weight Watchers program, (almost) all fruits and veggies are 0 points, meaning you can eat as much of them as you want. That helped me on so many levels. I could get FULL. I could fill my body with HEALTHY options and not sacrifice any of my points. I wanted to eat fruit, and boy did I! During our first meeting, the leader said, "Ask yourself if you're really hungry. Will an apple satisfy your craving? If yes, eat the apple. If not, you're not really hungry; you're probably just bored." I've had more apples in the last 15 months than I probably ever have before!
Related: Running For Weight Loss Plan
Making Healthy Choices
Little by little, I was starting to find substitutes for my favorite foods. Healthier tortillas and bread;  protein ice cream; powdered peanut butter. I was trying lots of new veggies, too. Tick, tick, tick: down the scale went. Three months later, I had lost 50 pounds. Fifty pounds! I set moderate goals for myself and, bit by bit, I started chipping away at them. I had changed my lifestyle completely–and it was working
It wasn't just about my food choices: I also stopped drinking alcohol, except for on special occasions. I started drinking about 100 ounces of water every day. And I walked: about three to four miles a day, every day. As the weight started dropping, my fitness level increased. I added more hills to my walks. I picked up a faster pace. I also began using the elliptical a few times each week.
The program wasn't just working for me: my parents and husband were shedding pounds, too. We were the support system we all needed. We talked food, exercise, health, fitness, recipes and SmartPoints all day. I found a new yogurt! You've got to try this low calorie popcorn! Hey, check out this blog! I had the most amazing team behind me, and we were killing it. Also, for the first time ever, I wasn't losing weight for a party or a wedding or a dress. I was losing weight FOR ME. That's a pretty powerful thing to realize. This isn't for one day; this is for the rest of my life. My long, healthy life. This is for my future children. This is my why–because I deserve it.
The 100-Pound Marker
Ten months later, I hit the 100-pound marker. I have to do a double take every time I say that. I lost 100 pounds. One hundred pounds. It was so amazing to see the looks on people's faces when I told them. I joked that I should start telling people I lost 50 pounds instead, because 100 seemed too incomprehensible a number for so many.
It was right around this time that I decided to start an Instagram account. I'd been looking around from my personal account and started to get inspired by all of the success stories I read. I got to share that same food porn love I had before, but this time with healthier foods. I discovered new products I could share with my family. I was hooked: so, like everything else, I jumped right in and became immersed in the new world. I loved the accountability, the love, the support. It was a safe place where you could share your journey, your struggles, your fears and your successes. My Weight Watchers family was growing.
I reached my lifetime goal for Weight Watchers, and the next stage of my journey started. How do I maintain this weight loss? How can I continue to live my life? I was scared to eat at restaurants for so long because I was eating food that I didn't prepare. Little by little, as you maintain your weight while living your life, you start to get your confidence back. You can eat that cheeseburger for dinner if you make a plan for the rest of your day.
I also wanted to focus on getting stronger, more toned and feeling fit. My husband and I started buying those fitness Groupons, going on longer and longer hikes, getting outside and exploring! One day, I went to a free class at Orangetheory Fitness–and I was hooked.
Related: Find Out Why Runners Love Orangetheory
Orangetheory And Running
My trainer Cara was giving my husband and me the rundown during our first class. "Are you a walker, jogger, or runner?" she asked. I looked at my husband and we both replied, "Walker." Later in the workout, we were doing interval training and I realized, Hmm, I can go a little faster than this walking pace. I increased the speed. Maybe a little bit more? The next thing I knew, I was running. I looked at the person next to me, thinking, She's running and I'm at the same speed she is. Am I running? Yes: I was running! I felt like Forrest Gump when he said, "I just felt like running." Orangetheory gave me an outlet to discover what my new body was capable of. Now, I'm faster and faster each week on the treadmill. I'm lifting heavier weights. I am a completely new person, and I surprise myself with new victories every day.
So, now what? What pearls of wisdom do I have to share? Well, first I would tell you to start today. Don't wait another day to take control of your life. You can do this, but you'll be so thankful you started today. Second, find a program that works for you. Talk to a doctor or nutritionist, if you want. I loved the Weight Watchers program. The meetings were helpful, the weekly weigh-ins with strangers made me more accountable, the app on which I could track my food was incredibly useful. But this is something that worked for me, and we're all different; so find something that speaks to you. Third, find your team. I was lucky to have the support of my husband and family from the very first day, but not everyone has that. Talk to someone at your gym. Reach out on social media to someone with the same interests as you. You need that support system for the days when you're not feeling it. Have people around you that share your goals and support you. Most importantly, never give up. Remember why you're on this journey. I did this for ME and only ME. I did this because I want to have a family someday. I did this because I want to live a long and healthy life. I did this because I deserve it. I'm worth it. And I don't ever want to be that sad girl consoling herself with food ever again.
I am strong. Food doesn't make you happy and it doesn't make you sad. Food is just fuel to get your body going. And if you slip up, it's okay! I love the phrase, Don't let a slip become a slide. Just because you think you ruined your day with one meal doesn't mean you need to call the whole day a wash. Get right back on track with your next meal, and you won't feel as bad. The important part is to stick with it. You deserve it.
Kelly is six feet tall and 34 years old. Her starting weight was 287.8 pounds and she's currently at 175.8, for a total loss of 112 pounds. Kelly lost weight on the Weight Watchers SmartPoints program as well as via walking, Sandbox Fitness and Orangetheory Fitness.
Related:
Group Fitness Makes Me A Better Athlete
One Simple, Great Way To Lose Weight