You're Probably Not Running In This Fabric—But You Should Be
We bust the myths behind a popular fabric that is taking running apparel to a new level.
Heading out the door? Read this article on the new Outside+ app available now on iOS devices for members! Download the app.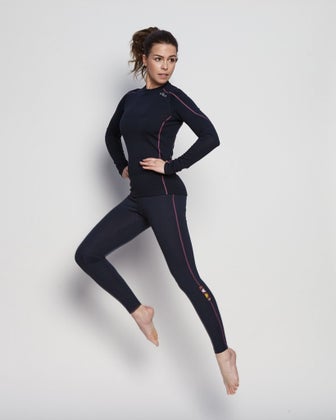 When it comes to apparel, the companies and styles can be overwhelming. Then add in the fabric options and who knows what to choose. It turns out, one good choice may be something you wouldn't even think of.
When you think of wool, it may remind you of that itchy, three-sizes-too-big sweater that your grandparents bought you that one birthday. Really though, that has led to one of the many myths of performance wool. To demystify the fabric, we talked with Michael Kleinwort, the founder of Kora (which makes its products from yak wool) to get the truth.
Myth #1: Wool is itchy.
This depends on the type of wool used. "Those not yet initiated into the wonders that are performance wools such as merino and yak often think that wool is itchy next to the skin," explains Kleinwort. "That is true of sheep wool, but merino and especially yak wool are very soft and fine, making them very comfortable next to the skin."
Myth #2: Wool retains water.
Again, this depends on the type of wool, but when it comes to performance wool, you need not worry. "Sheep wool retains water and quickly becomes heavy, but that is not the case with yak and merino wools," he shares. "Both wick moisture away from the skin and allow it to escape into the air."
Myth #3: Wool will make you overheat.
The properties of merino and yak wool actually work to keep you cool in hot conditions and warm in cool conditions. "Wool insulates against the heat as well as against the cold, trapping tiny pockets of air within each fiber for insulation and breathability," states Kleinwort. "That's why bedouins in the sahara wear thin wool to insulate against the extreme heat of the desert."
Performance wool is a great fabric because it caters to everything you would need while exercising. Kleinwort reveals that wool fabrics breathe, allowing hot air and vapor to escape away from the body, all while drawing moisture away from the skin. Also, unlike synthetic fabrics, it is soft and dries quickly. All of this means that wool helps you regulate your body temperature in a very efficient way.
Because of the growing technology in fabrics, you can find performance wool and wool-synthetic fabrics in a number of products, from base layers, sweaters, technical jackets, wetsuits, down jackets, socks, neck warmers, hats and gloves.
Give this misunderstood fabric a try on your next run and reap the benefits of its soft, breathable offerings.
Read More:
Gear: Innovative Fabric For Peak Performance
Running Apparel For Any Budget