T-Rex Runner: Surviving A Marathon – Gear Edition
Danielle shares her must have racing gear!
Heading out the door? Read this article on the new Outside+ app available now on iOS devices for members! Download the app.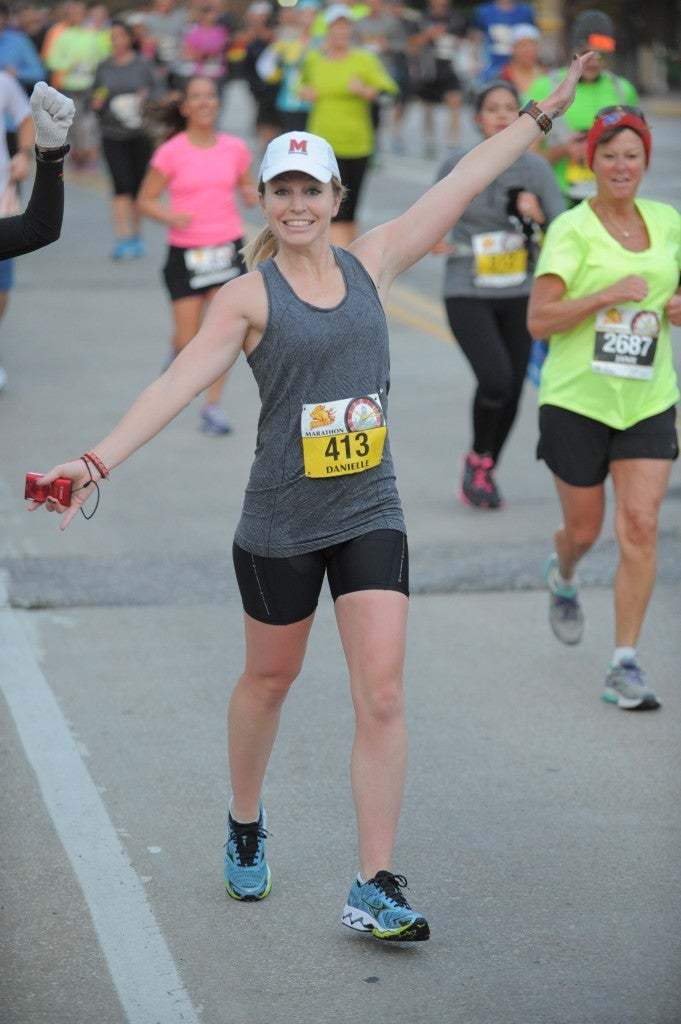 With more than a few marathons under my belt, I've nailed down exactly what I need to successfully get through both my training cycle and the race itself. The old saying "don't try anything new on race day" definitely holds true for me. In fact, I use the same gear for almost every run because once I find something I like, I can't help but want to use it all the time! Here is my list of all time favorite marathon training gear.
Two pairs of running shoes: Yes, two pairs. I started running with two different kinds of running shoes to help reduce overuse injuries. Studies have shown that rotating two different pairs can reduce the risk of injury by 40%! I'm currently running in my long-time favorite Mizuno Wave Nirvanas (now discontinued, but I bought 8 pairs before they sold out…seriously) and Brooks Adrenalines. A quick trip to your local running store will be able to tell you which model will compliment your current shoe!
Qore Performance Compression Shorts: These newcomers on the performance apparel scene have revolutionized the way I run. Made with special pockets that hold cold or hot packs, the shorts help regulate your core temperature. Besides that, they're also one of the most comfortable moisture-wicking fabrics I've ever felt! I now do every run in these shorts.
Nathan Handheld Water Bottle: I have sensitive skin that chafes easily with pretty much any kind of contact, so I've never found a fuel belt I can wear comfortably. Instead, I use this water bottle to carry water or Gatorade, my fuel of choice, keys, and whatever else I need to fit in the large pocket! It seems like it would be a pain, but you barely notice the water bottle after a few minutes. I carry it on my long runs and some races!
Headsweats hats: As much as I wish I was the type of person who could just wear cute headbands when I run, the reality is I sweat far too much for that! I need a hat or visor to keep sweat out of my eyes, and Headsweats gear is my favorite by far. The hats are light and comfortable, with lots of cute designs!
Garmin 310XT GPS: I fancy myself a triathlete sometimes, so I have a multi-function watch from Garmin that is water resistant and can log my swim, bike and run. It gets up to 20 hours of batter life from one charge! You may not need all those fancy functions, but a GPS watch is a great way to record your speed and distance without draining the battery on your phone.
Moving Comfort Flex Tank: This relatively new addition to my closet quickly became one of my favorite tank tops this season! I am super paranoid about overheating when I run, so I wear tank tops nearly year-round. I love this one because it's extremely comfortable, flattering, and best of all, it's long! I love pairing it with my compression shorts because there's plenty of coverage for my booty.
There you have it, my list of my favorite gear for marathon training! What are your go-tos? Tweet @thetrexrunner and @womensrunning with your favorite items!