Find The Pair Of Running Shoes That's Right For You
Once you find your sole mate, never let it go.
Heading out the door? Read this article on the new Outside+ app available now on iOS devices for members! Download the app.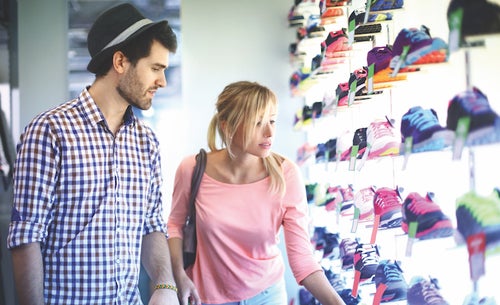 Find Your Perfect Pair
Enter a specialty running store for the first time, and the endless shoe options are staggering: Maximal! Neutral! Stability! Energy return! Trainers! Racers! With so many choices, it's enough to send any new runner…well, running. Shouldn't we just pick shoes based on what fits and looks good?
Yes…and no. Paul Horan, owner of GEAR Running in Edina, Minn., says many new runners pick the wrong shoe their first time, likely because they're not sure what they want, what they need and how to wade through the options to find their perfect pair. Don't let that happen to you! Your shoe-store cheat sheet:
High heel size ≠ running shoe size 
Feet swell when running, so a shoe that fits perfectly in the store will likely be constricting at the end of a workout. "Most people should size up to a half to a full size—roughly a thumb's width—in running shoes. This allows your feet to expand for a more natural running experience."
If it sounds too good to be true, it probably is.
Some shoes make big promises, like mega-cushy shoes that claim to protect your joints from shock. But your body is already built to absorb shock, and recent studies suggest cushioning doesn't really make an impact on injury rates in runners. "Most brands have options that run the gamut from maximal cushioning to minimal," Horan says. "The sweet spot for most people falls somewhere in the middle."
You probably don't need more than one pair. 
Running shoes are expensive, y'all. Don't buy into the hype that you need different (pricey!) pairs for different kinds of runs. For your first pair, a neutral shoe that falls in the middle of the cushioning spectrum should suffice for daily
training and racing.
Your running shoes are not your grocery-store shoes.
If you want to have a long and happy relationship with your shoes, you've got to show them some TLC. "Generally, it's best to use running shoes for running, as that is what they are designed for," Horan says. "One should avoid excessive wear outside of running, as they break down the shoes prematurely."
Snag 'em all.
Shoe brands update their styles annually. Sometimes, these changes are cosmetic; other times, major changes to sizing, width or breathability render your favorite shoe completely foreign. To avoid this fate, Horan says to stock up when your perfect pair is on clearance. "Most stores have sales on previous models throughout the year, as brands tend to update their shoes. The majority of updates occur at the beginning of the year and the end of the summer." If you're unsure of when your faves will be discounted, ask a store employee—they're likely to tell you when you can save the biggest bucks (and may even be able to offer the discount before the official sale).
Related: 
Why Running Shoes Should Only Be Worn For Running
The Right Way To Clean Your Running Shoes