Is It Time To Ditch Your Chest Strap?
Is it time to ditch your heart-rate chest strap and go wireless?
Heading out the door? Read this article on the new Outside+ app available now on iOS devices for members! Download the app.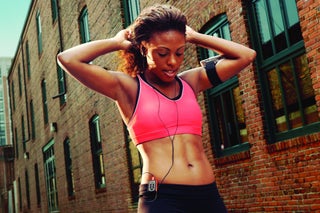 Train in comfort and with accurate heart rate measurements without the fuss of your heart rate chest strap.
Many runners want to boost their performance—and use devices like heart-rate monitors to do so. These running buddies in chest strap format can help you see when you can push yourself, when you need to slow down, how fast you're recovering and all from your heart-rate measurements.
However, there are some issues that come with wearing a chest strap. One: With the constant pounding on the pavement, the chest strap can move around, leading to inaccuracy. Two: Chest straps can be distracting when you have to fumble with them.
RELATED: Up Your Mood With Exercise
Heart-rate monitors are a good choice for those looking to keep a watchful eye on just that portion of their training. But what else do they track? Heart rate—that's all. What can you tell from the information? You're able to see what heart-rate zone you were training in, but it doesn't tell you your blood pressure, VO2 max or calories burned.
Whether you want to pick up the pace or lose weight, the wearable you have on should provide you with more than just a pumper reading; it needs to give you biometric analytics. Dr. Steven LeBoeuf, co-founder and president of Valencell, says, "What many companies are missing is that wearables show you heart rate, but there's nothing behind the meaning."
To address the lack of information, Valencell creates the PerformTek technology for wearables (armbands, wristbands or ear buds) that provides personalized, clinical accurate data to help you understand the numbers and how you can reach your goal.
RELATED: The Facts and Fictions Of Losing Weight
"PerformTek measures the blood flow, blood pressure, VO2 max, energy exerted (calories burned)," explains LeBoeuf. "We then measure that information and process it to give you personalized data."
What's most surprising? The area on your body that gives the most accurate measurements is behind the ear. "Your ear pumps blood like crazy through the arterioles. You still get a strong reading when wearing a device on your wrist or arm, but there's so much flesh, tendons, veins and other mush that there may be some inaccuracy," says LeBoeuf. "The pulse in your ear reflects the most accurate pressure. A chest strap can give you accurate heart rates, but it can't measure your oxygen or blood pressure. It can't analyze as much."
In addition, the data you receive teaches you more about your fitness and how to reach your goals in the time frame you set. "You can track the workouts you do, and the data is crunched and will let you know whether the workout you just performed will help you lose weight or not through the measurements," explains LeBoeuf.
Say your goal is to lose weight. The wearable will track your workouts, take the biometrics, analyze them and let you know if you're on the right track. It can explain how the training you executed on, say Wednesday, won't help you lose weight, but the program on Monday will. It teaches you which way is best for your body to reach your goal.
The idea behind these wearables is to not just give you information, but also to help you learn from it and better your long-term health. Tracking more body info will give you a big picture on your overall health.
So what items are best to use instead of a chest strap? If you want the best accuracy, "get ear buds," states LeBoeuf. The Jabra Sport Pulse™ Wireless Earbuds is an excellent option if you hate dealing with wires and it also works with any tracking app. You can also take a test to see if the ear buds are the right size. The test will let you know if you need to switch sizes to give you the most accurate reading.
RELATED: Run Nerd Awards: Best Headphones
The bottom line, "Obtain accurate biometrics to help you achieve your fitness goals and boost your long-term health," says LeBoeuf.
Fara Rosenzweig is certified personal trainer with a love for yoga and running. When she's not at the gym or outside logging the miles, she's planning boot camp classes for friends.