I Tried Bumbleride's First Running Stroller And It's Winning
With so many on the market, running strollers need to come with a runner recommendation. This one does.
Heading out the door? Read this article on the new Outside+ app available now on iOS devices for members! Download the app.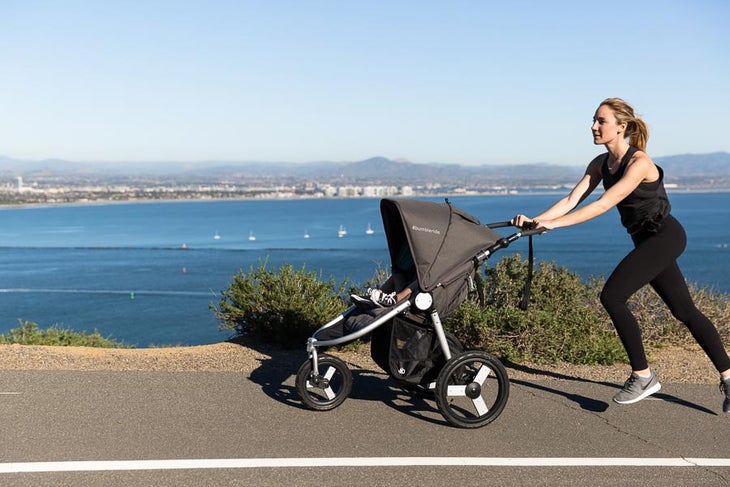 Bumbleride, a stroller company started in 2004, recently debuted its first dedicated running stroller, Speed ($549, bumbleride.com). I tested the stroller on runs with my 2-year-old son (about 30 pounds) on flat and hilly paved streets and one trail to evaluate Speed's design, features and performance.
Design
The stroller features "Speed3 steering," which includes three steering modes for different paces—the front wheel locked for running, locked at 30 degrees for jogging, and unlocked 360-degree movement for walking. Though I personally prefer to run with the front wheel unlocked or just partially locked, it was easy to transition between steering modes. The Speed has a large foot break on the base of the stroller's frame which makes for easy parking or quick stops at a slower pace, although it lacks a hand break that can be helpful when running hills. It also includes a secure five-point harness and a parent wrist strap.
Related: 3 Top Running Strollers That Are Hot Right Now
Features
Key to any good running stroller, Speed's roomy storage basket unsnaps for easy loading and is ideal for toting snacks and toys you need to entertain an antsy passenger. I did find the sides of the basket a little hard to access when the basket was snapped, however. While there isn't a designated cup holder on the handle bar, the back of the seat has accessible storage pockets that could easily (and more securely) accommodate a water bottle.
One great bonus feature is the netted pocket inside the seat itself, which could hold a sippy cup, snack or toy beside your child. Both the bumper bar across the seat and the extremely comfortable handle bar are adjustable to accommodate both the child's comfort and the height of the adult. If you're lucky enough to have a child who naps while you run, the backrest reclines easily and is vented to keep your kid cool.
As a sunscreen-obsessed mom, my favorite feature was the generously broad canopy with SPF 45 in the material that kept my son completely shaded from the sun. I also loved how easy it was to fold and load Speed into the car; any mom who has ever tried to wrangle a kid and a stroller knows how impossible that task can be, so I definitely appreciated the simple release that collapses the stroller (note: I didn't understand how to fold it at first but Bumbleride's website has a great short video highlighting all the features and I was able to do it right away after watching). Speed also boasts the ability to stand up when folded and won't collapse when you're trying to load the car.
One final unique feature I loved about the brand—while it may be Bumbleride's first foray into the running world, Speed is just the latest of the company's strollers designed to better the environment. The fabrics are made from 100% recycled polyester and 28 post-consumer water bottles per stroller, and if you choose a stroller in the "silver black" color, the company uses a specific dye process that conserves 25-40 gallons of water per stroller (only available with this color).
Performance
The sturdy 16-inch rear wheels (air pump is included) and lightweight aluminum frame (24 pounds) made for a smooth ride that was a dream to push, even one-handed or up hills. The stroller handled effortlessly over different terrains and didn't cause any complaints from my son. I have a tendency to use my jogging strollers for everyday walks or errands too, and the Speed transitioned perfectly. With the front wheel unlocked it swiveled incredibly smoothly and steered well around a crowded outdoor event, and it was narrow enough to fit down store aisles.
Related: When It's Time To Move On From Running Strollers
Summary
Overall, Speed is a fantastic running stroller. It is an investment, but it is clearly designed to meet the needs of runners, parents and their kids. It was one of the easiest strollers to push that I've run with and was a truly smooth ride for both me and my son. Highly recommend!