The Lowdown On Socks With Copper For Running
Proper gear is essential to keeping your runs happy and healthy. One important piece of gear many athletes overlook: socks.
Heading out the door? Read this article on the new Outside+ app available now on iOS devices for members! Download the app.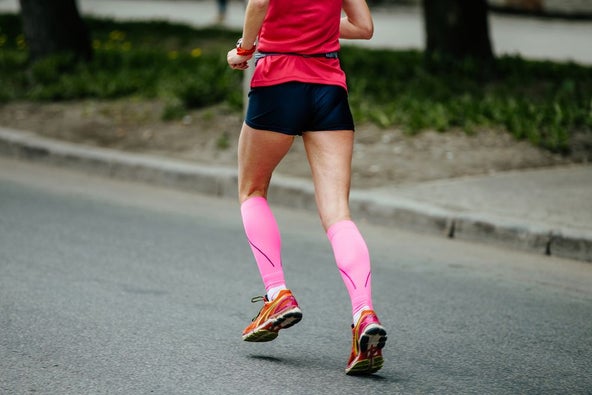 Running is often considered the most convenient of all fitness activities, since you can just put on your shoes and head out. Other sports, such as cycling or rock climbing, may require specialized gear that costs a ton. Team sports like basketball and football don't need as much gear, but you do need to find other people with whom you can train or play.
You can choose when, where and how long to run, and you can go solo or as part of a group. Running doesn't demand an expensive investment, either. You only need basic gear, including a good pair of running shoes and comfortable clothing. However, a few specialized pieces can make running more fun and effective, especially if you're training seriously.
Related: Here's What To Look For In A Quality Running Sock
Why is proper gear crucial for runners?
Right at the start, let's be clear about why quality gear is important. Without proper equipment, clothing and accessories, you run the risk of injuring yourself and others.
When it comes to running, the wrong gear or poor quality pieces can cause muscle strain as well as pain in the ankles, feet and legs. They may also lead to aches and pains in other parts of your body, along with blisters, itching, irritation and a higher risk of bacterial or fungal skin infections. The right gear, on the other hand, can protect you from these problems.
Most runners invest in high quality shoes, clothing and high tech gadgets that monitor heart rate, calories burned, distance covered and more. All too often, though, the most important gear is overlooked. Socks may seem like the simplest part of your running ensemble, but the right pair can make a huge difference in your performance!
Why are comfortable socks important? Is cotton a good option?
Socks that are too loose, too tight or made with non-breathable materials can increase the risk of blisters as you run. These will either chafe against your skin or cut off circulation, affecting both your performance and skin health. The wrong fabric can also collect sweat and cause itching, rashes or odors.
Cotton and other natural materials are typically considered best for underwear and socks. But when it comes to running and other active sports, pure cotton is nowhere near ideal. The fabric tends to collect moisture and can cause blisters when combined with heat and friction. Moisture and heat also provide the ideal conditions for germs to thrive.
Running socks usually feature quick drying synthetic materials such as nylon, polyester and Lycra, sometimes combined with cotton, bamboo and other natural fabrics. Some socks also feature antimicrobial materials, such as copper, to fight bacterial and fungal infections.
Are specialty copper socks worth the investment?
In addition to basic running socks, you can boost your performance and enjoy extra benefits with certain types of specialized gear. Compression socks and clothing, for instance, improve circulation and muscle recovery. When these are made with copper-infused fabric that kills germs on contact, there's an even wider range of health benefits.
Here's what the combination of performance compression and antimicrobial copper provides:
Warmth, support and padding for your feet
Protection against bacterial and fungal infections
No more foul odors
Improved blood circulation and moisture absorption in feet and lower legs
Wicking to keep your legs and feet cool and dry
Less buildup of lactic acid in your muscles
Reduced aches and pains due to copper's anti-inflammatory properties
Better performance and muscle recovery as a result of increased circulation
Today, there's a huge variety of copper compression socks and other clothing designed especially for running, and it's a good idea to check these out if you're serious about health and fitness!
Kunal Patel is a young and passionate entrepreneur, fascinated by the workings of the human body and natural solutions for common health problems. He's single-minded in his aim to make Copper Defence a brand that's recognized across the globe by partnering with global brands to make these high-tech materials easily accessible for everyone. Visit copperclothing.com for more. 
Related:
What's The Lowdown On Compression Gear?