Kellyn Taylor Aims For The Podium In Boston Debut
After an eighth-place finish at the NYC Marathon last fall, Kellyn Taylor now has her sights set on the podium at Boston.
Heading out the door? Read this article on the new Outside+ app available now on iOS devices for members! Download the app.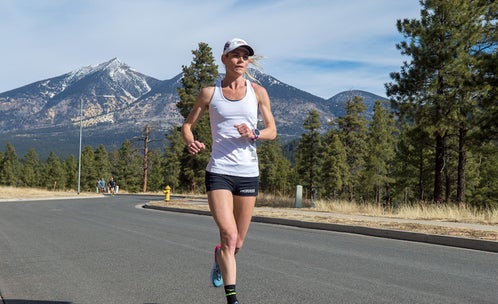 If you thought the super competitive elite women's field at the Boston Marathon would make Kellyn Taylor lower her expectations, you would be very wrong.
In fact, the 31-year-old's goal for her Boston debut remains big: Finish on the podium.
That ambitious goal comes on the heels of a strong performance last fall at the TCS New York City Marathon, where she ran 2:29:56 and finished eighth in her first appearance at the race.
And a demanding career as a professional runner isn't Taylor's sole focus and passion. In addition to being the mother of 7-year-old Kylyn, she hopes to one day work as a firefighter.
With only rest and the race ahead of her, we caught up with Taylor, who lives in Flagstaff, Ariz., to chat about how she juggles family and 100-mile weeks and what she plans to do to celebrate after the race. (Hint: It involves food.)
How has your training been going so far? Is it different than your training for the New York City Marathon? 
This training segment has been very different, but also very good. My mileage at its highest before this segment was 118. The core four weeks of this segment were 123, 130, 128 and 130. Not only was the mileage higher, but the intensity was, as well. We did a lot of Boston-specific training, meaning we did a lot of downhill, some uphill, and, for good measure, some basic terrain workouts. New York was nice because I had teammate Steph Bruce gearing up for it at the same time. We were able to knock out all of our workouts together. This segment, I was solo until the very last hard session where Ben Bruce (Stephanie's husband) paced me 9 of 14 miles. I think that it's good practice to be able to do the work on your own, but it's also nice to have someone out there suffering with you and helping to push one another to a common goal.
What's a typical week like for you during your most intense Boston Marathon training, and how do you juggle workouts with being a mom and other responsibilities?
In the core of the marathon segment, I felt like I was running all the time. We had a lot of days that were 12/6 doubles. I always wake up early and get myself and my daughter breakfast.
My husband is in charge of getting her off to school while I head to practice. I run my morning run, eat, go to any appointments I have scheduled, weights, run again, sauna, pick my daughter up if my husband doesn't and then come home and get dinner ready or our daughter off to her activities. My husband was very helpful this segment and did a lot of the drop off/pick up and after school activities.
I was also very lucky because my daughter was just finishing her soccer season as I got into the heavy mileage. Prior to that, we were gone for tournaments quite often. I think her last tournament hit my 123-mile week. I refused to miss something that I have the opportunity to be a part of, like a soccer game. That meant that I woke up at 5 a.m., ran 12 miles, spent the day at soccer doing family things, and then did a late-night treadmill run at the hotel.
We also have five dogs and chickens who need love and attention. Aside from that, it's just basic life. Trying to maintain a semi-clean house in a season of chaos.
What are you looking forward to most in Boston? 
Boston is one of my favorite cities. I have been here many times for other races, and there is just something about it that draws you in. I am absolutely looking forward to toeing the line with an amazing group of women and running what I hope is my best race yet, but I'm also looking forward to being done. Marathon training is emotionally and physically draining. A pizza and wine will be in my immediate post-race celebrations with family and friends.
What's your goal?
I'm all about big goals. This race is no different. The goal of every marathon major is to get on the podium. This year's John Hancock elite field is absolutely incredible. I could run the race of my life and still be the fifth American. That is just insane, but I am thoroughly looking forward to the challenge and the chance to prove myself among some of the world's best.
Do you have a marathon eve routine with a certain dinner or something you always do the night before a big race?
I'm not a very superstitious person. I feel like it's a waste of energy and causes more worry than anything. I like to keep my pre-race simple: a piece of chicken or salmon, rice and a veggie. I'll elevate my legs and relax with a movie. I like to spend the day prior being ridiculously lazy.
Who will be part of your cheering and support squad in Boston, and what does it mean for you to have them there?
I feel fortunate to have a great group of people in my life who are able to make it out to Boston. My husband and daughter are going to be there. My daughter is actually the only family member who has seen every one of my marathons. I think that is really special. My parents are making the trip along with my sister and her boyfriend. Them being there means so much to me. Our coach, Ben Rosario, will be in the midst of a busy few weeks—the Rotterdam Marathon to Boston to London—but will be there, as will my agent Josh Cox. [My sponsor] Hoka One One will have a contingent of individuals. I am very thankful and excited to show everyone the final product of the last two months of work.
Related:
5 Questions With Kellyn Taylor
American Women Runners Are Having A Moment