The One Thing About Young Runners People Often Forget
These runners developed a love of the sport early in their lives—and are doing remarkable things.
Heading out the door? Read this article on the new Outside+ app available now on iOS devices for members! Download the app.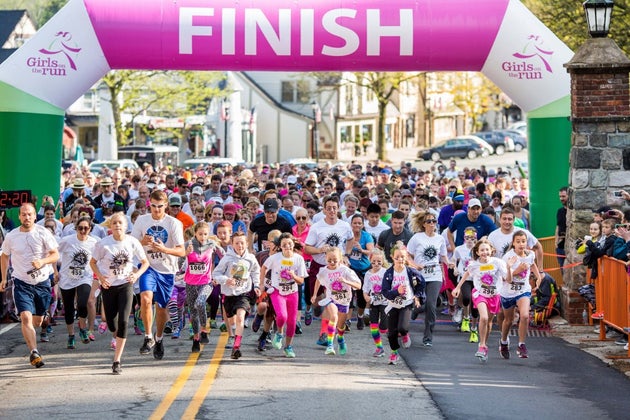 Some runners start early in life, others later on. But a growing number of runners pound the pavement at a very young age and a few are breaking records.
Kate Murphy, a junior in high school in Virginia, has been making headlines since her freshman year. She just made local history winning a 1,500-meter race that landed her a spot with the Olympic Trials in Oregon (she ultimately finish 20th in the semi-finals). Incidentally, her 3,000-meter time of 9:10:51 was the fastest in the country. Her passion for running went viral on Huffington Post last year when she tweeted shoveling the snow off the track in order to practice.
Grace Ping of Minnesota is even younger. Just shy of 13, she set her first state record at 8 years old. In mid-June, she set the world record for the 5,000-meter race at the New Balance National Outdoors event with a time of 16:44:80. For the Pings, it's a family affair (her younger sister, Lauren, also races). It all comes from mom and dad, Megan and Ryan Ping. They ran together when they started dating and they just continued as their family expanded.
Ryan recalled a moment when he realized Grace's talent. An acquaintance remarked about her ability at a racing event in Wisconsin. "He said, 'I've been teaching elementary school PE for a long time and I've never seen someone run such an even pace so naturally.'"
However, the youngest superstar by far has to be 5-year-old Angela Cortez. When her mom, Siomara Moreno, joined Beast Fitness in San Antonio, Angela got hooked on running with her. Now she passes her mom. With her trainer, Javier Rosas, she is gearing up for a marathon in December.
"I feel so excited and proud of her," said Moreno. "I believe in her. She just wants to run.
Moreno admitted she has heard some people say she's crazy for letting Angela do this, that she's too little. But criticism typically came from people who don't run. All the runners interviewed for this article refused to judge another runner's personal choice. Rosas had this response.
"I wouldn't train her if she didn't love it," he explained. "I get that she's a 5 year old. But she is not running just to run. For her, it's easy."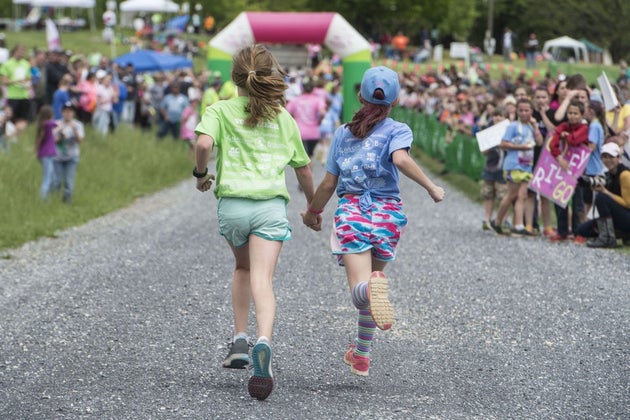 That seems to be one of the biggest criteria for training really young athletes—desire. It is no fun training someone whose parents are making them do it. But what about injury and overuse, or even permanent damage? According to a study done in 2011 through the National Institute of Health, early sports activity may stave off osteoporosis later in life. In fact, "activities which apply large forces quickly convey optimal benefits to bone mass, size, and structure."
These individual young ladies have drive and determination. Others may have that drive too, but lack the resources to run a 5K, half marathon, or even a full marathon. Organizations like Teens Run DC and Girls on the Run International do just that—they help young people achieve their goal of becoming a healthier, stronger person.
Teens Run DC works with middle school and high school kids, both boys and girls. But their curriculum in mentoring these inner city kids involves running—practice runs, 5Ks, and even 10-milers. Why?
"We instill the hope of possibilities and the feeling of accomplishment," said Jen Edmond, Mentoring Program Manager for Teens Run DC. "With running, they get to set their own goals. Then we can help them apply those same principles to the rest of their lives."
Gavrielle Jacobovitz, who spent the past two years with Teens Run DC, just graduated high school. To her, the program was invaluable in setting goals and seeing what she could actually accomplish. She trained with her mentor to run a half marathon this past March. She plans to continue running this fall at Columbia University.
"Running is a great stress reliever," she said. "I'm only competing with myself. Mentally, it's a positive thing."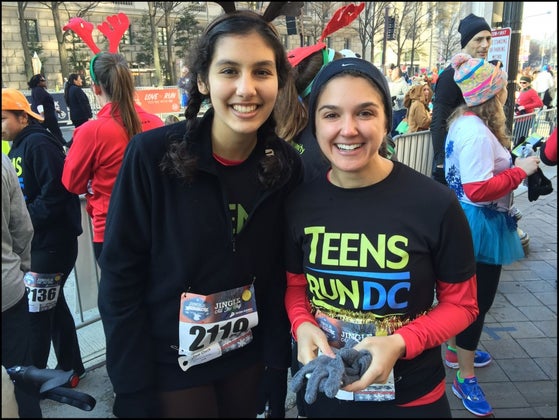 Fellow runner Lina Klose echoed the same sentiments about Teens Run. "It was about being there as a community and pushing to be your best," she said. "It was not about outrunning each other."
Like Jacobovitz, some of the kids who have graduated the program continue running. And so it is with Girls on the Run International, a 12-week after school program for girls in third through eighth grade. After graduating, some of the girls have run track in high school and college. Some have even run the Boston marathon and Ironman triathlons.
Carrie Hanson, Vice President of Marketing and Communications for the organization, said running becomes the vehicle for all of life's lessons—goal setting, teamwork, and empathy.
"We chose running because it's very accessible. All you need is a pair of shoes and open space, and for the most part, anyone can do it," she said. "It is a great confidence-building sport because it is easy to set and track your own personal goals and progress over time."
Edmond agreed with building over time. She said the kids don't start running 10 miles. They start small and gradually progress to longer distances. This may be one reason why some people don't see training young runners as a detrimental thing. If you take the time to reach a physical goal, your body has the chance to grow accustomed to changes.
Rosas discussed his training of five-year-old Cortez this way. "We run a couple of times a week, only 3 miles," he said. "Where I take her, it's nothing but hills so she can build her endurance. Then when she runs on pavement, it's easy."
How long you run or how old you are when you do it, it's a personal choice. And for these kids, it's a choice that has made all the difference.
Read More:
Healthy Kids Are Getting Healthier—Here's How
4 Ways To Include Your Kids While Working Out