The Women Who Started The "Mother Runner" Movement
Even if you've already heard of Another Mother Runner, you'll be inspired by their mission to making running easier for moms.
Heading out the door? Read this article on the new Outside+ app available now on iOS devices for members! Download the app.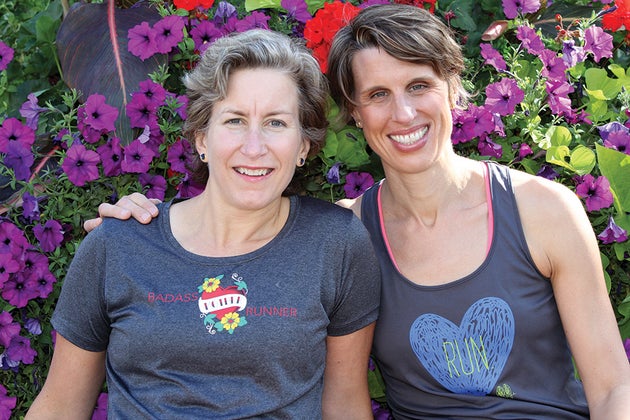 For a woman, being a mom and a runner aren't always complementary identities. In fact, when you add a career, partner and possibly even a social life to the mix, finding time for all of it can be as challenging as tiptoeing across your child's room in the middle of the night without stepping on a Lego—you think you have it dialed, then yikes! Everything comes crashing down.
Sarah Bowen Shea and Dimity McDowell began blogging in 2007 about the everyday challenges of training for a marathon while balancing family and work, and their candor struck a cord. Not only did countless other women share similar feelings—no one else was speaking to their concerns. Bowen Shea, age 50, a mother of three, and McDowell, 44, who has two children, decided to expand their thoughts into a 2010 book, Run Like a Mother. Their in-the-trenches-with-you voice created an organic groundswell that eventually led to the development of Another Mother Runner (AMR) and the legions of followers they call "The Tribe."
Both women began running in college as cross-training for rowing at Colgate University (although they only actually met later at an event for ex-crew members). With sports backgrounds, it's fair to say they love to compete: Bowen Shea, who lives in Portland, Ore., has run numerous half marathons and marathons, and is a two-time qualifier for the Boston Marathon, while McDowell, who lives near Denver, has completed races of varying distances, including an Ironman triathlon. But the two also enjoy the simple sense of accomplishment that comes from forward motion and enjoying a good run, alone or with friends.
The result is a burgeoning business—books, podcasts, training programs, merchandise—centered around positivity and a community approach to running. In addition to meeting people where they are and sharing the idea that running should make you feel better, the AMR Tribe embraces the perfection in imperfection: Understanding that the best stories and learning moments are usually the ones where everything doesn't go as planned.
We caught up with Bowen Shea and McDowell after their second annual AMR Women's Running Retreat, this time in Spokane, Wash., to learn more.
What were your goals when you started Another Mother Runner (AMR)?
Dimity: We didn't set out to start this. We started out training for a marathon together because we wrote about it for a magazine. While training we were also blogging about it on the magazines' website. And we discovered this whole group that wasn't being spoken to.
Why do you think AMR has resonated with so many people?
Dimity: Our runners know there is a place for them no matter what. Whether they nail the race or come in just in front of the SAG wagon, they are welcomed and appreciated and their effort is valid. Running has a more inclusive feel than it used to, but there is still intimidation, judgment and people sizing each other up at races. Someone can comment on our Facebook page that they are going to run their first half marathon and want to finish it in less than three hours. Suddenly 50 women chime in to validate their experience. There is something about knowing that other people are going through the same thing you are that is liberating and empowering. We have a very positive space.
You two have developed a massive community through AMR. Have you always leaned toward running in groups?
Dimity: I'm a solo runner by choice and circumstance. I live in a neighborhood full of active women but we are all on different schedules. On a day-to-day basis, I'm solo. But there are times when I run with a wonderful posse of women, and I also have a go-to friend for running trails.
Sarah: I'm self-motivated, but I have a running friend who means the world to me. The friendship wasn't something I was looking for, but we found each other, and there is no end to the depth of love I have for running with her.
Two self-starters at the head of a wildly popular running group. How does that work?
Dimity: I don't think it's as much of a gap as it seems to be on the surface. The reasons why we run aren't different from other women. I struggled with post-partum depression after my first child was born. I started running while pregnant with my second child in hopes of not going back to that depressive place. I'm running for my head and my body, as much as the miles. Other moms can relate to that.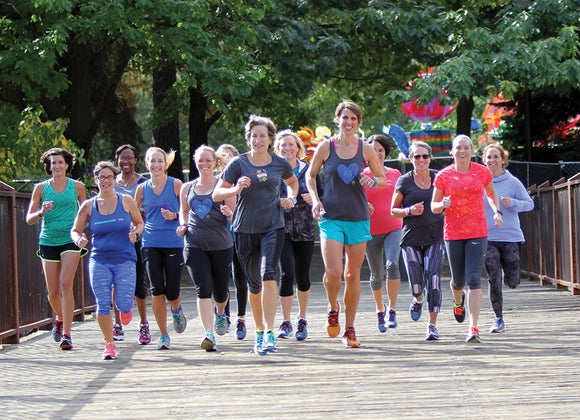 What makes you proudest when you reflect upon the growth of AMR so far?
Sarah: We've found a balance and a tone and an attitude that speaks volumes to so many women. It's a conversation that's natural. We don't have to force it. The honesty is there and feels rewarding and gratifying.
You launched Train Like a Mother this year. What was the impetus for expanding into training?
Dimity: A lot of women run solo. Motherhood and parenting is pretty isolating. You go from being a total free agent to having to adhere to the schedule of a colicky or fussy baby who won't sleep through the night. It makes connections harder. A training schedule provides those connections and gives some of your time back to you.
What Makes training program unique?
Dimity: We offer support from the first step to the finish line for 5Ks to marathons. The race is always the party, but you have to put in the work to get the medal and the T-shirt. We offer a private Facebook page, have call-in office hours with a coach, send weekly emails, have a Strava page and also answer questions on our podcast. We try to give people all the tools they need, including HR training instruction, strength training routines, resistance band exercises and Bosu Ball work. Even if you are running alone you have all these people on your shoulder encouraging you. It makes you feel like you have a team.
Given the name "Another Mother Runner," has there been interest from non-moms who want to get involved?
Sarah: We think of ourselves as a community of women runners, AMR is just the name of the business. Our Tribe includes moms of fur babies and women without children too. We even have dads involved. They have their own Facebook page, Train Like a Father, but they aren't quite as chatty as the women.
While plenty of people still "race," there's a growing emphasis on "participating" at races. Where does AMR fit in the scene?
Sarah: We appeal to middle and back-of-the-pack runners and new runners. The party is at the back of the pack! There are lots of retro grouches at the front of the pack grumbling about having to accommodate new racers. In reality it's the middle- to back-of-the-packers keeping these races alive because their numbers are way greater. If racers want race options, they have to be accommodating to runners of all abilities. There's enough bananas and chocolate milk for everyone.
Dimity: There is a place for everybody on the road and the trail. That's what's so great about our sport. I love watching runners who go fast and am inspired by them. They are great role models, especially the mother runners. But I also feel like your race time isn't going on your gravestone. No one cares how fast you went. People care if you're fun to hang out with, to have a beer with, if you're enthusiastic about cheering for others.
What about the state of women's running?
Dimity: Looking at the numbers, women are dominating every race distance up to the marathon. It speaks to how empowering the sport is for us. Running is such an encouraging sport overall. A lot of the intimidation and judgment we perceive as women or beginners is from our own anxiety.
The number of runners is on the rise, but so are obesity rates. Is it time to rethink the ideals of fitness and weight?
Sarah: A lot of women take up running to lose weight. But you don't necessarily lose weight when you're training for a race. Studies are coming out saying that people who are slightly overweight have longer life expectancies than super skinny people. Everyone who starts running is going to get healthier because of it. They may not be a size 4 or 6, but arteries will be less clogged because of it, and blood pressure will come down. While weight may not change, overall health improves.
You have "TMI Tuesday" on the AMR Facebook page, and it can get rather graphic. How does your audience respond?
Dimity: People love when we take it too far because no one is talking about these topics. Once you're a mom, things shift and change and fluids ooze out of orifices you'd rather they not. No one is being honest and candid about those things (like having your period on race day, pre-run sex and leakage). We give women the opportunity to not suffer in silence anymore, and they learn solutions. They realize, "Thank God it's not just me."