What Happens When You Don't Reach Your Goal?
So many runners only care about reaching their goals and not about the entire process.
Heading out the door? Read this article on the new Outside+ app available now on iOS devices for members! Download the app.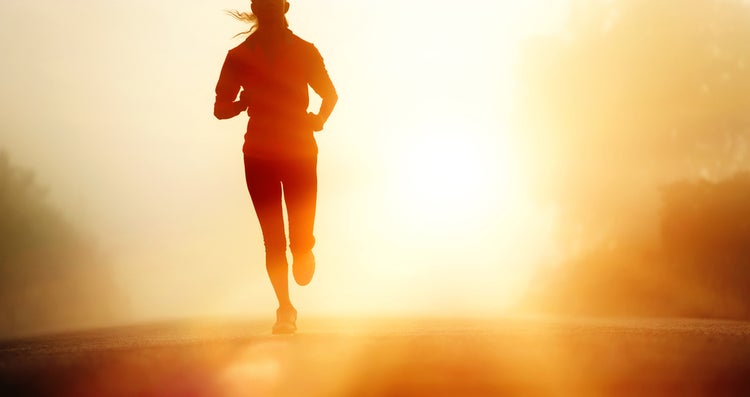 Other than brand new runners who have only recently been bitten by the running bug, most of us have some kind of number in the forefront of our minds when it comes to our training.
It is hammered in our heads that we need to pick a solid goal, that you will ONLY run your best if you have one in mind while following a marathon training schedule, but what if you don't know what that is yet? What if that fire and passion for running is there, yet you can't see what the results are going to be yet?
It can be difficult to stay motivated if you do not know what your next race is, or whether you are going to make it into the race you have dreamed of your whole life.
For me, I am training for the World Half Marathon Championships in March, where I hope to represent Great Britain. I have dreamed of running for Great Britain my whole life, but the team is not selected until March 7. (The race is March 23rd). My chances are decent, but not great. Yet for some reason, I could not move on from it. I want to train for this race to make sure to be in the absolute best half marathon shape I can be in for that race.
So maybe you are not an elite runner trying to make the world championships, but maybe you are a runner who has dreamed of running at Boston their whole life, yet your time places you in a category with thousands of other 'maybe' runners. Or maybe you are a runner who simple does not want to pick a goal race—you love to run for another reason, and you do not know where you are headed.
How do we keep up the intensity and drive when we do not know what the future holds?
The unknown is just as difficult for me, and I often find myself getting tangled in expectations, thinking about how heartbroken I will be if I do not make it. I hope knowing that others are out there going through this too can help you trust in the future, and know that whatever happens, this is going to make you a better, stronger runner (and person).
Related: Why Mindset Matters When Chasing A Goal
Learn to find joy in the journey.
A few years ago, I was obsessed with my marathon time. I felt that I HAD to run a certain time or I would lose my sponsors. I HAD to run that time or I would disappoint my family and friends.  Most of all, I HAD to run that time because I thought others would laugh at me and call me a fraud if I didn't.
Can you guess what happened?
Yeah, I didn't run that time. The joy was sucked out of running. Everything was forced, and I ended up struggling with every single workout I did. Last year, after two disastrous marathons, something changed and I decided I was just going to enjoy the journey. THAT was my goal.
Can you guess what happened?
I ran a 4-minute PR, and LOVED the race! I also won the Army 10 miler, and ran a PR in the half marathon by over a minute!
If you can try to embrace those ups and downs, the heartbreaks, the setbacks, and trust that they are a part of your journey, and will make you even better (and happier) in the long run, you will find a shift in perspective.
Go back to basics
This is a great time to let go of expectations, and just see what happens. Try running without your GPS watch. Instead use minutes of hard effort rather than miles. Your body does not know what a pace means. All it knows how to do (when you ask it to) is run as hard as your mind will allow.
Use this time to your advantage to focus on just running hard when you need to, and running easy when you need to. This is a great time to let go of pace, and just see what your body can do.
Remind yourself why you run
Yes, that feeling at the finish line is incredible. It is the biggest rush, and almost nothing in life can compare to the joy we find in accomplishing what we have dedicated so many hours, effort and tears for, but, there is another reason you run.
Think back to when you first started running. Before you knew that feeling. You chose some reason to do this sport. We know running isn't fun (in the traditional sense of the word) most of the time, yet we still do it even though we do not HAVE to.
If crossing the finish line or running in one race or another is the only reason you run, then it is time to change a few things. Around the same time I was obsessing over a time, the finish line was my main reason for running. Since then I have realized running brings so much more than that; friendships, respect, simplicity, calm, freedom.
Think hard about what running means to you and why you would miss it if you could never run again. Now THAT is why you run. Think of that next time you feel lost.
As runners, when we have our eyes on what we want, almost nothing will stop us from getting there. But if you do not accomplish it, so what? There will be another race. There will be another chance to bring that sense of accomplishment (even if it is not running!).
If your next race does not end up being the one you hoped, do not lose faith. There is an even better path getting ready to open up for you.
Related: 10 Simple Reasons To Lace Up And Run