Happy 45th Birthday, Title IX
In honor of Title IX's 45th anniversary, three women share their stories with high school and college athletics during the law's early days.
Heading out the door? Read this article on the new Outside+ app available now on iOS devices for members! Download the app.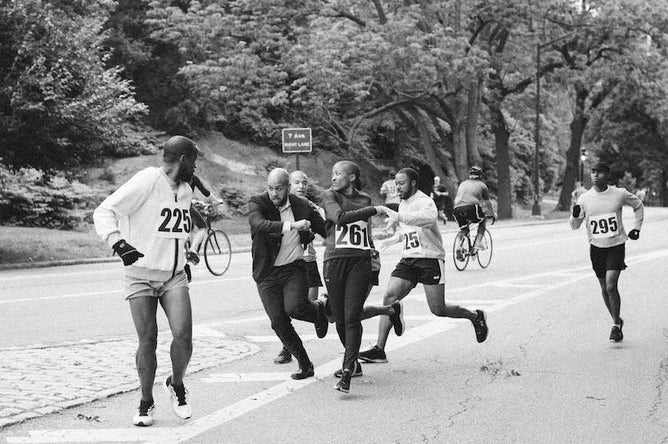 45 Years Of Title IX
I earned my nickname, Powdered Feet, as a young girl who drove my parents crazy. "Powdered feet," which comes from the Haitian Kreyol saying pye poudre, describes someone who never stays still and is so busy that you never see them–you just see the footprints of where they've been in powder. Unlike my more reserved older brother, I was always the first to volunteer in a crowd and participated in every activity and sport that would take me. At 7 years old, I confidently joined the intramural soccer team as one of the only girls and I regularly lined up to race the boys at recess throughout middle school.
Since those early days, sports and running has taken on an even more powerful role in my life. Initially, running helped me get through a very deep and dark struggle with depression and then subsequently helped me launch multiple movements around running, community and social change.
Related: One Triathlete Tells Her Story Of Racing During Title IX Era
Reflecting on the ways in which my entire life and sense of self centers on movement and access to play, it is incredible to think that only 50 years ago, Kathrine Switzer was almost forcibly removed from the Boston Marathon and that 45 years ago, the opportunities that have molded me would not have been possible. It was 45 years ago TODAY, of course, that Title IX came into law. The law states:
No person in the United States shall, on the basis of sex, be excluded from participation in, be denied the benefits of, or be subjected to discrimination under any education program or activity receiving Federal financial assistance.
Over the past 45 years, there have been monumental gains for women as a result of this law and many young girls like myself have been able to make the most of the opportunities that come from participation in sport–whether by becoming professional athletes or more courageous and confident people. As USA Today reports, "An Ernst & Young and espnW survey found that among businesswomen now in the C-suite (CEOs, CFOs, etc.), a stunning 94 percent played sports, and 52 percent played college sports."
And yet, as we celebrate the ways in which Title IX has undoubtedly transformed the world of sports and beyond, there are very real ways in which the law has been bent and broken: notably, the ways in which the current administration has rescinded certain guidelines that explicitly protect the rights of transgender students under the law. Furthermore, female athletes still struggle in many ways to manage what athlete and scholar Andrea Paloian has described as the female/athlete paradox, which results from the challenge of disrupting long-standing gender norms. "[Female athletes] are expected to succeed in their sport while maintaining hegemonic femininity, which can be a difficult balance to establish and maintain," Paloian explained in a 2012 NYU Steinhardt dissertation paper. "As Krane (2001) explains, 'Sportswomen tread a fine line of acceptable femininity…engaging in athletic activities is empowering, yet maintaining an acceptable feminine demeanor is disempowering.'" Athletes like Serena Williams have faced unparalleled critique, shaming and racism about their bodies. Their feminity is regularly called into question as a result of their athleticism, proving that there is still a long way to go!
I recently sat down with a few women who shared their stories about Title IX and the ways in which it has impacted their lives.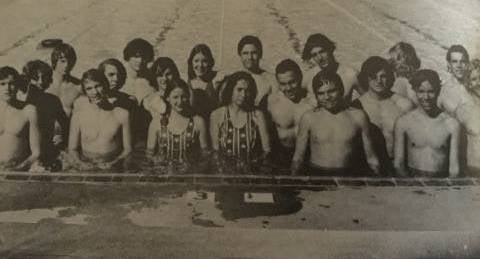 Meet Denise Morris
Denise is 60 years old, recently widowed and has two children and two grandchildren.
"I wanted to start with 1975 yearbook pictures. I was a junior and swam varsity with the boys team. As you can see in the top picture, [there were] only three girls.
"I guess I didn't think of Title IX as even being a 'thing' back then. I just know I swam competitively since age 9 and before high school the boys and girls were always separated. Once I started high school, I wanted to continue the sport but was told there weren't enough girls to form our own team, so if we really wanted to swim, we'd have to join the boys' team. I think the coaches thought we'd give up on the idea, but we pursued and even managed to have one female coach. Looking back, there were no other co-ed sports to my recollection and none I could find in the yearbook. Also, when I swam JV, other teams had a few girls as well, but when I was a junior it was all boys on the other teams.
"This all had a huge impact on me. Although we encountered some good-natured ribbing by the boys, they all treated us well and respected us for our determination. It taught me to 'go for it.' Even though I'm sure I was probably dead last in most of those events, I felt proud of the accomplishment of earning my varsity letter on a boys' team. That was a big deal! I think it helped me learn to deal with males at a young age as we were definitely a team and we worked together, coordinating relay races in which we could showcase our strongest stroke. (Butterfly for me.) I see the greatest legacy of Title IX as inclusion and broadening the horizons of participation."
Meet Allison Davis
Allison is the executive director of Arts Horizons, the region's leading arts education organization.
"Unfortunately, I was unable to take advantage of Title IX as I graduated from college in 1975. Though passed, it was not implemented at Boston University.
"I was always an athlete, playing softball and basketball in high school. Though there were no formal teams, we managed to find ways to have competitive play. There were no women's sports directors, so the players took it upon themselves to arrange games with neighboring schools. We found coaches–often male students who played the sport. The men's program let us use gym and field space when they were not in use. Of course, that often meant early mornings, Sundays or late nights. We didn't have certified refs or umpires as we often relied on male students and our seasons were very limited. I remember that in some cases, we actually started teams in colleges where they hadn't imagined women would even have an interest in playing.
"Though I was incredibly jealous that Title IX came after my college career, I was delighted that others would have equal access to athletics and that we paved the way by showing our interest in sports on a collegiate level. The greatest legacy of Title IX is the emergence of the female scholar and athlete. I'm sure that many women would not have had a chance to attend college if it were not for Title IX."
Meet Casey Snedecor
Casey is the assistant director of athletics and the director of media relations at LIU Brooklyn.
"Title IX defines who I am as an athlete. There is absolutely no way that I would have been an athlete at the collegiate level without it. It's quite possible I wouldn't have played sports in high school, either. I wasn't good enough. Title IX made playing sports competitively at my schools possible and normal for me, which I know was not the case for the women that came before me. I've had discussions with my aunts and mother about how they couldn't compete in sports in high school–and, stemming from that, collegiately. I was immensely appreciative of the chance to play my game at the highest level I could.
"So far, Title IX has created much more equality for women athletically–there is an unparalleled number of women playing sports across the NCAA today. Numbers are booming. And that's amazing. Thousands upon thousands of women are playing sports at a level their mothers could not. Little girls are growing up dreaming of being professional athletes or playing sports in college, which was not something you dreamed about when I was younger. It's a whole new world for girls and women in sports, and I'm thrilled to have watched it develop in my lifetime.
"But it's a law, and as most people have figured out, laws are living things that can change and adapt over time as people react to them, use them, fight against them, and as judges are forced to rule on them. So I think the greatest legacies are still to come."
Want to join the conversation? Share your story on social media and tag #MyTitleIXStory!
Related:
It's Wrong To Say Sports Should Remain Outside Of Politics
50 Years Ago Bobbi Gibb Became The First Female Boston Finisher