You Left My Life And I Became A Runner—So Thank You
A runner says "thank you" to the ex that left her life and unsuspectingly drove her to adopt the sport that's been there for her ever since.
Heading out the door? Read this article on the new Outside+ app available now on iOS devices for members! Download the app.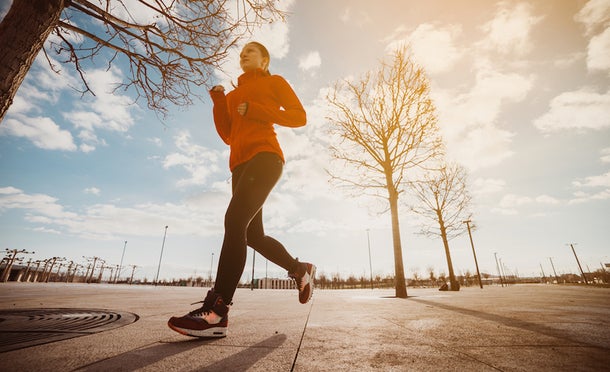 This piece originally appeared on Jenn Wilson's blog, Am I Really A Runner?
To The One Who Broke Me
I want to take a minute to say thank you. It may sound odd. In fact, it may sound like I have lost my mind. But when I stopped to think about the incredible year I have had—the past few years, for that matter—I can't help but think that you helped make this happen.
You see, if you had never walked away, I would probably be in the same place I was in almost three years ago. That cycle of wishing I could make a change or do something out of the ordinary without actually taking the first step. Where I was afraid to take a risk or make a change without some sort of approval from you. I was stuck in a never-ending cycle—until you bowed out.
Related: Real Runners: The Lies I Stopped Telling Myself
I don't know what made you walk away. And I have spent years working through what happened. But I do know that since that night, Dec. 31, 2014, I have become a different person. I started investing in myself and pushing the limits of what I thought was possible. Granted, the first year was spent trying to get your attention, but over time I transitioned to doing this for me.
I started running, just for the heck of it. Because it allowed me to go where I wanted, when I wanted, in any direction, for any amount of time. It allowed me to clear my head, to think through every aspect of the messy thing we were—because, if we are both being honest, it was somewhere deep in the grey area. And it helped me move forward, both figuratively and realistically.
I set out with a dream and I turned it into a reality. Instead of just dreaming about doing a half marathon, I actually made a commitment to go through a training plan and run a race. But I didn't stop when I reached the finish line. I made another goal, reached a new milestone, set out to do more and be more.
I started picking a single word to influence my entire year, because it felt right to do something different. In 2016 I made "strive" my word. If I could strive to do more, be better and make a difference, I knew everything would be okay, regardless of if I heard from you or not. This is also the year I started doing things for me. Not for you.
This year I decided to pick the word "fearless." I have lived in fear of a few things in my life. From fearing what others think of me, to getting hurt again (both physically and emotionally) and even fearing running into you and having to awkwardly dance around the fact that we ended on a bad note. This word alone has taken me to new and amazing places.
Because of my desire to live fearless this year, I have run more, gained strength through new and sometimes frightening workouts and spoken my mind openly. I have been a model and exposed my flaws to the world, shared my story through a blog, started a vlog to capture my experiences training for a marathon, and I dared to put myself out in the world regardless of how it would respond. I even reached out to you, after more than two years, to try and close the chapter on what happened.
You see, if you didn't skip out on that wedding, I wouldn't have done all of these amazing things. I would never have seen Mt. Rainier after climbing 3,000 feet of trails and rounding 16 miles of trail by running with a relay team. I would never have met the amazing people of the November Project who are always challenging me to do more than I think I can. I wouldn't have completed three half marathons or trained for a full marathon. I wouldn't have chased the goal to complete 30 running races before I turned 30. I wouldn't have started doing CrossFit. I wouldn't have lost more than 70 pounds. I wouldn't have discovered who I really was. And I wouldn't have moved on to the extent that I have.
So, I have to say thank you. Thank you for stepping away all those years ago. It has allowed me to become who I was always meant to be. Thank you for showing me what I was missing. That my life needs to be about me and not about you. Thank you for showing me what I do not want in my next relationship. That I am worthy of having someone love me, just as I am. Thank you for helping me move on to the next chapter in my life. I am a stronger person now. I know that one day I will see you again and I will be able to tell you in person. But for now, just know that you helped propel me to an amazing place.
Related:
When Running Pulls You Through A Messy Broken Heart
Running Strong Is Way Better Than Worry About Being Polite