Social Media Fitness Challenges Are Everywhere—Do We Like Them?
What's there to like, love and hate about social media fitness challenges? Runners and health and wellness bloggers weigh in.
Heading out the door? Read this article on the new Outside+ app available now on iOS devices for members! Download the app.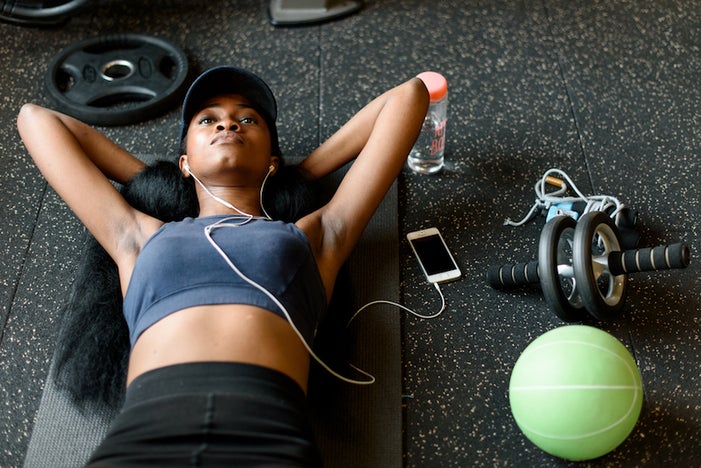 If you spend any amount of time scrolling through your Instagram feed, chances are you will see a hashtag for some sort of fitness challenge. It seems like every other day a new challenge pops up on social media—planks, squats, runs, weights—and a lot of people participate. I'm not one of those people, so I wanted to dig a little deeper to find out exactly why these challenges are so popular and what the participants get out of them. The short answer is: a lot!
Related: Why New Runners Should Pay Attention To Strava Challenges
What Are Social Media Fitness Challenges?
Most social media fitness challenges are set up at least one week, and up to several months, in advance. The challenge theme remains the same—yoga poses, mileage runs, push-ups performed—while the challenge of the day will vary in poses, distances and numbers.
For proof of meeting the requirements, participants post a picture of themselves demonstrating the challenge of the day on Instagram, or another social media stream, with a specific hashtag.
Some challenges last a week, others go on for a month or more and still others ebb and flow for years. Some have rewards or prizes, but most participants think that completing the challenge is its own reward.
What Are The Benefits?
Being held accountable and being part of a larger group seems to be the biggest benefit. The reason Weight Watchers, CrossFit and other "check-in" programs are so successful is because of those two reasons: accountability and community. Participants cannot wait to post a picture showing how they met that day's challenge and then check out what everyone else posted.
Not only do you feel good about completing a daily goal, you may also be introduced to new people on Instagram–and they to you. Discovering new followers and potential like-minded friends is always a good thing.
What Are The Drawbacks?
In a word? Comparison. As with most things having to do with social media, comparison to what others are doing continues to steal the joy away from many personal accomplishments. Since most of these challenges are shown with photos, the emphasis shifts from having a deeper practice, less anxiety or lower blood pressure to something purely physical.
Know yourself well enough to know if you can handle seeing picture perfection and decide if participating will motivate or discourage you. The only person you should be comparing yourself to is the person you were yesterday.
Words From Participants
"Well, some people do it because I think there might be prizes? But I'm doing it just to keep myself accountable and get a little more yoga into my daily routine. Plus it is a guaranteed Instagram photo every day for 10 days which kind of takes the pressure off when I realize I haven't photographed anything and my feed is a barren wasteland." Carly P., blogger at Fine Fit Day
"I like them, it keeps me motivated to move! A lot of times, just seeing that other people are getting out there and doing something…anything, is enough motivation to get me up and off of my butt. I'm also kind of competitive so I like to push myself to complete these challenges without giving up…I hate giving up." Barb B., BeachBody Coach, mom of two and runner
"I mostly hate them. I think any movement is good movement…when it gets competitive, I lose interest." Kelly G., health and fitness blogger and Jenny Craig Ambassador
"They always seem like a really great idea, but 9 times out of 10 I completely forget that I'm involved because I've got my own training plan going on." Sarah C., health and fitness blogger, competitive trail runner and mom of three
"Really dislike, because hate is a strong word. They generally promote some type of overuse or less than optimal elimination of food groups or products that are not actually healthy options." Tammy M., group fitness instructor and runner
"Love the idea but not fond of the execution. It usually conflicts with my regularly scheduled training." Kelsey W., badass mother runner
"I like them in theory, but in reality I think they lack longevity and sustainability. There's a sense that after the 21 or 30 days, you're finished. For some they may create habits (which is awesome), but I think a trap of [doing] a challenge [is falling] off the wagon until the next challenge/repeat. There's no replacement for the day in, day out consistency of a sound training plan." Laura N., running coach, health and fitness blogger and runner
"I'm struggling with pregnancy and willpower currently so groups are helpful. The only challenges I really don't jive with are the running streak challenges (because I always take one day off; I find it necessary both physically and mentally)." Jessica P., NASM certified personal trainer, health and fitness blogger and runner
Related:
I'm Halfway Through The Tone It Up Challenge–This Is How I'm Feeling
4 Fitness Challenges For A Better New Year's Day