Real Runners: Being "The Runner" In Rural South Dakota
A runner shares a personal essay documenting her years as "the runner" in rural South Dakota.
Heading out the door? Read this article on the new Outside+ app available now on iOS devices for members! Download the app.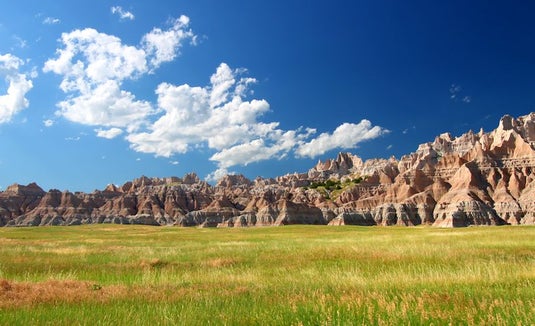 Becoming "The Runner"
I was born imbalanced. My vertebrae, instead of nestling neatly on top of one another, wrench and turn like the tracks of a wooden roller coaster. Throughout my childhood, doctors X-rayed my back every month and repeated phrases like, "severe scoliosis" and "keep an eye on it as she grows."
The first time I ever ran was during a three-week unit in middle school gym class in which students collected a popsicle stick for every lap they completed. The other kids in my class walked. I ran. It felt like something my body was born to do, even though the doctors and the Internet told me that running should be uncomfortable, if not impossible, with my condition. I left every class with a fistful of popsicle sticks.
I've now been running for 16 years. When I run, everything is in equilibrium. When people ask me why I run, I tell them that it never occurred to me not to run. It is simply something that I do. Running has been in my life longer than any man, job or home. It was in my life before the twin towers fell and before names like Sandy Hook and Aurora had meaning.
When I moved to South Dakota, it never occurred to me to stop running. I moved from Los Angeles, a city where a run on the beach is as regular as Sunday brunch. In South Dakota, I taught at the local school during the day and ran in the evenings, along the paved highways when I wanted speed and dirt roads when I needed solace.
When I lived in Los Angeles, I jostled for space on the Strand. In my new town, I didn't see another runner (aside from my occasional training partner) for six years. What had once been a social sport for me—taciturn acknowledgments to fellow runners, group runs, high school teams, the camaraderie of starting line stretches—suddenly morphed into the most solitary of pursuits. Overnight, I went from being a runner to being the runner.

A Land Without Exercise Culture
As a white woman in my twenties, I lived in a 700-person town in the northeastern corner of the Pine Ridge Indian Reservation, the most impoverished area of our nation, where indoor plumbing and electricity are not guaranteed and the life expectancy for adult males, 48, sits just below that of Sierra Leone. Places like Los Angeles, Washington, D.C. and San Diego have established running cultures—athletic boutiques dot shopping promenades, trails are clearly marked and races are publicized. In rural South Dakota, running, especially in the most underserved pockets of the state, is as rare as a mild winter. In my new home, I was told, "The only thing we run for is the dinner bell."
Pine Ridge's poverty cannot be unbraided from its isolation—the Lakota Sioux of Pine Ridge were the last tribe to relocate to their present-day reservation after an expedition led by General Custer found gold in the Black Hills, originally granted to the Lakota in the 1868 Treaty of Fort Laramie. The Wounded Knee Massacre that followed in 1890 is considered the end to the Indian Wars that left tribes parcels of undesirable land. A thorn in the side of the U.S. government and their gold-seeking expeditions, the Lakota were eventually confined to some of the most desolate, uncultivable land in the nation—literally dubbed the Badlands.
Physical isolation makes economic prosperity nearly impossible, and life harsh. If I wanted a beer, I needed to drive 30 miles to get it. For fresh vegetables and hummus, I traveled 86 miles. But the land, with its muted gold hills that threatened to buck the road and flat-topped buttes thrust like fists against the sky, is a place of open plains and possibility.  It is land that is meant to be run.

Unfriendly Weather
It is also powerful land. Located directly in the center of the North American continent, South Dakota is subject to both warm air drifting north from the Gulf of Mexico and cold fronts blowing south from Canada. The meeting of these two frontiers can bring wind, hail and a general feeling of capriciousness. The fastest temperature change ever recorded occurred in Spearfish, S.D. in 1943 when frigid -4-degree temperatures rose to 45 degrees in less than two minutes. Fast changing weather has been known to crack glass, instantly frost windshields and bring hail (the state also holds the record for the largest hailstone ever recorded, an eight-inch–in diameter–and nearly two-pound ball that fell in the town of Vivian in 2010).
Winters in South Dakota are harsh. Famous pioneer and author Laura Ingalls Wilder chronicled her family's years living in present-day De Smet, S.D. in her books The Long Winter, Little Town on the Prairie and These Happy Golden Years. In The Long Winter, Wilder describes tying a rope from her front door to the barn so the family could care for its livestock during a blizzard without losing their way in the blowing snow. More than a century later, a student at my school died trying to visit her neighbor's house in similar conditions. She became disoriented and lost during the short walk, and her body was the found the next day.
Once I was six miles away from home when golfball-sized piece of hail cracked from the sky, bruising my arms and skull. Before I could dash for cover, one of my student's grandmothers pulled over to ask if I needed a ride.

"Need A Ride?"
People often stopped and asked me if I need a ride. Sometimes it was when I stopped to stretch or was looking tired, but other times I was pounding the pavement, enjoying a routine jog, when I heard the familiar, "Are you okay? Do you need a ride?" On the Pine Ridge Indian Reservation, 80 percent of residents are unemployed and the per capita income is $4,000, which is accompanied by other issues characteristic of unbreakable poverty. If people are running, they are running from something. If people are walking, it is usually because they ran out of gas money.
When there is no culture of running, or even exercise, the act becomes an oddity. People often said, "You're too skinny to be out running," or, "Why do you run if you're already thin?" When there is no culture of exercise, people search for a logical explanation for it, often associating it with calorie-cutting and anorexia. Running for joy defies logic.
The glaring irony, of course, is that the places that are void of any sort of exercise culture are often the ones that need it the most. Native Americans have the highest rate of diabetes of any race in the United States, with 16 percent of its population having the disease (the national average is 9.4 percent). On Pine Ridge, those statistics are amplified. Some estimate that the diabetes rate is at 37 percent, ballooning to 50 percent in the over-40 age demographic.
Not only was my town, whose residents were some of the highest risk candidates for diabetes in the country, void of a dialysis center, but it lacked any preventative fitness centers or initiatives that were the best defense against the disease. When exercise is the exception, rather than the rule, it is easy to understand why people worried about my need for a ride while I was out running.

Gaining Recognition Far And Wide
Yet as my years in this town passed, the cars stopped less frequently. They soon learned that I was "the runner." At conferences and in the local store, people would say, "You're that runner." Once, I was checking out at Walmart 105 miles from my home when I heard, "You're that runner."
"I do run," I replied, "but I live a few hours away."
"Yeah," the stranger said. "I drive a truck out that way. I see you every morning."
"Well then, that's me."
"I worry about you," he said. "Do you carry a gun or something?"
People were always asking me if I carried a gun. I never carried one because I never felt unsafe, even though the towns I lived in had reputations for violence. In Los Angeles, men catcalled and cars turned without using their blinker. In South Dakota, people honked and waved. They gave me a wide berth when they passed on the two-lane highway. When it rained, people picked me up. Ranchers offered me water. Locals slowed down so that their children could roll down their windows to cheer me on. One time, a family followed me for half a mile playing rock music with the windows rolled down. I once came home from a long run to find a freshly made Indian taco waiting for me on my front steps. Sometimes my students would even follow me on horseback.

Wildlife Awareness
The things that scared me were not human. I almost stepped on a rattlesnake once. I stumbled across many a bull that had escaped from its pasture. One time I saw a mountain lion cross the road. I carried mace for the packs of dogs. In 2014, an 8-year-old girl died from a dog attack in Pine Ridge. A year later, a 49-year-old woman from the neighboring Rosebud Reservation died from a feral pack attack.
But there were nice dogs, too. One time a dog followed from a house at which I had stopped for water and went on to trail me for 8 miles. Worried that the dog wouldn't be able to find his way back home, my roommate and I drove him back to the house and watched him leap out of the car and race toward the front porch. The next day, the dog was sitting on our porch when we returned from work. We drove him back home. He came back the next day. We drove him back. After a week of this, we knocked on the door of the farmhouse.
"We brought your dog back," we said. "But he keeps coming back to our house."
"My dog?" the man who answered the door said. "That's your dog. I keep driving him to your house, but he keeps coming back!"
The man who drove "my" dog back, the man who took me home when I had heat exhaustion, the people who offered me water–they all extended kindness and cautious invitations to help me continue my pursuit, however strange it seemed to them. My little town bucked the stereotypes associated with rurality—when faced with newness, they adjusted.
Cultures shift and grow, and the Lakota culture has shown a remarkable ability to persist, in both unforgiving times and climates. I'd like to believe that there is a generation of children who have grown up watching "that runner" pass by every day, rain or shine; the same children whose parents allowed them to roll down the car windows and cheer for me.

Paying It Forward
For a few years, I coached cross country for a middle school team, a small band of athletes who weren't quite big or tall enough for the more popular football and volleyball teams. The structured races that I remembered from my youth varied slightly from the helter-skelter Reservation competitions. Courses were not marked; instead, racers followed a leader driving an ATV or riding a horse. If a runner fell too far behind the pack, they often wound up lost until the horse looped back around to find them.
Some of my students chose to run in jeans rather than the quintessential running shorts. One of my runners dropped out of a race to buy a pickle at the concessions stand. But they ran. They came to four practices and one race each week, they cheered each other on and talked about their times over ham and cheese sandwiches on the car rides home.
One day, the road might be dotted with runners who once ate ham and cheese sandwiches in the back of my car–and it might not. That isn't why I run. I run because it can bring even the most imbalanced body equilibrium.
South Dakota taught me that I don't need running boutiques, well-lit trails and passing nods at fellow runners to keep doing what I have always done. In the absence of a running culture, I am a lone figure on a dirt road, a black silhouette etched against the sky. But somewhere in the absence, a stronger, more important culture flourishes—the culture of kindness, caring for one's neighbor and never letting a guest leave hungry. That culture gave me some of the most breathtaking runs of my life, open highways and big skies only occasionally interrupted by passersby asking if I wanted a ride.
Related:
Embracing A Digital Detox At Rancho La Puerta
Why Charleston Is Considered The "Holy City" For Runners