The Best Thing I Did In Paris: A Running Sightseeing Tour
Preplan your vacation by running by the must-sees!
Heading out the door? Read this article on the new Outside+ app available now on iOS devices for members! Download the app.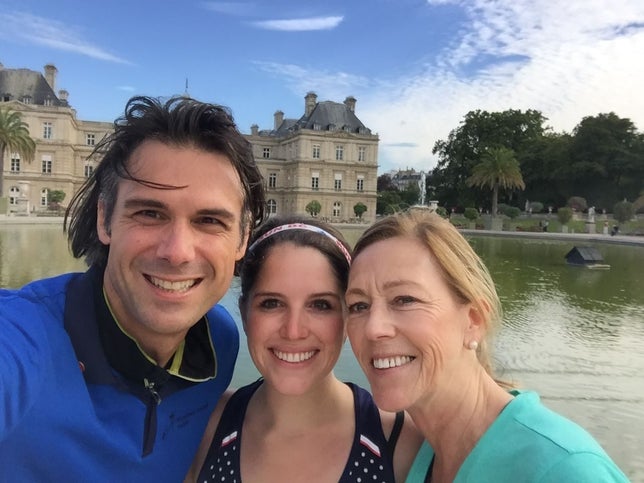 When I booked my trip to Paris, visions of croissants, cheese, baguettes and wine danced in my head. After years of hearing about the city's incredible food offerings (and peeking at them on Instagram), I couldn't wait to get a chance to taste them myself. The last thing on my mind? Working out.
But a few months ago, a friend who visited the city posted pictures of herself touring its streets with Go! Running Tours. The company offers sightseeing running tours across the world, in more than 40 cities, with each chapter led by a local with an intimate knowledge of their city and its running routes. The photos from Paris looked incredible. Who wouldn't want a memory of themselves tracing a path along the Seine River or cutting through the Louvre courtyard? I sent the information to my mom, and we signed up for a tour.
Related: I Ran The Disneyland Paris Half Marathon And It Was Magical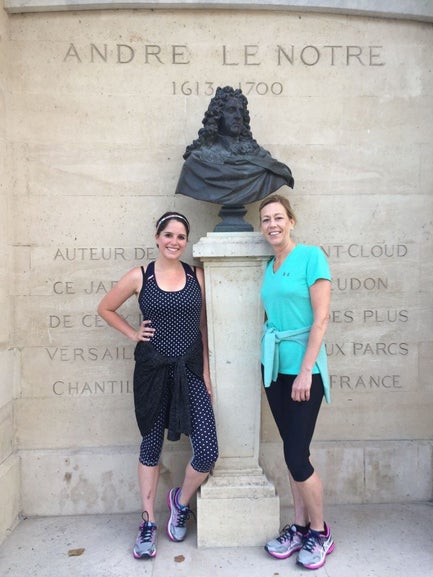 The Landmarks
We met Yohann, our guide, early on our second morning in Paris. You can book a tour at any time and for a variety of distances, but we opted for a morning run, worried about the heat later in the day. That turned out not to be an issue, but I'd recommend a morning time anyway. Getting out before the city began to get busy was ideal; we ran through popular sites without having to dodge people, getting them almost entirely to ourselves.
One of our first stops with Yohann was the Grand Palais and Petite Palais, two historic sites and museums/exhibition halls along the Avenue du Général Eisenhower. As we ran by, marveling at the way the morning sun glinted off the top of the Grand Palais' glass roof, Yohann motioned us to a crosswalk in the middle of the street and pointed behind us. It was a perfect view of Les Invalides, its golden dome particularly impressive against the crisp morning sky.
That became a common theme of the tour: Yohann ushering us to notice the view, the scene behind us, or the perfect symmetry between landmarks. Standing in the Place de la Concorde, we had a perfect view of the Arc de Triomphe behind us, and the sprawling Jardin des Tuileries ahead of us.
Throughout the tour, Yohann peppered the run with interesting facts about the history of the city, its artifacts and its streets. We learned about the complex construction of the various fountains that dot Paris; the architects that sculpted its impressive gardens; and about a few hidden gem restaurants that Yohann pointed out as we ran by.
The Best Part
But by far the best part of the entire experience was getting an in-depth look at Paris and its neighborhoods on foot. I had a few "pinch me" moments throughout the entire experience. It was surreal to run past the Louvre's iconic glass pyramid, through its courtyards, and to get a first-hand look at just how massive the entire museum is. It was breathtaking to run along the Seine River, watching the city slowly wake up around us. Weaving our way through streets (and so glad we had a seasoned guide with us), I loved how we could turn a corner and something magnificent would pop up along our route: Notre Dame! Musée d'Orsay! The Panthéon! And, of course, peeking overhead—the Eiffel Tower.
Covering the city on foot, getting a glimpse at both its scenic streets and magnificent buildings, was the perfect way to begin our week in Paris. It reminded me just how lucky I was to be there. It also gave us a literal road map for our next few days exploring Paris. We revisited neighborhoods we ran through, crisscrossing streets in search of "that chocolate shop we ran by with Yohann," or towering landmarks we'd admired as we circled them on the run.
The running tour was by far my favorite activity during our week in Paris. Not only did it combine one of my favorite activities with one of my new favorite cities, but the chance to spend some time with a native, giving us inside information on his city, also offered the chance for a new and deeper understanding of our surroundings. Yohann told us he tailors his pace to each group that signs up and can facilitate a true sightseeing tour (with stops along the way) or a training tour, where you pick a distance and simply run the entire time.