Here's Some Running Motivation From President Obama
As we prepare for President Obama to leave office, one runner shares her favorite quotes that double as running motivation.
Heading out the door? Read this article on the new Outside+ app available now on iOS devices for members! Download the app.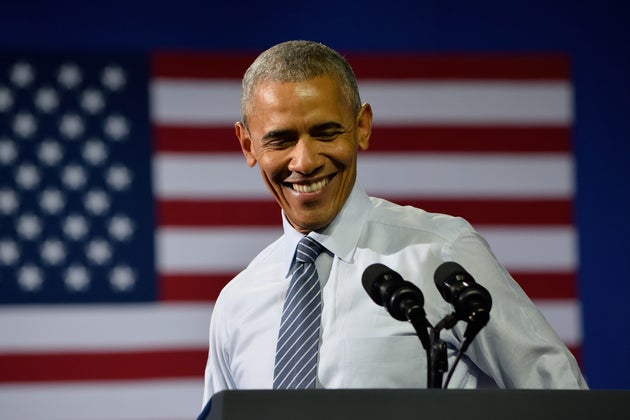 Since becoming a runner, I no longer make resolutions. Running has helped me fulfill the life resolution of doing my best to live every day to the fullest. While I'm done with resolutions, I still look forward to January; the New Year is a time to reflect on my journey over the last year and look forward to my journey in the coming year.
I'm a girl who loves quotes and mantras that can help inspire me in how I live my life every day. This January is a little bitter-sweet as I say goodbye to President Obama. While he will no longer be my president, I've written down some of my favorite quotes, which not only serve as life mantras but have also helped me through some of my "setbacks" and fears with running.
I'd like to share these life and running mantra quotes from President Obama with you:
"Change will not come if we wait for some other person, or if we wait for some other time. We are the ones we've been waiting for. We are the change that we seek."
I think of this in so many different running scenarios, but in particular in regards to when I took the step from being a non-runner to a runner—from not being able to run a mile to becoming a marathoner. No one else could do it for me. I had to make the decision to do it.
"Nothing in life that's worth anything is easy."
I hate hill repeats, I hate hill repeats, I hate hill repeats….but they will make me faster.
"There is no excuse for not trying."
Every time someone asks me if I ever want to run Boston and I say that I have "no interest" in getting a BQ, I see this quote parading across my brain with a raised eyebrow.
"Progress has never been smooth or steady. Progress doesn't travel in a straight line. It zigs and zags in fits and starts…it remains uneven at times, for every two steps forward, it feels like we take one step back."
A friend reminded me of this quote recently. It was particularly useful after the disappointment of running my second marathon slower than my first one. Maybe I needed to learn some lessons from this "setback" that will actually help me more in the longterm (and for my next marathon).
"Don't let your failures define you."
When a run doesn't go the way I hoped it would, I remind myself to lace-up the next day and give it all I have.
"Change is never easy, but always possible."
Every time I'm tempted to skip a new cross-training program, I remember that I can't expect new results if I'm going to continue doing the same thing day in and day out.
"We don't fear the future, we shape it."
Don't be afraid of a new course or a new distance. Study it, prepare for it and conquer it.
"If you are living life to the fullest, you will fail."
Yes. Thank you. This basically "gives me permission" and encourages me to try everything that I'm pretty sure is more than I can handle.
Before I give you my favorite President Obama quote, I have to include one from Michelle Obama—because this is Women's Running after all—and because it absolutely ties in with life and running:
"We should always have three friends in our lives-one who walks ahead who we look up to and follow; one who walks beside us, who is with us every step of our journey; and then, one who we reach back for and bring along after we've cleared the way."
This quote encompasses what the running community is all about. I've got the mentors and pacers in my running group who lead me, I've got the running friends who keep me company and stay by me, and I've got the friends and readers that I've encouraged and guided towards becoming runners and marathoners, which in turn changes their lives the way running changed mine.
Finally, my last quote from President Obama:
No explanation necessary.
Farewell my president. Thank you for your service and the lessons you have given me that I will run with for a lifetime.