5 Runners Share Stories Of Run Dates Gone Really Wrong
Wanting to see how running and dating coexist, one runner conducted a survey asking for run date stories. Thankfully, she's sharing with us.
Heading out the door? Read this article on the new Outside+ app available now on iOS devices for members! Download the app.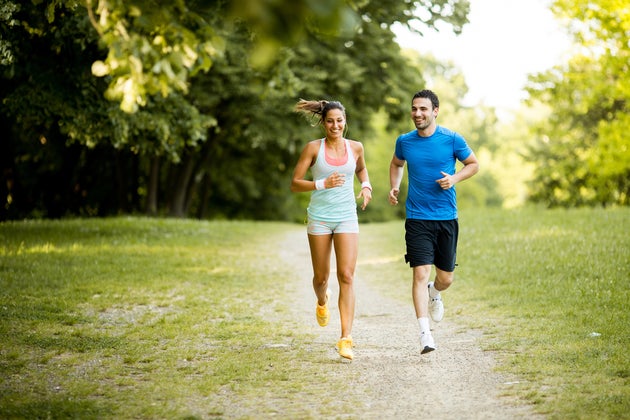 When I started really running, it became more and more apparent that dating is a true balancing act. I would try to fit in dates around workouts, until I found it easier to straight up run away from relationships. I also found that most of my runner friends followed suit. Instead of getting asked out on a nice sit-down date, we often get asked if we would be down to race (no) and if we want to go for a run (maybe).
I surveyed some runners and found some great examples of how running can impact/get in the way of/downright end your dating life.
Runner One: "We running this weekend?"
His opening line was asking me if we were going for a run that weekend. In all honesty, I had a long run the next day; 16 miles to be exact. And what better way to distract yourself from your long run than a seemingly very handsome male trotting alongside you? I had him meet up with my entire running team, and figured, worst case scenario, we could run with the team. I also neglected to tell any of my teammates that this was happening. The faster group took off at an extremely quick pace and the group I normally run with, decided it would be a good day to go about 15-20 seconds slower than our average. So there I was, stuck with this hunky man running down the entire west side of Manhattan. It was quite clear that I was slightly (read: way too) nerdy for this frat star, who was about three times the size of me. This means that each step he took was about 3-4 steps for me. So, I was on the verge of death. At about mile 12 he decided he was done and promptly turned away and started running back up the west side, leaving me alone and quite lost. My teammates only found out about the date hours later when I uploaded the run to Strava and labeled it: "First Date: Sink or Swim?!" In case it wasn't clear, it was a sink.
Runner Two: Kudos, bro!
Online dating is difficult! You never know what to expect. So, I do my best to vet these candidates before the date to ensure that they are not sociopaths or serial killers. Generally this involves finding a mutual friend and/or Facebook and Instagram stalking them—and, for the athletic few, finding them on Strava. Before a date with a fellow runner, I found him on Strava and started checking out his workouts and paces to see if I could keep up. Well, he did a killer workout that morning, and I accidentally clicked "Kudos." Fun fact, you can't un-kudos someone on Strava because that is unsportsmanlike (I even contacted my friend at Strava to check). I spent the next couple hours thinking of excuses for why I could possibly be looking at his Strava account before the date and couldn't think of any. Luckily he was very understanding, and decided to follow me on Strava. He still throws me the occasional "Kudos."
Runner Three: How do you have time?
I was talking to a girl on Tinder and was at the point where we had exchanged numbers and were setting up a date and time to meet when she said, "You spend so much time running, how do you date?" So, I was honest and said I didn't really have too much time to date! Her response was that this was "really sad and that life is short." Then, she asked me out. I responded, "Sorry I have to wake up for track at 4:45 a.m." But honestly, I was just resisting the urge to say, "I see all this time you spend dating has really been working out well for you…" I may regret a blind date, but I can assure you I will never regret a run.
Runner Four: Was that a date?
A guy from work had been trying to get me to hang out with him outside of work and kept on asking to do things, like go for a run (I guess I give off the "that's all I do in my free time" vibe). Since that is basically on my agenda every day after work, I decided it would be appropriate to bring him to my team practice. Our coach told us to meet at a hill to do hill repeats. However, due to my tendency to always be a few minutes late (minor character flaw), we missed the team as they slowly jogged to the hill. So, I basically started running as fast as I could to get to practice on time. Needless to say he did not appreciate this, and if it was his attempt at a date, I could tell by his face that he mostly regretted it. But, most importantly, we made it to the hill on time and I kicked ass in the workout. Can you say, "priorities?"
Runner Five: My pace or yours?
This guy I had gone out with a few times asked me to go for a run. From the moment we started running he kept one-stepping me. At first I joked about it, and tried to catch up, but it kept happening. Finally it got to the point where he had to physically turn his head and body to talk to me. Finally, I had to tell him that we couldn't run together. He apologized and tried to run next to me for the rest of the run, but it was very hard for him to do. As you can imagine, we never ran together again. (Side-note: This lady is speedy, so he must've been struggling hard!)
So, upon seeing my little survey for this article, my mom called me. She told me that she and my father would go running together when they first met. My reaction was to yell back, "NO ONE WANTS TO HEAR A HAPPY STORY!" But, then I started getting more emails about how running led people to their soulmates. I think this sentence from my teammate sums it up, "There is no way I could ever co-exist in a relationship with someone who didn't truly accept and promote my talents."
So, my conclusion?
You do not have to run to date or marry a runner. Your person just has to understand how much this beautiful thing means to you. They can literally be beside you for your 20-mile runs or just be ready to lay around and eat the rest of the day when you get back.
Again, still waiting on the Ryan [Hall] to my Sarah [Hall]! But I'm down to wait until after this cycle of marathon training—I'm pretty booked.