Real Runners: How Running Contributed To My Addiction Recovery
A real runner shares her story of how running inspired her to maintain sobriety and pursue a healthier, more active lifestyle.
Heading out the door? Read this article on the new Outside+ app available now on iOS devices for members! Download the app.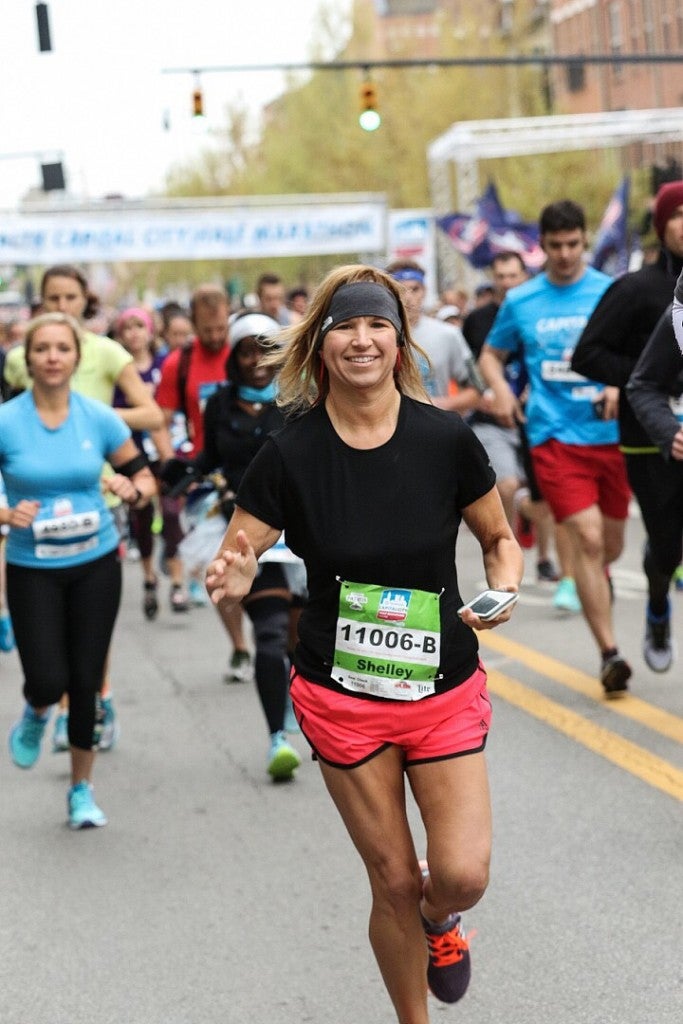 I am honored to share my story that started in 2013 and led to a passion for wellness and a 70-pound weight loss. Almost eight years ago, I was hired by a company that put me in Columbus, Ohio. Having battled cocaine addiction, I was more than two years sober but was still hurting my body. I dealt with my emotions by overeating, which caused low self-esteem and a lack of confidence.
When you have acceptance, willingness and faith in a higher power, change is possible. I know this because I have walked that road. I want to encourage individuals out there to view movement as a medicine that can bring incredible, positive change. My story is just one example of its power.
Related: But What Exactly is a "Real Runner"?
My love for running started with walking outside. At the time, I was living in the Northeast region of the United States and was unemployed. I wanted to start taking steps that would help me feel better inside. Thankfully, it was summer. Right away, I felt the benefits of walking and getting fresh air for 30 minutes each day. As part of my addiction recovery process, I journaled, attended recovery meetings, went to church and completed applications to land a job.
When I moved to Columbus in October of 2009, I balanced my attendance at meetings with walking and exercising on weekends. I felt something lacking, so I participated in a few 5K runs. Having attended meetings for approximately four years prior to my move, I felt that I was no longer getting anything out of them. I felt stuck. I decided to quit and start exercising more, despite the negative remarks that came from those that continued to attend. Speaking for myself, change and growth is possible without those meetings. I found that I could establish balance, control and self confidence through exercise. I brought moderation back into my life. We are all different—what works for me may not work for you.
Because of my journey, I feel a calling to motivate, encourage, empower and inspire. I want to show people who are struggling that there is hope, and I want to help eliminate the stigmas that surround mental illness and recovery. I want to encourage others to start exercising and discover the benefits for themselves. We are all on different paths. Your struggles might be different from mine, but if you find a type of exercise that you enjoy—whether it's dancing, hiking, swimming, biking, walking, jogging, martial arts or weightlifting—it can become a healthy outlet, something to redirect you from drugs, food and other vices. Don't be afraid to begin.
When I first started running, it was hard. I had to stop for walking breaks in the beginning. But by being consistent and working hard week after week, I felt changes inside that were mental, physical and spiritual. It was a healing process and an awakening of sorts for me. I never expected running to make the impact that it did. Running proved to be a brilliant choice for me.
Running is known to release endorphins, which are naturally produced chemicals that provide a "good feeling" sensation. Endorphins help regulate a person's mood and make them feel more naturally energetic. Today, running is a way for me to get a boost in energy or mood without having to rely on an outside substance. Participating in races and group runs, witnessing the amazing strength within the running community and connecting with great people that share my enthusiasm have all proved to be part of this healthy outlet I enjoy. Along my journey, I've also had to focus on injury recovery and practice recovery exercises and patience, knowing I would eventually heal and return to running.
If I ever get to a point where I can no longer run, I'll find a new type of physical activity that I can enjoy. The benefits of exercise have proven to be the best medicine for me. I have learned to establish a healthier relationship with food and am able to have a drink if I want, on special occasions.
If you want to do something, listen to that passion. That strong inner voice can help create your future. I credit running with helping me turn a corner in my life. Running ignited that spark inside me, and I have never looked back. I have an improved and much happier life because I gave running a chance.
Related:
Real Runners: I Beat Medical Setbacks to Qualify for Boston
Real Runners: I Regained My Life after Extreme Loss
How Running Helped Me Recover from an Eating Disorder