Get To Know Kathrine Switzer And Why She Runs
Find out what keeps the first finisher of the Boston Marathon—Kathrine Switzer— motivated through all the years of running.
Heading out the door? Read this article on the new Outside+ app available now on iOS devices for members! Download the app.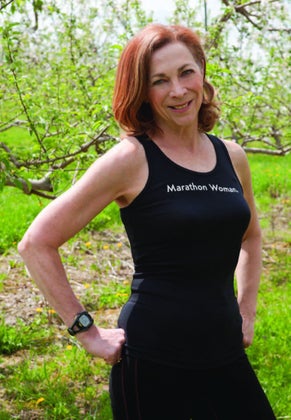 Running 39 marathons (with a personal best of 2:51) is impressive. Writing four books is good business. Partnering on a new clothing line at the age of 67 is brave. But what truly makes Kathrine Switzer stand apart from the rest is being a champion for women runners for almost 50 years.
From being the first official female to run the Boston Marathon, to successfully arguing for the inclusion of the women's marathon in the Olympics, to launching a new international women's race series just last year, Switzer has proven that being fearless takes you far.
"Running has given me everything in my life—career, travel, religion, husband. It's put me in touch with myself."
"I'm thinking of getting a 261 tattoo." [Kathrine's number for her iconic Boston race]"
"I didn't tell my parents I was running Boston in '67 until the night before the race. My dad said, 'You go get 'em kid!'"
Post-Run Snack
"When I come in from a five-hour run, I crave the grease and salt of potato chips and a cold craft beer."
Pre-Race Rituals
"When I started, there were no women's running clothes, and men's shorts caused chafing. I started running in leotards and ballet tights and a little wrap skirt!"
"Before a race, I eat some honey, a piece of banana and toast. And coffee—coffee is the essential thing."
"Running a marathon is gritty and dirty. For all of my big races, I wear sexy French lingerie. It makes me feel at the core level that I'm hot."