She Had Serious Leg Surgery, Then Got Back To Racing
Elite Renee Metivier is gearing up to race just a few months after bone reconstruction surgery, where she declined general anesthesia.
Heading out the door? Read this article on the new Outside+ app available now on iOS devices for members! Download the app.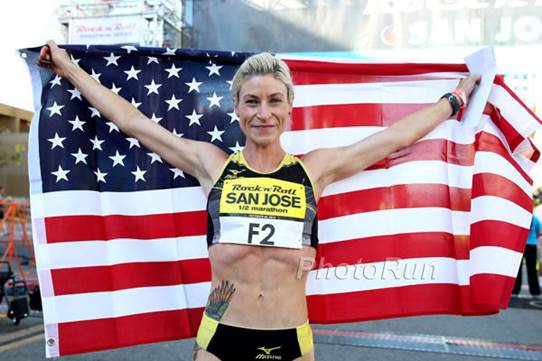 She calls herself The Comeback Queen. It's an accurate name. What would be an insurmountable degree of physical injury for most people was just a blip on the radar for her. Running is her passion and it shows.
Renee Metivier, professional athlete and co-owner of Recharge Sport in Bend, Oregon, ran the fifth fastest race for an American in the Chicago Marathon five years ago with a time of 2:27:17. Not long afterward, she went through extensive surgery to heal an Achilles tendon at a facility in Sweden. She was told then that "it was 50/50" she'd run again. With an unbelievable sense of determination, she made sure she did.
When it happened
This past December, she went for a run in between snowstorms. (The Pacific Northwest got blitzed with a pretty stiff winter this year.) It should have been a pleasant jog on a sunny day before the next wave of weather pulled through. Instead, she hit a patch of black ice at full extension coming around a curve. Something snapped. In a short bout of denial, she walked on it for a day telling herself she was fine. No dice. Eventually at the doctor's office, she was told she broke her leg just above the ankle.
"I had just raced in Brazil on granite hills," Metivier exclaimed, "and it's the black ice that gets me."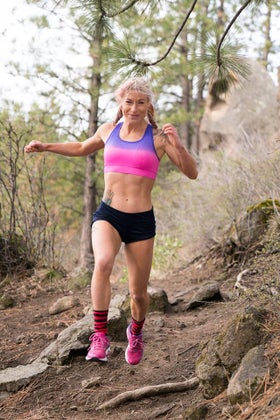 Ordinarily, this would mean weeks of recovery and then a slow slog back to running normally. For Metivier, that was not an option. She was walking within two weeks and running by four. But wait, there's more—with nine leg screws and a six-inch metal plate implanted, she refused general anesthesia. "Just a local injection, please." Why would anyone decide to do that?
"It affects your recovery," she said. "It takes weeks to get out of your system. The same with pain meds. You heal so much faster when you don't go under anesthesia."
What's next?
Now, she's gearing up for the Newport 10K in May. She could have done a shorter race, but why do that when you can run a course that's "fast, flat, and finishes on a beach?" As she puts it, "I always run to win. Never count me out."
And those familiar with her physical struggles know that counting her out is a big mistake. David Cieslowski, a physical therapist who works with her at Recharge, said she definitely pushed the boundaries to ramp things up. At what she might call an "obsessive" amount of training, she just kept moving.
"She was already working off a pretty strong foundation, so it was not as big a shock to her system," said Cieslowski. "If you can get the bones to heal quickly, that pretty much dictates everything."
How she recovered
Her massage therapist at Recharge, Austin Baillie, also marveled at her amazing progress. He cited the "extremely diligent" work on her part. Hours of cardio and strength training along with the myofascial work and deep pressure on her surrounding muscle areas helped her get back to normal. Because of her intense workouts, Metivier admitted she gained five pounds of muscle since she broke her leg. Baillie attributes her athleticism and her dedication as the two major factors for bouncing back.
"She comes from an active background," Baillie said of Metivier, a New Jersey native who started out playing soccer and gymnastics when she was younger. "So much of her identity is wrapped up in running. It would be easy to get depressed about it, but she was extremely positive."
In 2009, when Michael Jordan was inducted into the Basketball Hall of Fame, he said, "Never say never, because limits, like fears, are often just an illusion." Metivier loves that quote. But while Jordan was leaving the door open for a return to the court, she clung to those words like a mantra.
"I'm going to enjoy being on that front line," she said. "I'm ready to race again."