Recovery Does Not Make You Weak
Respect your recovery after a race! Here are reasons why a little rest is a good thing.
Heading out the door? Read this article on the new Outside+ app available now on iOS devices for members! Download the app.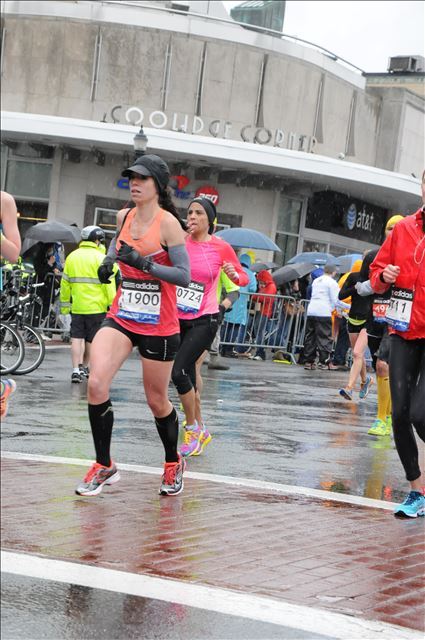 Recovery from a race, whether it's a one mile, half marathon or marathon, is incredibly important. Obviously the longer the distance, the greater the recovery period. And the recovery will look different for each runner. Some prefer periods of no running, while others opt for more of an active recovery. But it's important to honor and respect the recovery period and your body by giving it the time it needs to repair.
There seems to be a growing trend among runners who avoid recovery after races. They seem to boast about how soon after a big race they run, how many miles they are logging and when their next race is. If you've been running for a while, it may be easy to not let their constant racing or lack of recovery influence your behavior, but there are many newer or less experienced runners who are looking for advice and input on how to recover properly.
Giving your body AND mind the recovery they not just need but deserve does NOT make you weak. In my opinion, it's the complete opposite— it takes more strength to ease up and rest then it does to run races on back-to-back-to-back weekends.
Related: The Mental Side Of Running
I think runners fear the recovery period for a number of reasons:
You could gain a few pounds because of the lack of (or decrease in) running.
You may develop a little extra jiggle around the thighs and rear-end (or wherever you are prone to gain a few extra pounds).
You will lose a bit of fitness. Between the taper for the race (1-2 weeks depending on the distance) and the recovery (1-4 weeks), it could be over a month before you are running the mileage and intensity you were at the peak of training.
The reality is that it's unhealthy to stay at your peak for long periods of time. The recovery period lets you take a step back, which will eventually help propel you those two steps forward during the next cycle.
But recovery also does so much more. It allows you to:
Sleep in/go to bed early/etc. No more long runs on the weekend, no speed during the week. Catch up on sleep, stay up late— do all those things that you may shy away from during a training cycle.
If you stay away from certain foods (or alcoholic beverages) during a cycle or leading up to a race, this is the time where you can indulge a bit without feeling guilty or impacting your running performance.
Prevent injuries. Even if you physically feel okay, your body is repairing itself from being broken down. Running too far or too fast too soon post-race will not only prevent the recovery from happening, but it can also cause injuries.
Related: You Don't Have To Do It All
My advice is to enjoy the downtime after a race, regardless if you surpassed your goal, came up a bit short or had a lousy day. Sleep in, eat what you want, open that second bottle of wine, run when you want, don't run when you aren't feeling it. You worked hard for 12, 16 or 20 weeks. Respect your body enough to give it the rest it needs to fully recover before starting back up again.