This Father-Daughter Team Is Tackling Boston–Together
Five years after marathoner Dave Fortier was injured during the 2013 Boston Bombings, he's tackling Boston with his oldest daughter.
Heading out the door? Read this article on the new Outside+ app available now on iOS devices for members! Download the app.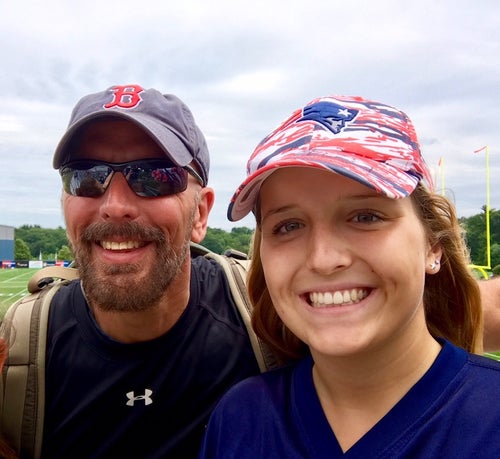 Life lately has been full of challenging and exciting firsts for Elizabeth Fortier.
In her first year of college at Emmanuel College in Boston, the 18-year-old is training for her first Boston Marathon—and her first marathon ever.
If that's not impressive enough, the teen from Newburyport, Mass. is also raising money for the first time for One World Strong Foundation, a nonprofit her father, Dave Fortier, recently formed to help survivors of terror attacks.
"This means a lot to me so I made it a priority in my schedule," says Elizabeth, who is also playing lacrosse at Emmanuel this spring. "It's something I'm looking forward to so much, so when I miss hanging out with my friends, I know it's going to be worth it."
The Boston Marathon–5 Years Ago
Running his first Boston Marathon in 2013, Dave Fortier was about to cross the finish line when the bombs went off, blasting shrapnel into his right foot and severely damaging the hearing in his left ear. Just the night before, he had told his family, including Elizabeth, to avoid the crowded finish line and wait for him farther away on Boylston Street. When the bombs exploded, they were down the street and out of danger, but terrified.
Elizabeth was just 13 at the time. "We had a pretty scary 45 minutes before we got in contact with him," Elizabeth recalls. "Thankfully, his injuries were pretty minor." Dave's foot injury healed, but he permanently lost more than half his hearing in his left ear. He also still suffers from chronic ringing in his ears, a condition called tinnitus.
Since that horrific day, Elizabeth has watched her father become a mentor to countless other terror attack survivors and launch his own nonprofit. One World Strong is modeled after a peer support program provided by the Semper Fi Fund, an organization that helps wounded veterans and their families.
While he was recovering, Dave and other survivors were visited by a group of injured U.S. Marines from the Semper Fi Fund. "It was the first time any of us had a chance to talk with somebody who had been injured in a similar way," he says. "These were some of the best visits we all had."
Inspired by those visits, Dave and others injured in Boston have traveled all over to meet and comfort victims of traumatic events, creating an international network of support. "This is Boston reaching out to Orlando, and folks in Orlando reaching out to people in Las Vegas. What One World is all about is bringing people together," he says.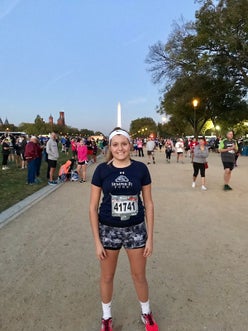 A Longtime Dream
Elizabeth knew she wanted to eventually run Boston with her father, who receives special entries to the marathon as a bombing survivor, but had to wait until she was at least 18, the minimum age to compete. "When I turned 18 and realized it could be reality, I was getting super excited," she says. But as a lacrosse player and not a distance runner, she was also nervous.
That changed after she ran the 10K at the Marine Corps Marathon last fall and watched the marathoners. "We were at the Marine Corps Marathon, and I was like, 'I have to do this,'" she says. At the same time, her father was officially starting his foundation with several marathon bombing survivors.
Seeing the positive impact her father has on others and having raised $1,200 in the past for the Semper Fi Fund, Elizabeth decided to use her Boston run to collect donations for One World. As of mid-March, she had close to $2,000. "She was adamant about raising money," Dave says. "I told her, 'You don't have to raise money.' She said, 'I want to help.'"
A Dad And Daughter Duo
Dave, a five-time Boston finisher, plans to be at his daughter's side every step of the way on April 16, even though it means giving up his own goal of breaking four hours.
He's also been at her side during many of the grueling miles leading up to the big day. Every weekend, Dave makes the hour-long drive from Newburyport to Boston so they can do their long run together. "It's tough during the week when he's not there," Elizabeth says of finding the motivation to squeeze in miles around lacrosse practice and classes. "On the weekend, he's like, 'I'm showing up at 6 a.m., be ready.'"
That's a tall order for a college freshman in the prime of her social life. "It's really demanding," she says. "All my friends are going to dinner, and I'm going to bed so I can get up and run."
Despite the cold winter and early morning hours, Elizabeth and Dave enjoy their epic runs through the city, high-fiving and fist-bumping each other along the way. Dave loves spending time with his oldest daughter, and Elizabeth looks to her dad for advice on staying hydrated and nourished. But that doesn't mean they don't have some typical dad and teen daughter moments, particularly when the run gets hilly. "We will start off all cheery and pretty quick I get super tired," she says. "He will want to chat, and I get frustrated."
Still, her dad's steady encouragement has helped Elizabeth believe in her ability. She recalls one of their first training runs together when she wasn't sure how far she could go. "My dad told me we would go out and do an easy 10, but we ended up doing 12 over Heartbreak Hill," she says. "It was the hardest run I'd ever done, but after I felt so accomplished and excited. It was the first time I actually felt like I could do the marathon."
Dave says he is already amazed by what Elizabeth has accomplished. Playing lacrosse, keeping up with college classes, training for Boston and raising money is a huge undertaking, especially for someone so young. "To watch her do this, I know she's going to be fine with any challenges that come up in life," he says.
Boston And Beyond
It's a bittersweet time as the marathon approaches. While Dave is excited for Elizabeth's race, he's also sad that their long runs together will end. "I did not realize how much fun these weekends would be," he says.
But there's hope this isn't the last time the father and daughter team will train together and run Boston. "I can definitely see myself doing it again—not annually, but definitely again," Elizabeth says. There's also hope that their family team might grow. This Saturday, just two days before he tackles Boston with Elizabeth, Dave will run the Boston Athletic Association 5K with his 14-year-old daughter, Anna.
She'll be eligible to run Boston in 2022.
Related:
Races That Can Turn Into A Family Affair
Charity Fundraising Became My Strongest Motivation For Running