Meet Boston Marathon Medical Volunteer Linda Pitler
The Boston Marathon Medical Volunteer staff is packed with individuals like Linda Pitler, who go the extra mile to help runners in need.
Heading out the door? Read this article on the new Outside+ app available now on iOS devices for members! Download the app.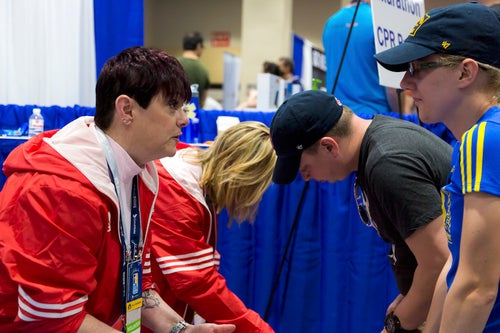 Pre-Race CPR Instructions And Post-Race Medical Help
As a CPR training leader and a finish line medical volunteer, Linda Pitler indisputably goes the extra mile for Boston Marathon runners.
Pitler's enormous contributions begin at the pre-marathon expo, where she leads a team of instructors and teaches runners—and anyone else who wants to learn—how to do hands-only CPR.
"By introducing runners to the basics of CPR, we can have them act as a bridge between someone going down on the (marathon) course and medical getting there," says Pitler, who lives in Randolph, Mass. and has been a registered nurse for more than 40 years. "People live or die depending on how quickly CPR starts."
The CPR training program at the expo was started in 2012 by Dr. Aaron Baggish, one of the Boston Marathon's medical directors and a cardiologist who studies cardiovascular health in athletes.
"Runners are not immune from heart problems, and sudden death during a marathon can and does happen," says Baggish, a marathoner himself. "Knowing CPR is our running community's best bet to avoid tragedy."
Pitler's passion for the program led Baggish and the Boston Athletic Association to name her team captain in 2015. At this year's expo, she will oversee two dozen volunteer instructors, including the Boston College EMS team.
"We talk about scene safety, calling 911, assessing for pulse and breathing, and if there is no pulse, starting (chest) compressions," Pitler explains. They also tell people how to get formally certified in CPR.
Thanks to Pitler and her crew's demonstrations at the expo, thousands of people have learned the life-saving measures. "There's no doubt the program has been effective," says Chris Troyanos, the Boston Marathon's medical coordinator. "The runners appreciate it, and they even come back to us and say they have done it and saved lives," he says.
When Pitler, who currently works as a clinical research nurse at Massachusetts General Hospital, joined the CPR training program in 2013, "I knew immediately we had someone pretty special," Troyanos says. She is not only a seasoned nurse, but also an admired leader. "People gravitate to her," Troyanos says. "She cares for people, and that comes across so strongly."
The Extra Mile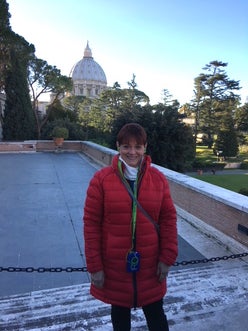 Pitler's dedication to the Boston Marathon doesn't end when the expo wraps up. She is also one of 1,700 medical volunteers on race day. For several years, she worked on Sweep Teams at the finish line. These volunteers look for runners in distress and get them medical attention. For example, if a volunteer sees a runner vomit more than three times, the runner gets immediately sent to the medical tent for an evaluation, Pitler explains.
Last year, Pitler switched to the finish line medical tent and thrived in the hectic environment. "It was a great experience," she says. "My background is in critical care, so chaos doesn't bother me." Her shift began with a runner who wound up getting dunked in a tub of cold water. "The first person who hit my cot had a rectal temperature of 107.1," she recalls. "I said, 'Okay, we are off and running.'"
She quickly learned that runners sometimes require a unique approach. To assess runners showing signs of confusion, she would ask for their finish times. "That's the one thing they will know," she says. Although the runners Pitler encountered were in pain in some way, they all expressed gratitude for her help, with some even hugging her after they had recovered.
Pitler loved her time in the medical tent so much, she is set to work there again this year. Despite the big commitment and exhausting days, Pitler considers it a privilege to be a volunteer at the Boston Marathon. "To be a part of it is so special," she says. "It's not something I take lightly or take for granted."
Related:
What It Takes To Operate The Boston Marathon Medical Tents
Volunteers Are The Real Heroes On Race Day